Pari viikkoa sitten ostamani laivastonsininen 1940-luvun puku saapui eilen USAsta, ja olen aivan hullaantunut sen yksityiskohtiin ja laatuun! Hintaansa nähden puku oli yllättävän hyvässä kunnossa, värihaalistuma takapuolella ei minua häiritse lainkaan. Se kertoo puvusta vain sen, että se on elänyt. Siinä on niin upeat röyhelöyksityiskohdat olkapäillä ja taskuissa. Varmasti tämä tulee olemaan yksi eniten käytössä olevista mekoista kevään tullen! Samassa paketissa tuli myös ihastuttava taivaansininen 1960-luvun jakkupuku, mutta se on repeytynyt saumoista ja vaatii korjausta, ennen kuin alan sitä käyttämään.
(Translation: Two weeks ago I ordered this beautiful 1940s navy dress from the US, and it arrived yesterday. I am so delighted with its details and quality! It is in a good condition, and I got it in cheap price. Colour is faded a little from the back, but it doesn't bother me. I love those ruffle details on shoulders and on pockets. I believe I am going to wear this dress a lot when spring arrives! I hope the winter is over soon.. I also received a pretty 1960s baby blue suit in the same package, but it needs quite much repairing, before I start to wear it.)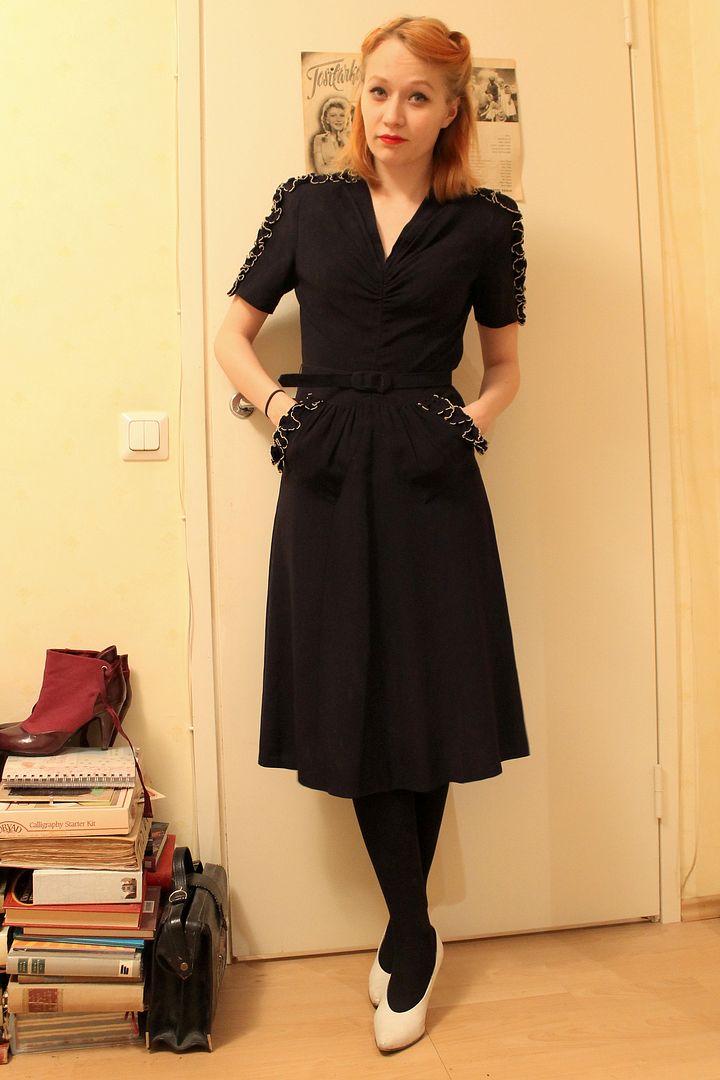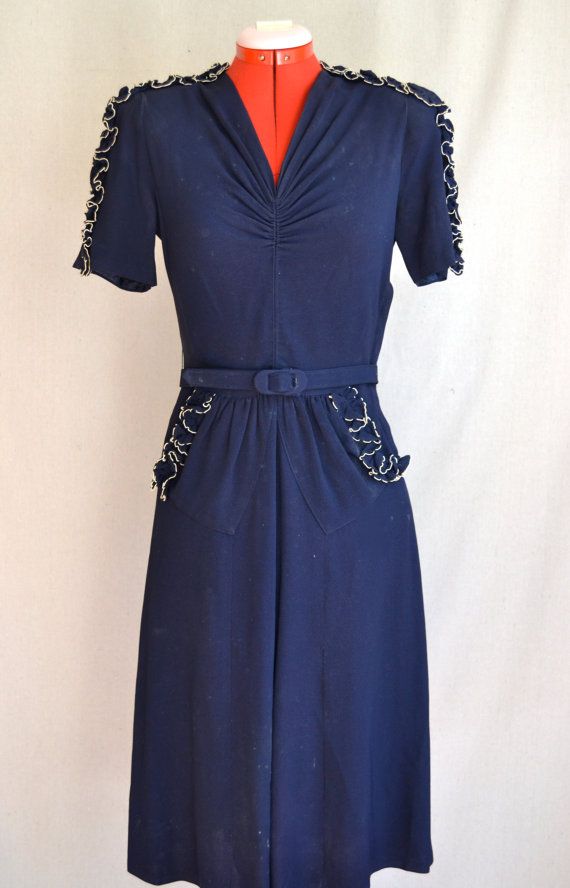 Tämä kuva on myyjän etsy-kaupasta
Proverbsthirty1
, näette ehkä paremmin yksityiskohtia. Puku ei ole ihan noin kirkas sininen. Eikö ole upea?
(This picture is from the seller's etsy shop Proverbsthirty1, you see better its detailing. Isn't it gorgeous?)