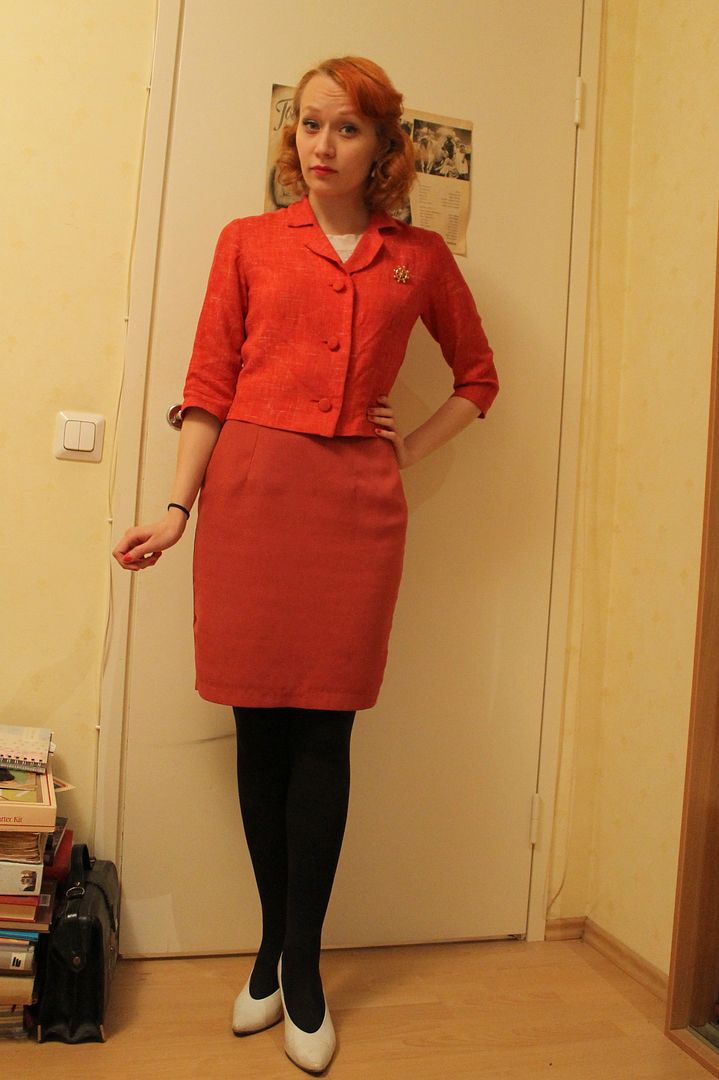 Viikonloppuna tulee vietettyä kahdet Halloween juhlat. Perjantaina kaverilla ja lauantaina täällä meidän residenssissä. Koristelut aloitin hyvissä ajoin, mutta jotain lisäjuttuja pitäisi vielä kehitellä. Myös asukokonaisuudet olen jo valkannut molemmille päiville. Toivottavasti viikonloppu sujuisi rauhallisissa ja mukavissa merkeissä ilman välikohtauksia!:)
Aloitin muuten tällä viikolla kuntoilun. Kävin ensimmäistä kertaa kokeilemassa miltä kuntosali vaikuttaa ja mukavaa se oli! Myös lenkkeilyn aloittelen kunhan ehdin. On ollut vähän kiirettä Halloweenin kanssa. Minähän olen aivan tampio mitä tulee urheiluun, kuntoni on erittäin huono, mutta jospa se tästä lähtisi paremmaksi.
Postaan myös eilisen asuni tässä samalla. Rakastan tuota punaista vintage jakkua, se on aivan täydellinen! Vaikka kämppäkaverini sanoikin minua "täti punaiseksi" :D
(Translation: This weekend I'll be celebrating Halloween not once but twice. Tomorrow at my friends and on Saturday at our home. I started to decorate very early this year, but I'll propably decorate our home a bit more. I also have two different costumes this year. I hope this weekend will be calm and fun, without any drama.:)
This week I started exercising. I went to the gym for the first time ever, and it was refreshing. Made me feel so great! I will also start to go walking a lot more when I have time. I have been busy with all the Halloween preparations. I haven't done any exercise in my whole lifetime, my condition is so bad but I am going to get in shape, I have to.
I will also post my yesterdays outfit. I love that red vintage suit, it is perfect! Even though my roommate called me "Aunt Red" :D)