Perjantaina Joen yössä puin ylleni ihanan pramean 1940-luvun jakkupuvun. Kangas on kiiltävää ja siinä on apiloita. Ja minähän näin irkkufanina suosin apilakuviota! Päähäni asettelin samaa aikakautta olevan hatun. Joen yö oli todella mukava, vietin sen siis Tuukan ja vanhempieni kanssa rauhallisissa merkeissä retrokirppiksellä, teatterin puvustamon kirpputorilla, museossa (siellä oli näyttely keisari Nikolai I:stä) ja ravintolassa käyden. Joensuun kadut olivat hämmentävän täynnä porukkaa!
(Translation: Last Friday Joensuu was filled with culture and arts, as it was an event called Joen yö. I wore this glorious 1940s suit. Fabric of the suit is shiny and it has a print with shamrocks. And you know how much I love shamrocks as an admirer of Ireland! My brown hat with feathers is aslo from 1940s. Joen yö was very nice and calm, I spent the evening with my dear Tuukka and my parents. We visited retro thrift shop, teather's costume flea market, museum (there was an interesting exhibition of Nicholas I of Russia) and restaurants. The streets of Joensuu were filled with people!)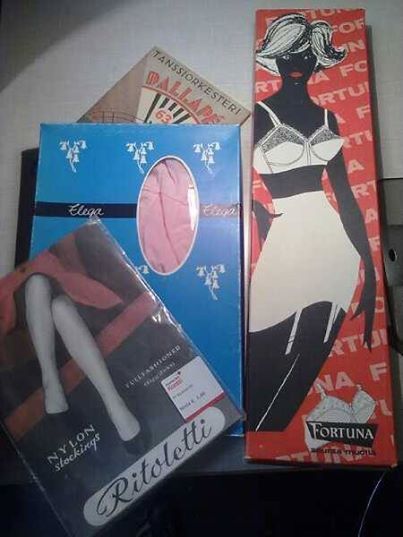 Löytöni retrokirppikseltä. Käyttämätön Fortunan vanha sukkanauhaliivi, alusasusetti, nailonit ja Dallapé -lehtisiä!
(My finds from the retro thrift shop: Unused Fortuna's girdle, and set of undergarment, nylon stockings and Dallapé -sheets!)