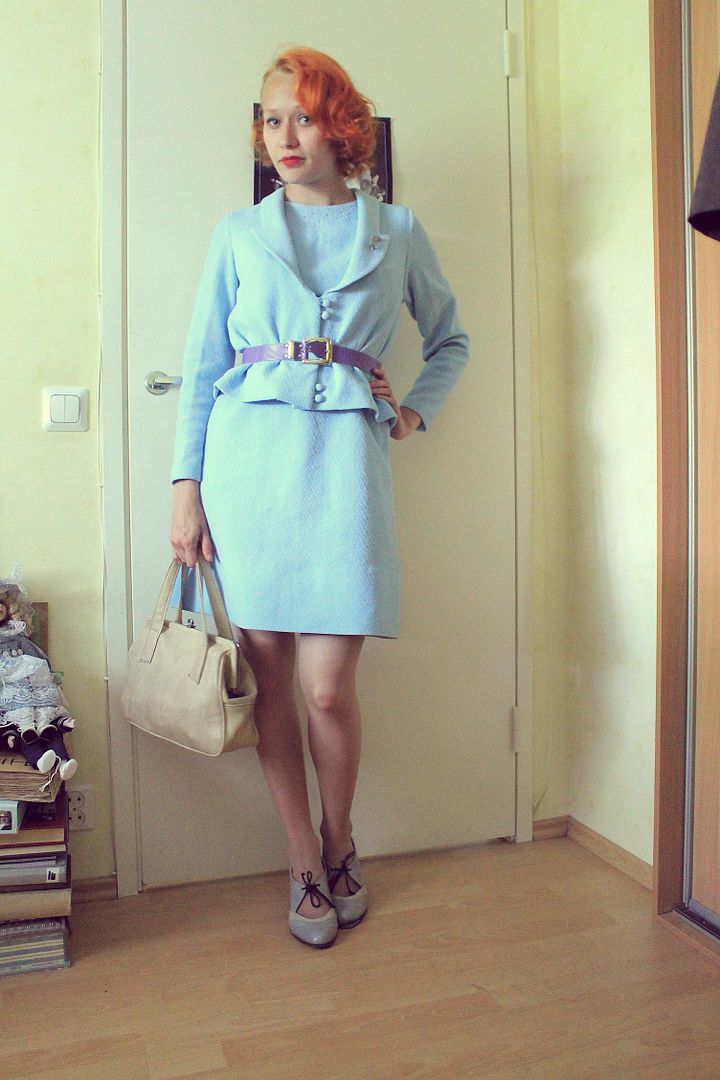 Tein Fidasta upean löydön, kaksiosaisen vaal. sinisen crimplene puvun 60-luvulta. Olin vähän epäileväinen, kannattaako huonojen kokemusten takia enää ostaa yhtään uutta crimplene vaatetta, mutta onneksi ostin silläkin uhalla, että etikan kanssa joutuisi läträämään. Pidin tätä pukua yllä vähän aikaa, eikä se vieläkään haise ummehtuneelle edellisen käyttäjän jättämälle hienhajulle. Näköjään näitä yllätyksiä ei löydykään jokaisesta crimplene aarteesta. Minullahan on jo tämän tyylinen asukokonaisuus vaatekaapissa, mutta tämä on ehdottomasti kivemman näköinen.
Töissä on pitänyt kiirettä, ja toivoisin jo helteiden vähenevän. Enkä myöskään pidä kesän tuomasta rusketuksesta yhtään! Olisinpa vaan pitänyt hellehattua Ilosaarirokissa niin otsa ei näyttäisi näin ruskettuneelta. Ikävöin jo kalpeaa hipiääni.
(Translation: I found this amazing 60s two-piece crimplene suit from a thrift store. I wasn't sure if I should buy it, because crimplene clothes usually smell bad after wearing it for awhile. Well, this was a positive find, because I didn't have to use any vinegar to remove any smells. This is like unworn! I have this kind of suit already but it smelled badly and this suit looks much better anyways.
I've been busy at work and I really can't wait that the weather turns cooler. I also don't like my suntan at all! Gosh I wish I'd wore summer hat in Ilosaarirock so my forehead wouldn't look so awfully tanned. I miss my paleness.)