Vanhempani olivat viikonlopun yli Joensuussa, ja kävimme kirpputoreilla, syömässä ja sukuloimassa. Löysin kirpputorilta kolmella eurolla tällaisen kaksiosaisen asukokonaisuuden 50-luvulta. Yläosa on minulle vähän iso, mutta se ei näy vyön kanssa. Tykkään todella paljon tämän puvun kankaasta ja väreistä, sininen tuntuu sopivan minulle.
Olen viime aikoina hengaillut ystävien kanssa, käynyt keikoilla, katsonut jalkapallon MM-kisoja ja haaveillut Irlantiin matkustamisesta. Jos saan töitä, on varaa ainakin säästää unelmaani varten. Tänä viikonloppuna on juhannus, ja aion viettää sen täällä ystävien kesken. Toivottavasti sää paranisi, kesäkuu on aina niin kurja kuukausi.
(Translation: My parents spent this weekend here in Joensuu and we went thrifting, restaurants and visited relatives. I found this amazing 1950s two-piece "day dress" from a flea market. The top is a bit too loose for me, but it's ok if I am using a belt. I really love this suit's fabric and colours. I think blue looks nice on me.
I've been hanging out with me friends, going to gigs, watching football and dreaming of travelling to Ireland. If I get a job soon, then I could save some money. It's midsummer's eve this weekend, and I'm gonna celebrate it here with my friends. I hope the weather is better that day, I think that June is always such a miserable month.)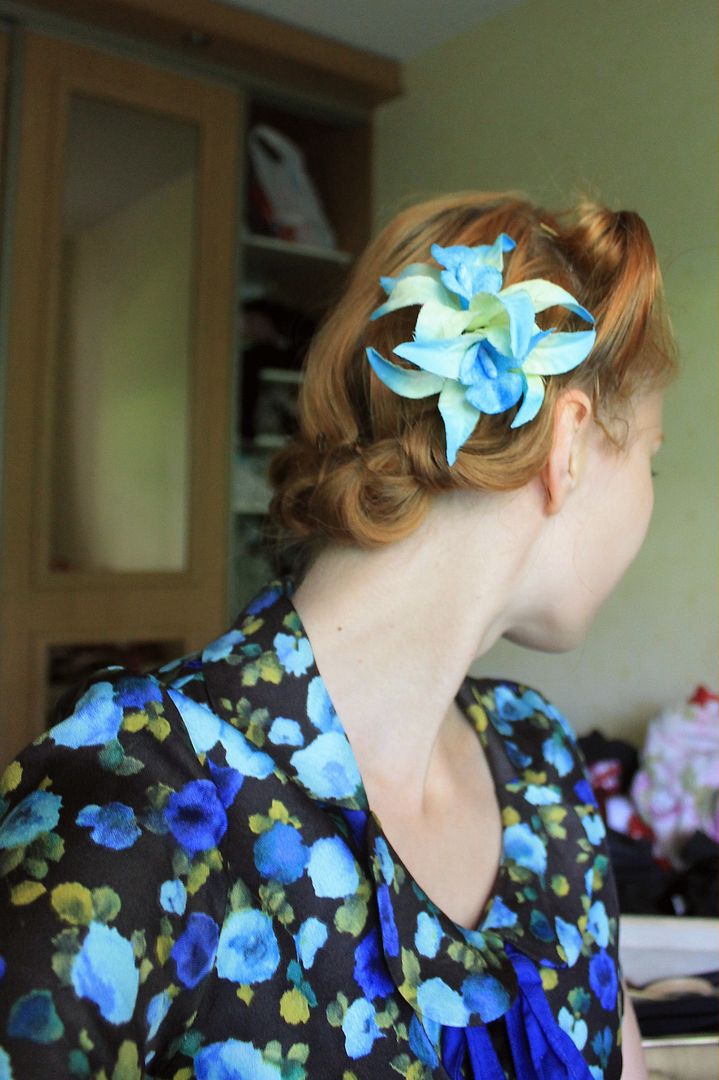 Muistakaa, että arvontani päättyy 20. päivä! Vielä on aikaa osallistua!
And remember, my giveaway ends in June 20th! There's still time to enter!