No, sunnuntaina ei aurinkoa juuri näy, ja flunssaa pukkaa, eli sisätiloissa tulee tämä päivä vietettyä. Olen ehtinyt tiskata vinyylien soidessa, syödä paljon ja juoda kuumaa, ja aloitin lukemaan mielettömän romanttista, joskin surullista kirjaa. Se sisältää kahden rakastavaisen väliset kirjeet jatkosodan aikana, ja on uskomatonta miten kirjeet saavat minut niin kyyneliin! Niistä huokuu kaipuu ja suunnaton rakkaus! Ehkä näiden kahden välinen kirjeenvaihto tuo mieliin omia tunteitanikin, ja kaipausta.
(Translation: Well, it's definitely not a sunny Sunday, and I'm having a cold, so I'll stay indoors today. I've been washing dishes while listening to my records, eating a lot and drinking hot chocolate, and I also started to read a book which is so romantic, yet so sad. The book includes letters which two lovers sent eachother during the Continuation War. It is amazing how these letters almost make me cry! The letters overflow with enormous longing and love! Perhaps they remind me of my own emotions, and yearning.)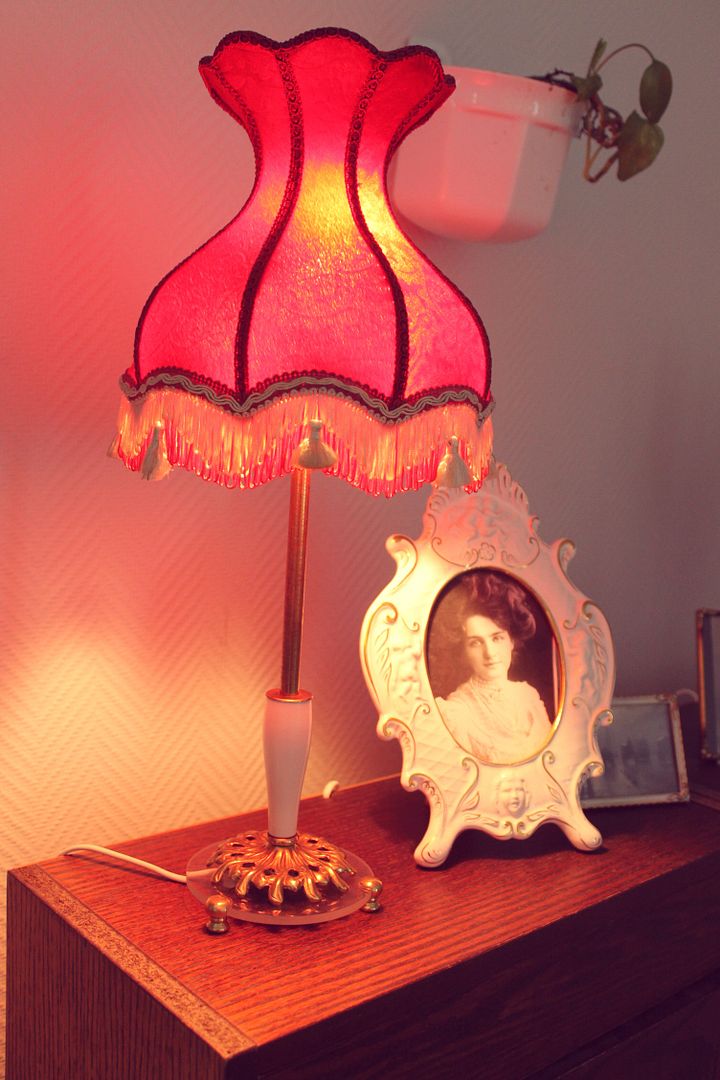 Tämä lamppu tuo jotenkin mieleen Moulin Rougen, tai burleskin. Se hohkaa punaista valoa ja varjostinkin näyttää vähän korsetilta :D Kerrassaan mahtava lamppu!
(This new lamp of mine reminds me of Moulin Rouge or burlesque. It glows red light and the shader looks like a corset :D Absolutely glorious lamp!)