Koulussa on opinnäytetyön ohella myös muita projekteja. Juhlapukukurssilla valmistan kaverilleni 50-luvun henkisen halterneckillisen mekon, joka tulee olemaan väriltään musta, punaisilla yksityiskohdilla. Olen nyt päässyt siinä malliproton vaiheeseen, ja olen pahasti jäljessä ottaen huomioon, että viimeiset tunnit juhlapukukurssilta olivat viime viikolla! No, osaan kyllä puvun tehdä ominkin avuin loppuun. Vähän huonosti järjestetty oli tämä jakso muutenkin ja oma elämä stressasi ja kaikki kaatui päälle, mutta nyt niskasta ittee vaan kiinni, eväät mukaan ja ylitöihin.
Ei uskoisi, että valmistun jo keväällä..
(Translation: At school we are having some other projects beside the final work. We have formal gowns' course, and I am sewing a black 50s themed halterneck dress with red details for my friend to her graduation day. I have sewed a prototype of the model, and I am far behind the schedule, because our last day to make the dress was actually last week!! I have to sew the dress on my own now.. But this 3rd period at school was so badly organized, too many projects in the same period, and I was stressing out my own personal life so how can I possibly be concentrating for so many things at the same time.. From now on, I'll have to kick myself, take some snacks with me to school and work overtime.
Can't believe, that I'm gonna graduate this spring..)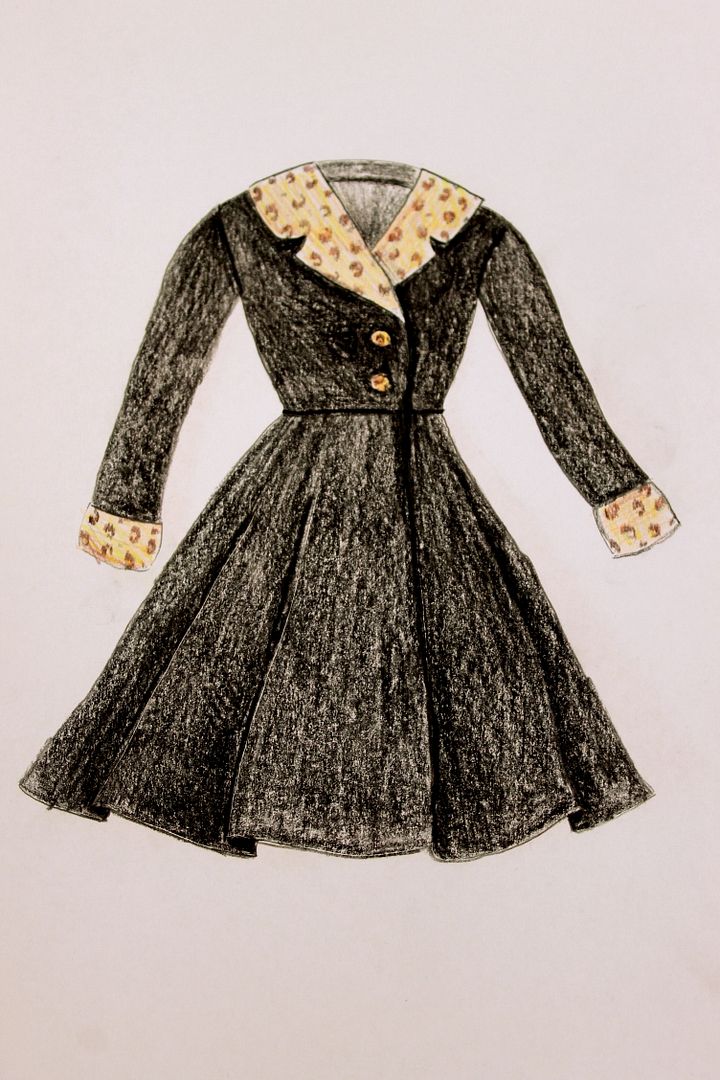 Tässä jaksossa olemme myös suunnitelleet ja piirtäneet peruskaavaa vitosjaksoa varten, jolloin meillä alkaa villakangastakkikurssi. Teemme takit itsellemme, ja minä suunnittelin todella kauan juuri sellaista vintagehenkistä takkia, joka sopisi tyyliini parhaiten. Minähän suorastaan rakastan leopardikuviota, joten se oli minulle lopulta aika selvä lisäys takkiin. Malli olikin sitten hankalampi suunnitella yksityiskohtia myöten, eikä se vieläkään ole ihan täysin vielä selvillä. Värivaihtoehtoja minulla oli muutama. Päädyin kuitenkin tuohon perusmalliseen mustaan leopardikuviolla.
Kuten voinette myös päätellä, olen hyvin kiireinen! Opinnäytetyön jakson aikaan tätäkin enemmän. Palaan blogiin aina kun aikani riittää. En kanna kameraa mukanani usein, ja en myöskään vietä kotona entisen avomiehen luona aikaa paljoakaan - vaikka kaikki kamani ovatkin täällä. Asuntorintamalta ei kuulu mitään uutta, toivottavasti jotain löytyisi. STRESS.
(Translation: We have also designed ourselves some wool coats for 5th period, as we are having a coat course. I designed and drew this vintage inspired model for weeks, as I wanted it to fit my personal style perfectly. I really adore leopard print, so it was quite obvious that I wanted it to this coat. The model was not very easy to plan, all the details and such, still don't know what collar to use. I had a few colour options too, but I decided to go with "plain" black and neutral leopard. No risks taken.
As you might quess, I am very busy! This is my final spring at this school and my preparation for the final sewing project have already started. I'll get in touch with you whenever I can. I don't carry my camera with me very often and I am not spending much time at my ex's - where most of my stuff is. Nothing new when it comes to finding an apartment. STRESS)