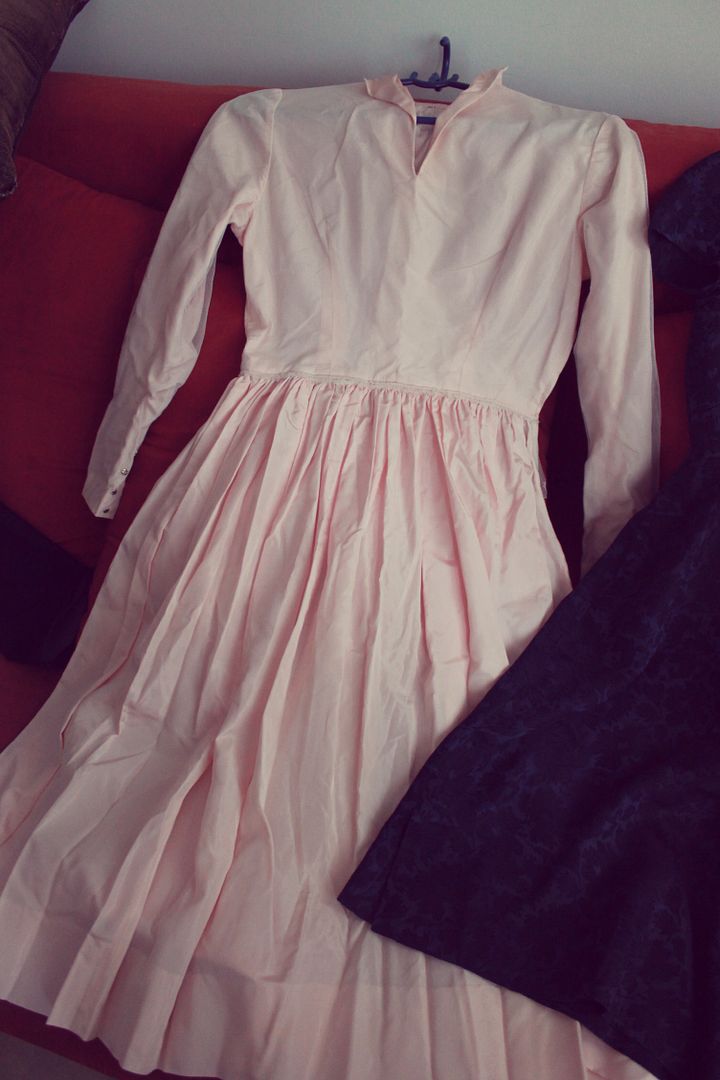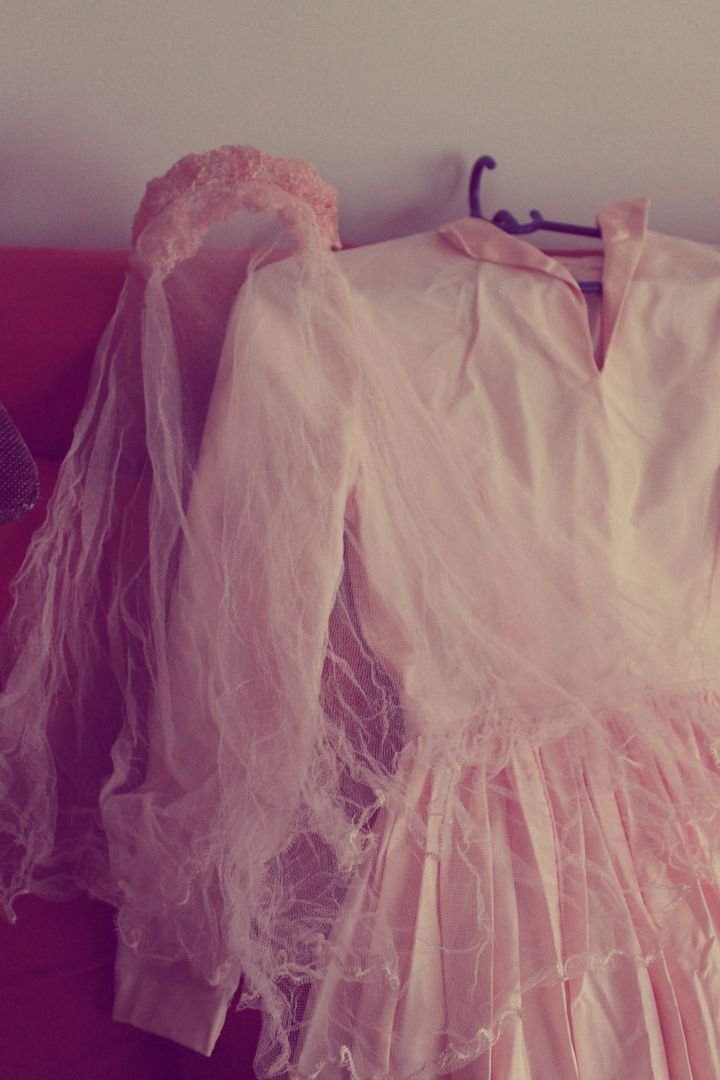 Yksi huikeimmista löydöistä, minkä tein vuonna 2013, oli ehdottomasti vintage hääpuku kymmenellä eurolla. En ole menossa naimisiin lähiaikoina tosin, enkä varmaan vuosiin, mutta minun oli aivan pakko tämä puku ostaa itselleni. Fiilistelin heti se ylläni peilin edessä ja pistin mukana tulleen hunnunkin päähäni. Kaihoisia huokailuja... Ainoa vaan, että se on hennon vaaleanpunainen. Ehkä sitä sitten tosiaan joskus? Se nimittäin sopii minulle kuin nakutettu.
Toinen ihana löydökseni oli tuo sininen 50-luvun leninki. Minulla on samankaltainen
viininpunaisenakin
. Kaksi minulle käypää väriä vielä kaikenlisäksi!
(Translation: One of the greatest finds I did in 2013, was this vintage wedding gown (10 euros). I am not going to get married or anything, definitely not in next few years, but I really had to buy that gown when I found it. At home I put the dress and the veil on right away. Oh, sigh...! The only thing is that the gown is light pink.
Well, maybe someday...? It really fits me nicely.
Other nice find I have made was this 1950s blue wiggle dress. I have the same kind of dress in burgundy. Two colours that suit me well, yay!)
En ole vieläkään ystäväni kanssa löytänyt uutta asuntoa.. Olen nukkunut muiden nurkissa ja kotonaolo on jäänyt vähälle. Minua stressaa ihan älyttömästi tällä hetkellä kaikki, eli tulee olemaan blogin puolella hiljaista sitten ainakin tämän kuun ajan. Kun nyt vain saisi sen asunnon, ollaan hakemuksia laiteltu, ehkä se nappaa.
(I still haven't found an apartment for me and my friend. I have been sleeping at my friend's and haven't really stayed at home. I am stressing out so much at the moment, so this is going to be one freakin' quiet month. If we could just get that new apartment, we have sent some applications so perhaps soon enough we have a place to live.)