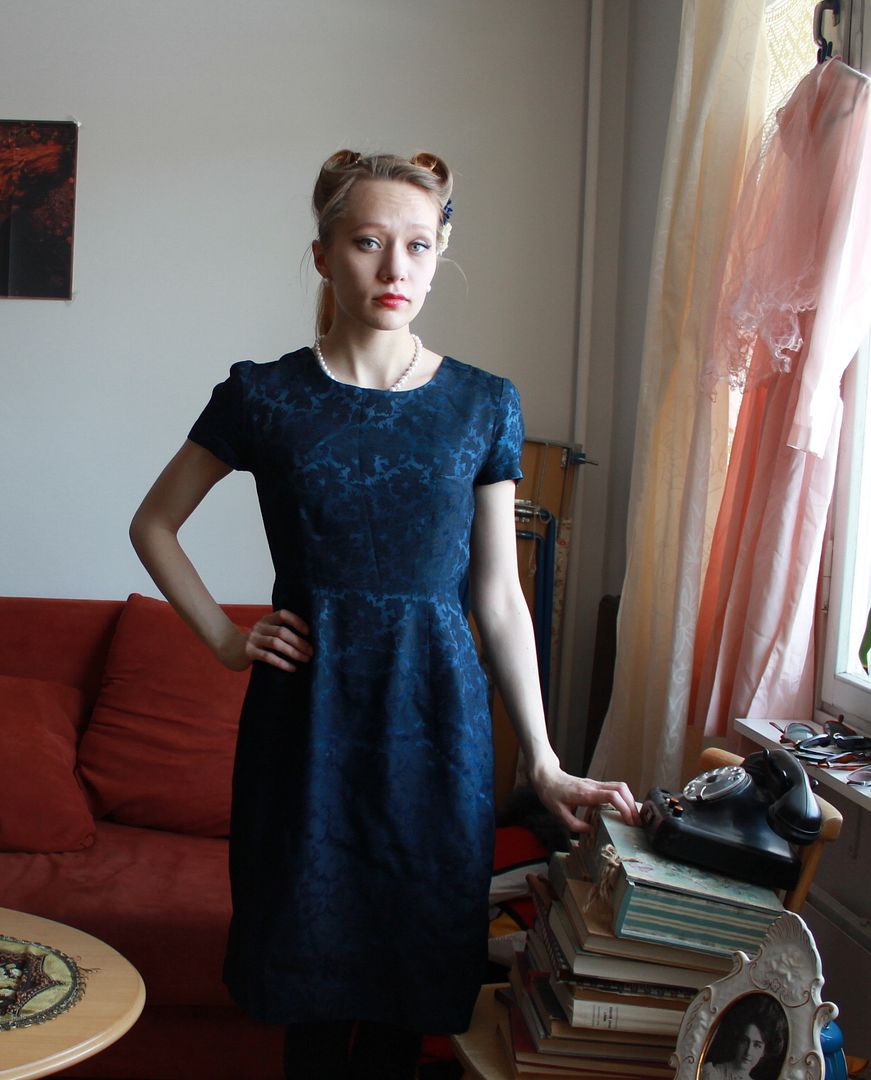 Otin nämä asukuvat parisen päivää sitten, mutta pääsin vasta nyt postaamaan ne. Ylläni on siis muutaman viikon takainen löytöni Fidasta, 50-luvun sininen leninki upeasta kiiltävästä kankaasta. Esittelin sen jo jossain aiemmassakin postauksessa, mutta nyt näette sen yllä. Tämä puku on aivan ihana, vaikka vyötäröltä aika tiukka. Ei pidä turvotuttaa vatsan seutua liikaa kun on tämä mekko päällä :D Note-to-self: Ei pidä nauttia liikaa oluen mausta tämä mekko päällä..
Ystävänpäivä on parin viikon päästä ja minua vaan kiukuttaa.
Ennen odotin sitä kuin kuuta nousevaa, mutta en jaksa enää edes haikailla. Aina olen ollut 14.2 yksin ilman kaivattua romantiikkaa ja hellyyttä, syitä on tullut eteen monenlaisia näiltä kakslahkeisilta.. Kyllä me juhlimme baareillen porukalla ystävänpäivää tänä vuonna, mutta se siitä romantiikasta? Jos kerran saisi edes kokea ystävänpäivänä ihanaa perinteistä romantiikkaa.. Tänä vuonna vaan tuo sinkkuus pistää kapuloita rattaisiin :D No mitä vielä, onhan se nyt kuitenkin vaan ystävänpäivä..
(Translation: I took these outfit shots couple of days ago, but had only time to post these now. I am wearing a 50s blue dress I found from a thrift store. I introduced it to you earlier already, but now you see it on me. This dress is amazing, it has a lovely shiny fabric and it looks good in any occasion. It is quite small for me from the waist, but I just have to keep my tummy small so it won't tear apart :D Note-to-self: drinking beer while wearing this dress..
Valentine's day is just around the corner and I am just pissed off.
In earlier years I have always been waiting for that special 14th day, but now I am just sick of it. I have spent my Valentine's days' alone every single year without any romance or affection, because those blokes have had something more important to do. We do celebrate Valentine's day by drinkin' and going to the bars with friends, but where are some lovely hearts and kisses and chocolate and candles and romance and and.. If at least once I could spend my Valentine's day as romantically as it could get... Only this year I am single so romance wouldn't work out :D Oh well, nevermind, it's just a Valentine's day.)