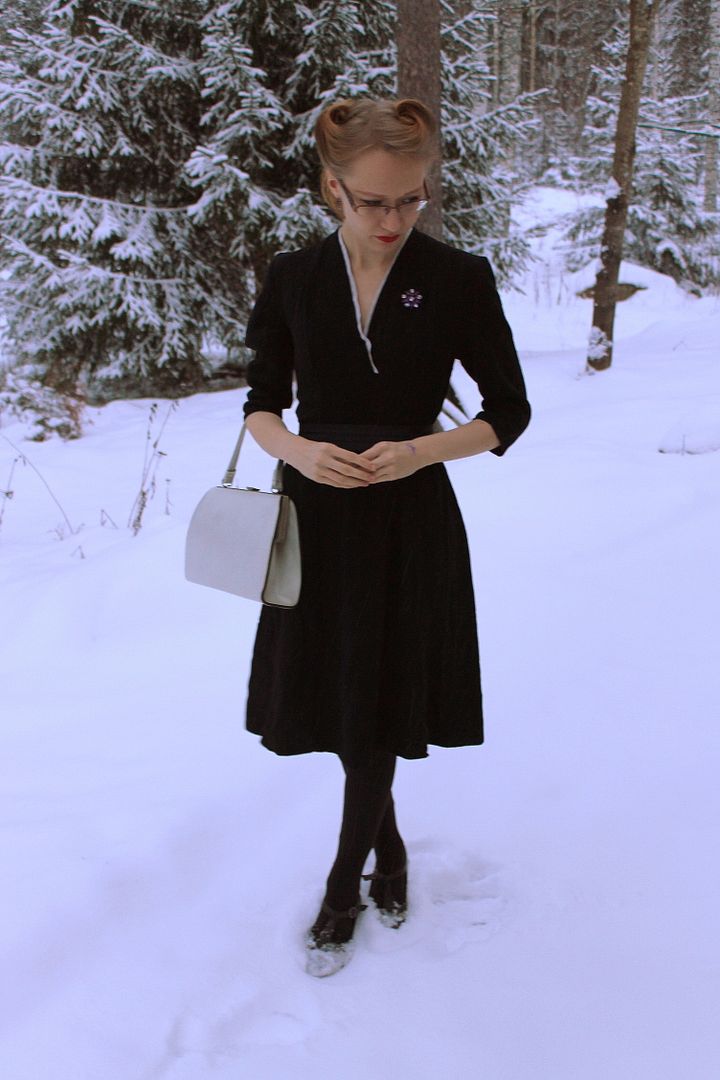 Itsenäisyyspäivänä tein kävelylenkin, pelasin Kimbleä ja Aliasta, katsoin 'linnanjuhlia' ja kävin muutamassa paikallisessa illemmasta. Minun oli tarkoitus lähteä Joensuuhun vasta sunnuntaina, mutta jollain asteella houkuttelisi palata sinne jo tänään takaisin. Saa nyt nähdä, miten teen.
Ylläni minulla on ollut tänään uusi lempileninkini, mahtava löytö Fidasta. Puvusta en tiedä vuosilukua, 50-lukua (?) metallisine vetoketjuineen, mutta jotenkin saan siitä myös 40-luvun viboja, en tiedä. Olen nyt pitänyt aika usein tuota vintage rintakorua hienoissa puvuissani, ja myös samaan sävyyn olevia violetteja korvakoruja. Rintakoru oli joululahja parin vuoden takaa, ja se on aivan ihana!
Anteeksi kuvien laatu. Asetukset taisi mennä väärin.
(Translation: I celebrated Independence day by taking a walk, playing Kimble and Alias, watching TV and spending the evening at local bars. I was meant to travel back to Joensuu on Sunday, but somehow I have been thinking about going back already today. We'll see what I'm going to do.
I am wearing my new favourite vintage dress. I don't know the era, 50s vintage (?), with metal zippers, but somehow it gives me 40s vibes. I have been wearing that violet brooch a lot lately with matching earrings. The brooch was a christmas gift couple of years ago, and I love it so!
Sorry for the quality of the photos. The settings were quite wrong.)