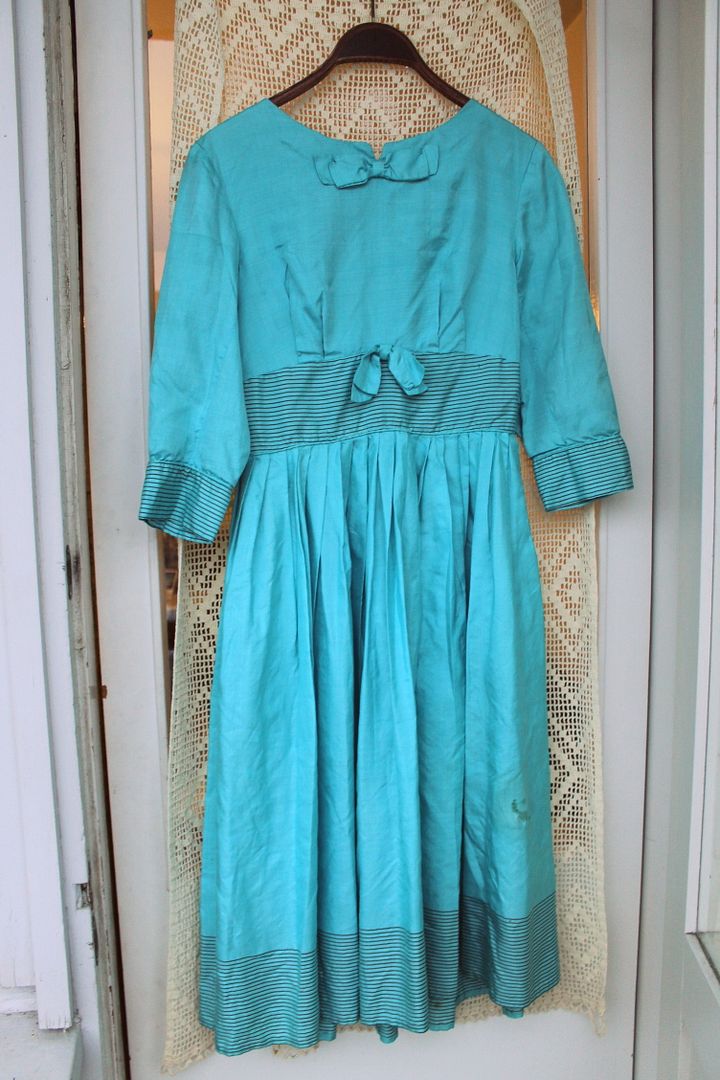 Ostin joulukuun alusta itselleni joululahjan Etsystä, nimittäin 1950-luvun turkoosin juhlapuvun. Se on mielettömän suloinen, vaikka kaipaa ehkä vähän pesua. Siinä on etualalla helmassa tahra, joskaan ei kauas näy. Ajattelin tätä pukua jouluksi ylleni, vaikka väri nyt ei olekaan niin jouluinen. Voinen silti ehkä asusteilla luoda itseni jääprinsessaksi!
Rakastuin pukuun heti, se on niin upean värinen ja nuo rusetit ovat suloinen lisä. Ja hintakaan ei kirpaissut yhtään!
Kävimme tänään muuten ystäväni kanssa ensimmäisessä asuntonäytössä. Ihan mukava kolmio, toivottavasti nappaa, hakemukset nimittäin kirjoitettiin :) Kiitokset myös lukijoille lohdullisista kommenteista
yhdessä aiemmassa postauksessa
, jossa kerroin tästä vaikeahkosta tilanteestani. Olette ihania!
(Translation: I bought myself a christmas present from Etsy, 1950s vintage turquoise "prom dress". It is so adorable, it just needs a little bit cleaning. I was planning on wearing this dress on christmas eve, even though the colour is not very christmasy. Maybe I'll play with some accessories and be some kind of pretty ice princess!
I fell in love with this dress immediately, it has such a nice colour and those bows are so cute touch. And it didn't cost much!
And I went to see an apartment with my friend today for the first time! It was a quite nice 3-room flat, I hope we'll get it! And I want to thank you my dear readers for your kind and comforting comments in one of my previous posts where I told you about my difficult situation. You are so lovely!)