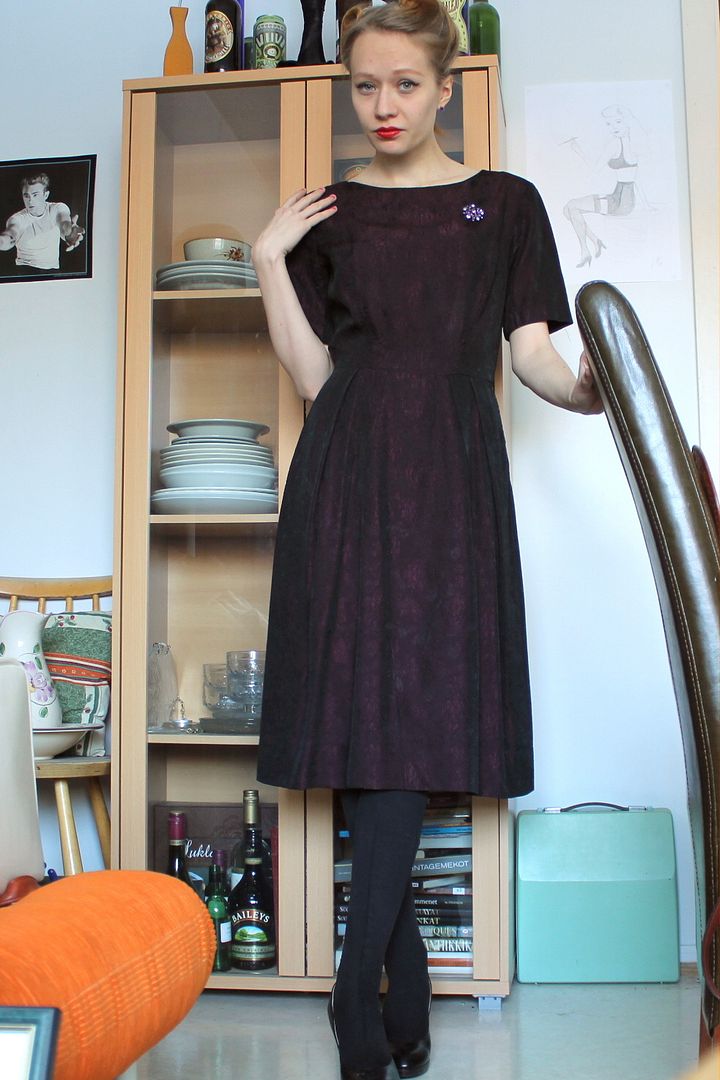 Löysin jonkun aikaa sitten kirpputorilta täydellisen 50-luvun leningin! Se olisi sopiva hienompiin pikkujouluihin, mutta menee se minulla arkikäytössäkin. On jo joulukuun toinen, eikä minulla ole ollenkaan joulufiilistä. Yleensä olen innoissani laittamassa kynttelikköjä ikkunalaudalle jo marraskuun alkupuolella ja kuuntelen joululauluja, mutta nyt joudun suorastaan pakottamaan itseni tunnelmaan. En ole vielä ostellut yhtään joululahjaakaan - paitsi itselleni paljon vaatteita..
Luulen että joulufiiliksen uupumiseen vaikuttaa myös stressi asunnosta. Muutan nimittäin pois tästä kämpästä - yksin. Näin nyt vaan kävi, tarvitsen yksinoloa tällä hetkellä enkä pysty parisuhteeseen juuri nyt, mutta voinen mainita ettei onneksi ongelmia tässä asiassa ole, sulassa sovussa yhteisellä päätöksellä tuli ero. Elämässä sattuu ja tapahtuu enkä kadu tätä puoltatoista vuotta yhtään.
Ehkä juuri tästä syystä blogin puolellakin on ollut hiljaisempaa.
(Translation I found this perfect 50s dress a while ago! It would be a great choice for x-mas parties but I have been wearing it mostly as a casual dress. It is already December and I don't feel like celebrating christmas at all. Usually I am filled with joy while decorating the house with candles and listening x-mas songs, but I feel like I have to force myself in the mood. I haven't yet bought any presents - except for myself..
I think that the reason why I am not in a mood for christmas, is that I haven't yet found an apartment and I am sressing so much. I am moving out from our apartment - alone. This just happened, I need to be alone for a while and I am not capable for being in a relationship right now. I am so happy that this was mostly our shared decision and it could be done without any arguing or conflicts. Life happens, and I don't regret this past year and a half with him.
Maybe this was one of the reasons why I haven't been active in blogging.)