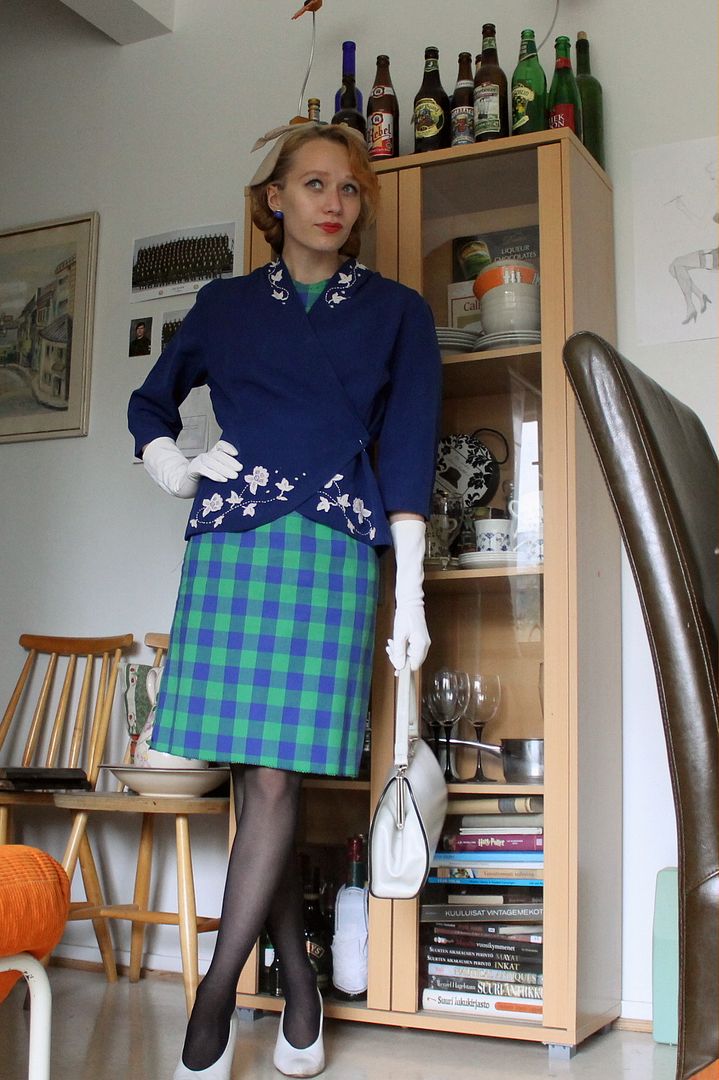 Viime viikon kirpputorikäynneillä löysin sinisen vintagejakun, jonka otin tänään käyttööni. Se on minulle vähän liian iso, joten otin hakaneulan käyttöön, ja se istuu näin paremmin. Osaako kukaan sanoa vuosikymmentä edes suurinpiirtein? Vanhalta se vaikuttaa ja kangas on vähän reikäinen, muuten oikein soma.
Tässä siis tämän päivän työasuni. Ruudullinen mekko on itsetekemäni, Mad Menin Peggyn inspiroimana! Tykkään siitä kovin, vaikka laatu ei ole todellakaan hyvä, sillä se on ommeltu huonolla kotiompelukoneellani. Täytyy varmaan käydä korjauttamassa sitä koululla.
(Translation: Last week I found this amazing blue jacket from a thrift store, and I wore it today at work. It is quite big for me, so I just used a safety pin and now it looks much better. Can anyone say the century? It seems quite old and the fabric has few little holes, but it's cute anyways.
So, this is what I wore at work. Plaid dress is made by me, and it is inspired by Peggy from Mad Men! I like this dress a lot, but it's quality is not very good, as it's made by my own sewing machine. I should propably fix it with school's industrial machines.)