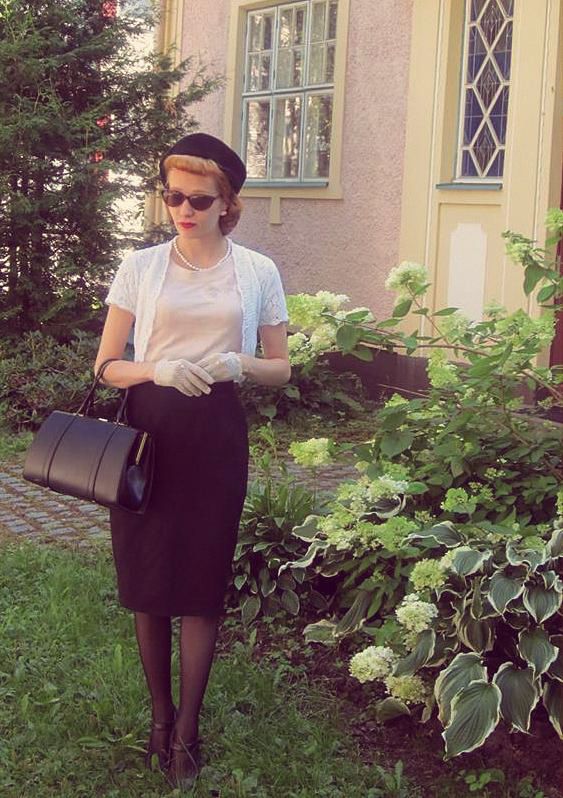 Hei, pitkästä aikaa. Olin melkein viikon ajan Joonaksen kanssa Tohmajärvellä tämän äidin luona, eli en ole saanut paljoa asupostauksia kyhättyä. Viikko oli todella Harry Potter -täyteinen, sillä katsottiin Joonaksen äidin kanssa jok'ikinen ilta Potter-elokuvia ja minä luin parissa päivässä myös ensimmäisen kirjan. Nyt etsiskelen muut kirjat käsiini, jotta pääsisin lukemaan nekin taas pitkästä aikaa. Olen ikuinen Potterin maailman kulkija!
(Hello, long time no see. Joonas and I were in Tohmajärvi almost a week, at his mom's, so I couldn't really write outfitposts. Our week there was filled with Harry Potter, as we watched the movies every night, and I read the Sorceres's stone in two days. I really want to borrow the other books from someone, so I can read them too again. I will wandering in Potter's magical world forever!)
Kävin eilen, Joensuuhun palattuamme, vanhempieni kanssa antiikkimessuilla. Olin alunperin mukana ihan vain seuraneitinä, samalla kun vanhemmat tekevät löytöjä, mutta asetelma kääntyikin nurinperin. Vanhemmat eivät löytäneet myyntipöydiltä yhtään mitään ostettavaa, ja minä sitäkin enemmän! Ostin aika pikkujuttuja, mutta sitäkin ihanampia.
Äiti otti nuo asukuvat minusta omalla kamerallaan. Minua vähän ärsyttää, kun olen niin vaivaantunut aina, kun joku ottaa minusta kuvia. Olisinpa yhtä itsevarma kuten silloin, kun otan itse kuvani!
(My parents and I went to the Antique trade fair yesterday. I was meant to be nothing but company there, while my parents buy rare antiques, but it turned completely upside down. My parents didn't find anything for their taste, but I found lots of little things I needed, or just didn't know I need!
My mom took these outfit shots for me before we went to the fair. I am so ashamed for being so uncomfortable when someone takes pictures of me. I wish I had that same confidence as when I'm taking the pics myself!)
Löysin vanhat klipsikorvikset, materiaali taitaa puuta olla, ja muutaman valokuvan. Näitä meinasin haalia enemmänkin mukaan, mutta päätin säästää kolikoita muuhunkin.
(I found old flower earrings, I think these are made out of wood. And few photographs. I wanted to buy more of these, but decided to save my coins for something else.)
Äitini löysi tämän minulle! Vanha pellava tyynyliina, johon on kirjottu minun nimikirjaimeni. Aarre!
(My mom found me this! Old linen pillowcase, with my initials. What a treasure!)
Punaiset, täysin käyttämättömät 50-60-luvun käsineet (täydelliset!!), sekä 5 paria yhtä vanhoja saumallisia sukkia. Sain nämä kaikki sukat yhteensä 10 eurolla, 2e/pari.. Halvalla lähti ja minä olin iloinen!
(Red, completely unused 50-60s gloves (perfect fit!!), and 5 pairs of stockings with seams. I paid 10 euros for these stocking's, 2e/pair.. I got them cheap, so I was happy!)