Kyllä internet ja huutokaupat ovat sitten ihmeellisen käteviä.
Minulla oli ilo ja kunnia tutustua yksi päivä koulun omaan arkistoon, jossa oli vähän kaikkea menneiltä vuosikymmeniltä, opinnäytetöistä vanhoihin lehtiin. Sieltä nyt sitten löytyi myös paksu kansio täynnä pienoiskoossa olevia kaavoja 50-luvulta, joista sain parit kopsut ottaa. Mieli kuitenkin jäi haikailemaan omaa painosta, joten löysinkin netin ihmeellisestä maailmasta myynnissä olevan täysin saman kaavakansion! Vanhempani ostivat sen minulle syntymäpäivälahjaksi, ja nyt se on vihdoinkin minun!
(Translation: I love how handy internet and online auctions are.
I had an honour and joy to visit our school's own archive, filled with school files and magazines from the past decades. There was also this special red file from the 50s, which included over 70 patterns - beautiful dresses and suits etc. I was allowed to take few copies of it. Still, I wanted to have one for myself, so I searched it through all the internet (gosh it wasn't easy!) and found exactly the same pattern book! My parents decided to buy it for me as a birthday gift, and now it is finally mine!)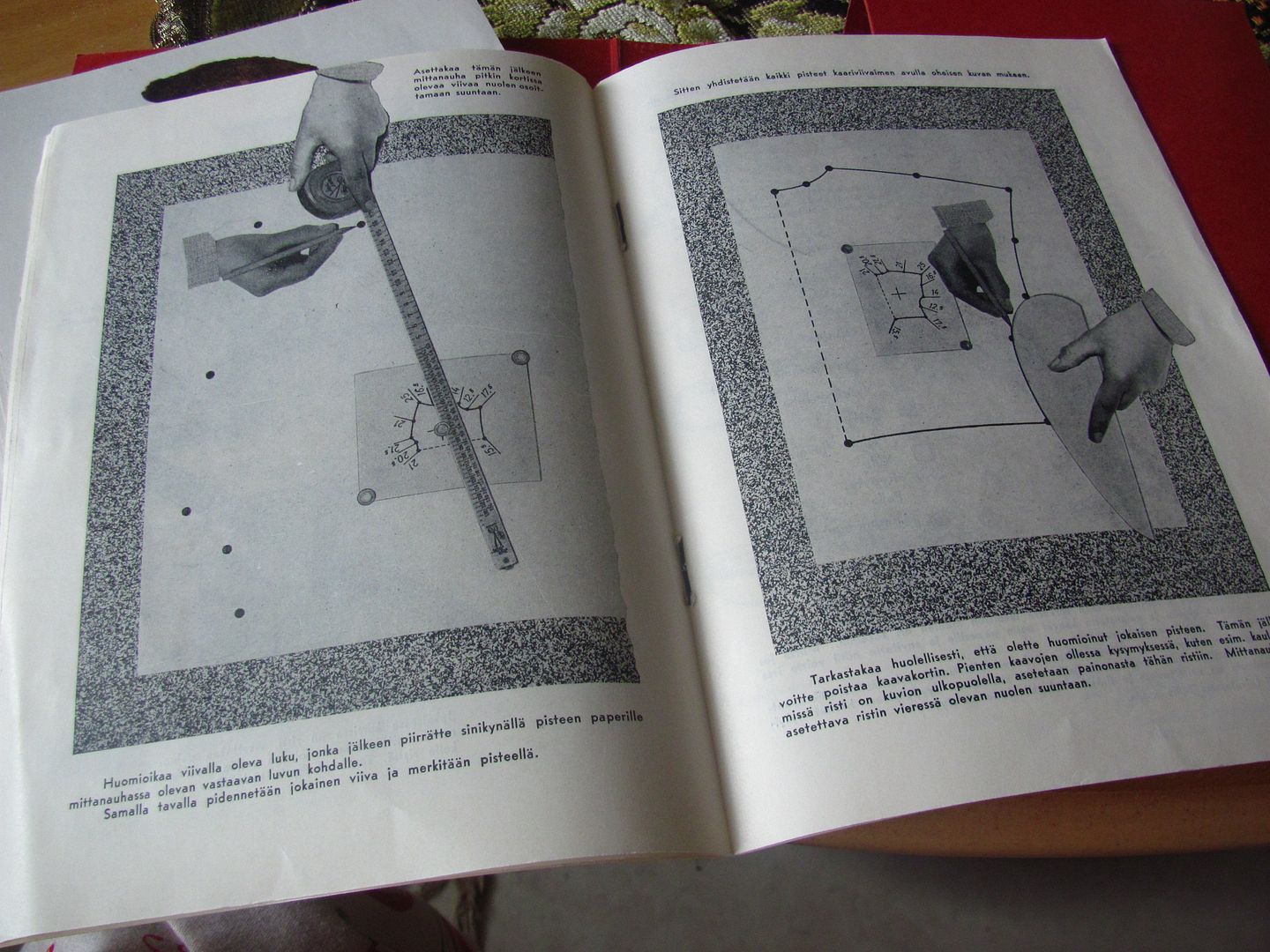 Kansio sisältää yli 70 pientä arkkia, joiden toisella puolella on kuva vaatteesta ja toisella puolella on kaavat pienoiskoossa. Mukana tuli myös kaarreviivain ja ohjeet kaavojen suurentamiseen. Ainut mikä puuttui oli itse mittanauha, jonka avulla olisi ollut todella helppo suurennella kaavat. Eipä se haittaa, sillä opiskelenhan ompelijaksi ja osaan kyllä jo suhteellisen hyvin kuositella itse kaavani. Tämä on todellinen aarre, ja aion etsiä näitä lisää, sillä tietääkseni näitä julkaisuja on ollut muinakin vuosina. Nyt vain täytyy ostella kankaita ja alkaa harjoitella kaavojen suurentelua omaan peruskaavaani. Tulee varmasti ihana kesäloma ompelun tohinassa!
(This pattern book includes over 70 sheets, which has on the one side the pictures of the clothing, and the other the patterns as a miniature size. The file included also a curve ruler and a book with instructions. The only thing that's missing is a special tape measure, which could have been a big help when enlarging the patterns. But it's okey, I am after all studying clothing business and I can make my own patterns quite well. This pattern book is a true treasure, and I am going to find more! I think there's different kind of releases of this pattern book. Now I just need to buy fabrics and start to practice with these patterns. It's going to be some sewing orientated summer!)