Tänään on syntymäpäiväni ja täytän 21 vuotta. Huh! En tosin vielä juhli sen suuremmin. Katsomme Joonaksen kanssa parit elokuvat herkkujen kera, ja vasta perjantaina on sitten ne partyt ystävien ja loistavan rock n' roll keikan parissa. King Rebel & Ramblersia taas! YAY!
Tämä retropusero oli kirpputorilöytö, mutta sitä täytyi muokata aika paljon tyyliini sopivaksi. Puseron alla on ompelemani hihaton kellomekko. Alan onnistua kerta toisensa jälkeen aina vaan paremmin näissä ompeluprojekteissa. Vielä en kuitenkaan olisi ehkä valmis omatoimisille asiakastöille, vaikka kyselyjä on ollutkin.
(Translation: Today's my birthday, and I am 21 years old now. I don't celebrate it yet. Today we will just watch couple of movies with sweets, and on friday I am hosting a bigger party to my friends and later there's great rock n' roll gig. King Rebel & Ramblers again, YAY!
I found this retro blouse from the flea market, but I had to alter it a lot to be more suitable for my style. I am also wearing a blue sleeveless dress under the blouse. I sewed the dress myself last week. I am getting better and better in sewing. But I am still not ready to make anything for customers without teachers' help, even though there's been a lot of interest.)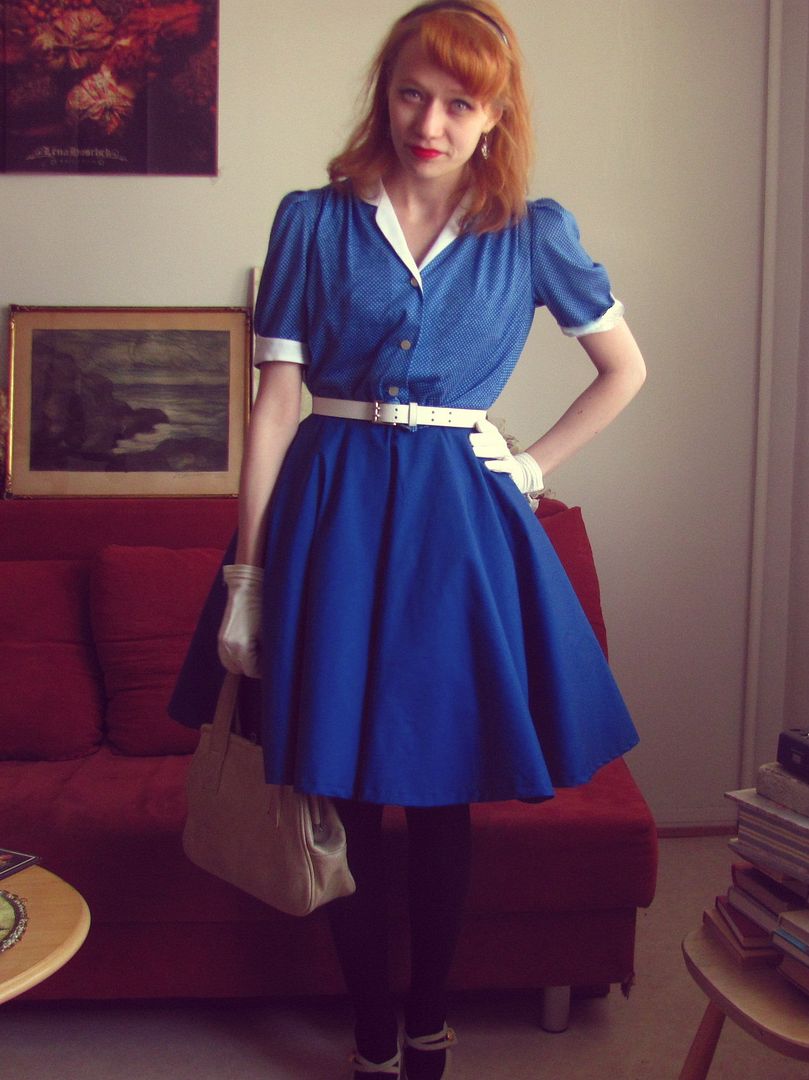 Takana on nyt kaksi päivää TOP-jaksoa ala-asteella, ja olen viihtynyt mitä parhaimmiten! Ja onhan mulla ihan huippu työpaikkaohjaaja siellä! Olin ehkä hauskimmalla matikantunnilla ikinä, vaikka oppilailla ei niin hauskaa ollut. Mua kyllä nauratti takapulpetissa :D Saa nähdä, mitä kaikkea hupaisaa tämän seuraavan kahden kuukauden aikana näkee. Tulen olemaan aika paljon myös tekstiilityön tunneilla, mikä hermostuttaa minua. En nimittäin voi mitenkään avustaa sellaisilla tunneilla, missä on esimerkiksi neulomista. Osaan vain ommella.
(I've been two days now in on-the-job learning place, at primary school, and I've been having a blast! And I have the coolest "employer", of course! The latest math lesson was the funniest ever, even though the pupils weren't having as much fun :D Can't wait to see what will come across in next two months there. I will also be helping in handcrafts lessons, and it makes me nervous. I am not going to be much of a help if there's knitting. I can only sew.)