Heräsin juuri parin tunnin päiväunilta. Miten voikaan ihminen olla näin väsynyt? Takana todella pitkä päivä, viimeinen uurastus asiakastyön suhteen, ja mekko on nyt tosiaankin valmis! Portfolio enää täytyy tehdä, mutta tuskin siinä kauaa menee. Päässäni ei ole juuri mitään muuta liikkunut viime aikoina, kuin koulujuttuja. Pakko huilia nyt kun mahdollista - vaikka uusia ompeluprojekteja päässä pyöriikin. Vihdoinkin on tunne, että osaisin kuositella ja ommella ihanan kellomekon uudestaan ja ilman apua. Suunnittelen jo syntymäpäivilleni mekkoa, sekä toukokuun keikalle. Jännittää! Tarvitsen kankaita..!
Puin tänään ylleni erään mekon, jonka ostin puolitoista vuotta sitten. En ole pitänyt tätä(kään) koskaan aikaisemmin, sillä sain pienennettyä sitä itselleni sopivaksi vasta pari viikkoa sitten. Se on todella mukava yllä, ja sopii kotihommiin ja ompelutyöhön.
(Translation: Hello, I just took some fine two hour nap. How can anyone be as tired as me? I've had a rough day, the last push with the customer work, and the dress is finally finished!! I just have to make a portfolio, but it won't take much time. I've had nothing but school on my head lately. I need to rest while I can - though I do have few new sewing projects planned.. Finally I feel like I can now make patterns and sew a lovely circle dress again and without help. I am already planning dresses for my birthday and for the gig in May. So excited! I just need some fabric as soon as possible..
Today, I wore a dress I've never (surprise) worn before. And I bought it one year and a half ago. It is so comfortable to wear, it's the right dress for hard work.)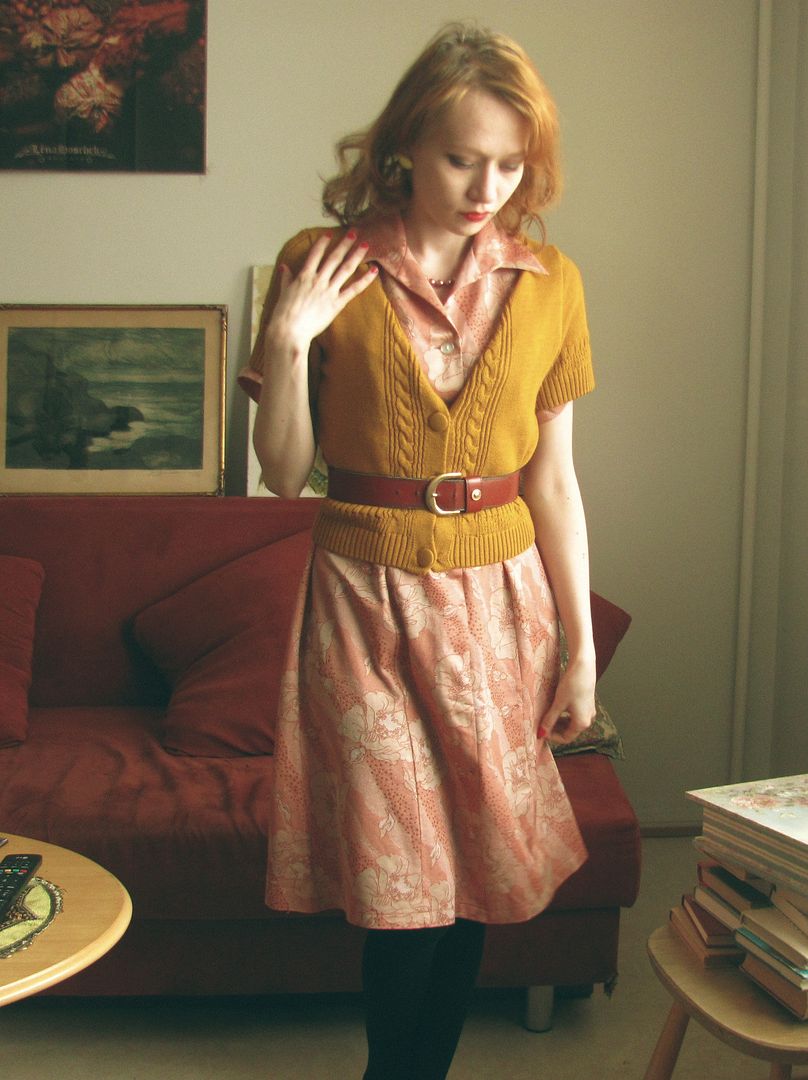 Minun täytyisi varmaan värjätä taas hiukset.. Juurikasvu näyttää siltä kuin päässäni olisi hometta. Nättiä.
(I should propably dye my hair again.. Root growth looks like I have something like mould in my hair.. How charming.)