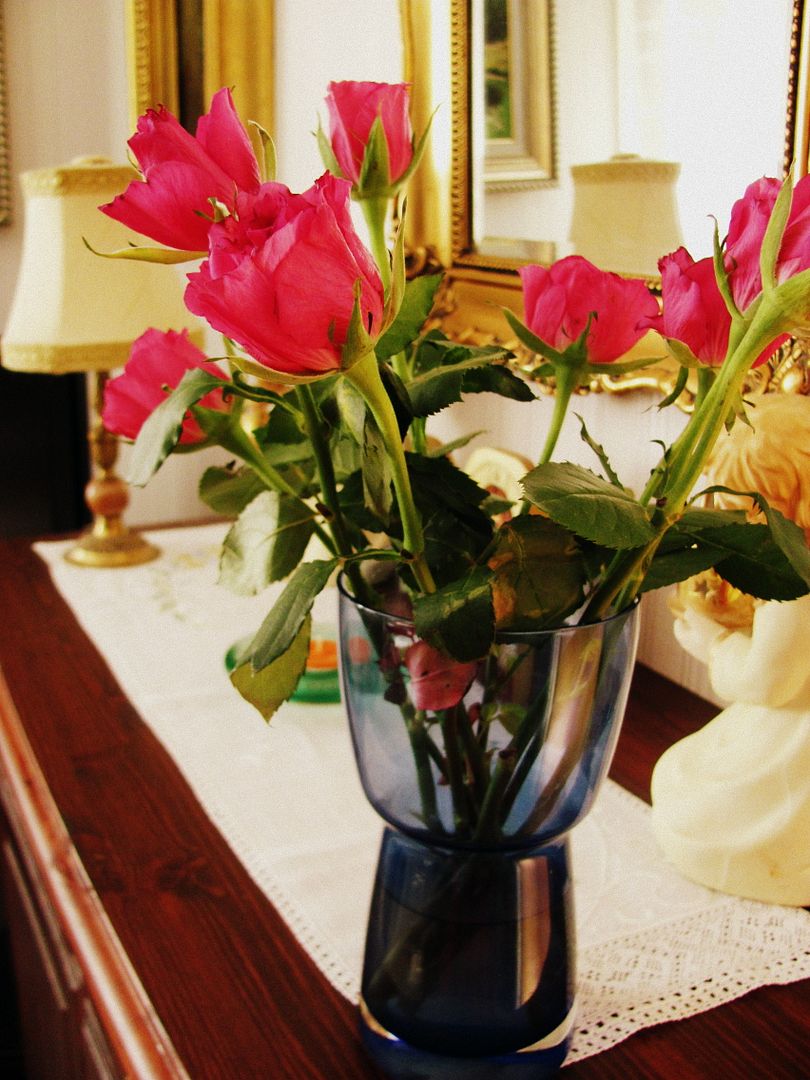 Eilen saavuttiin yöllä vanhempeni luokse, lapsuuden kotiini. Vaikka fiilikset ovat aina ristiriitaiset Nurmekseen tultaessa - hyvin harvoin täällä kuitenkin vierailen - on silti aina mukavaa palata kotiin. Talo on sisustettu nätisti pääsiäiseksi, ja ihailen erityisesti aamuauringon valoa olohuoneessa. Olisi ollut mukava käväistä sukutilallamme maalla tällä lomalla, mutta se varmaan jää toiseen kertaan. Kesällä siellä on muutenkin ihanampaa käydä, kaikki se idyllisyys ja romanttisuus..
(translation: We arrived to my parents' home late last night - my childhood home. Even though my emotions are very conflicting when it comes to Nurmes - as my visits are rare - it is always nice to be back at home. The house is very nicely decorated for Easter, and I love the morning light in the livingroom. It would be nice to go to the countryside too, but we don't have enough time. And it is so much lovelier in the summer, so idyllic and romantic.)
Isä toi minulle parhaita liköörikonvehteja Varsovan reissulta - Irish whiskey and cream!! Ahh, niin hyvää - etenkin aamukahvilla.
(My father brought me these liqueur filled chocolates from Warsaw - Irish whiskey and cream!! Ahh, so delicious - especially with coffee in the morning.)
Äitini maalaa ihania tauluja. Nämä kaksi taulua ovat hänen maalaamiaan. Tykkään erityisesti tuosta kukka-aiheesta! Olen tehnyt jo "tilauksia" äidille, haluaisin nimittäin pari maalausta aiheinaan irlantilainen maaseutu.
(My mother is talented when it comes to art. These two paintings are made by her. I love that floral painting especially! I've made some "orders" to my mother already, I'd love to have couple of paintings about Irish countryside.)