Tänään minulle saapui
ebaysta
tilaamani kengät! Joonas laittoi tililleni vaan rahaa ja sanoi, että osta mitä haluat, aikaisena synttärilahjana! Synttärithän ovat vasta huhtikuussa.. Mutta mikäpä tyttöä piristäisi paremmin kuin uudet kengät. Ja kaiken lisäksi vielä creepersit, joista olen haaveillut jo kauan. Haluan kuitenkin noita vielä useammissa väreissä, erityisesti leopardikuosissa!
Tänä yönä tilaan liput myös toukokuun Rockabilly tapahtumaan, jossa esiintyy mm. The Blue Cats! En malta odottaa sitä! Täytyy ruveta suunnittelemaan jo seuraavaa ompeluprojektia, uusi kellomekko sille keikalle! Yay!
(Translation: My new babies arrived today!! Joonas gave me the money to buy whatever I want as an early birthday present, so I decided to order these black creepers from Ebay. And my birthday is 9th April.. Well, what is a better way to cheer me up than a pair of new shoes? I want plenty of pairs now, in various colours, especially in leopard print!)
Tonight, I am going to order tickets to me and my friend to the rockabilly event, on May. I am going to see the Blue Cats, can't wait! I think I have to start planning my next sewing project, new rock n roll circle dress to the gig! Yay!)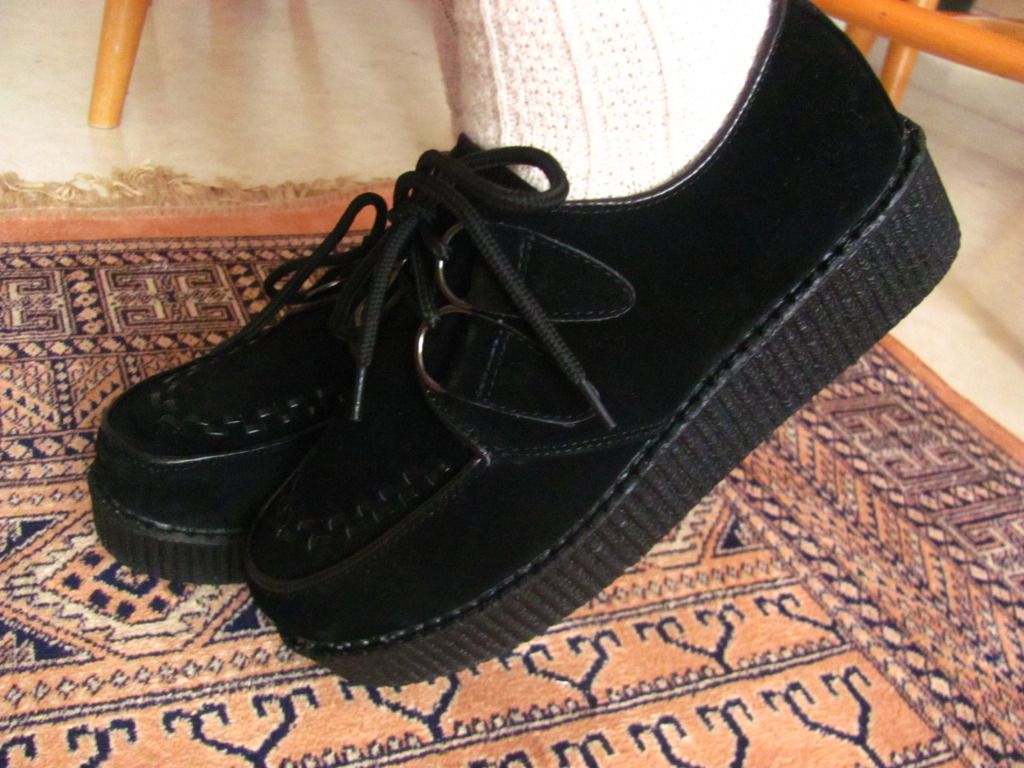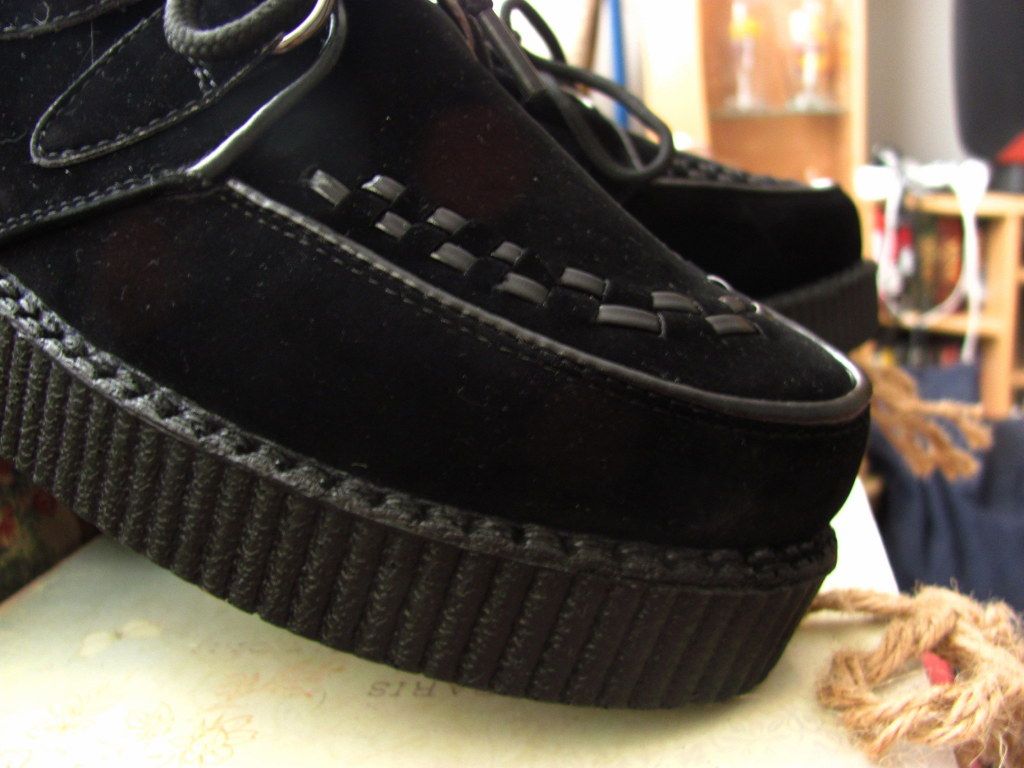 Tämä viikko on ollut yhtä hullunmyllyä ja itkua. Nyt on asiat kuitenkin paranemaan päin. Minun ja Joonaksen suhde on ihan uudella tavalla herännyt ja voimistunut, olen varmempi kuin koskaan ennen! Ensi viikko on kuitenkin vielä kestettävä sitä faktaa, että Joonas lähtee silloin Helsinkiin enkä saa taaskaan viettää ystävänpäivää rakkaimpani seurassa. Mutta kai tästä on tulossa perinne.. Ei ole uutta.
(This week have been tough and filled with crying. Now the things are getting a lot better. Our relationship has grown a lot, waken up in a new way, I am most certain that this is going to last forever! I love him so much! Though, I have to be next week alone. Joonas is going to Helsinki and I will have to - once again - spend my Valentine's day alone without the man I love. But perhaps this is another tradition in my life.. Nothing new.)
Löysin toissapäivänä ystävän ja Joonaksen kanssa kirpputoria kiertäessä tällaisen suloisen vintage nahkalaukun! Se on niiin ihana. Vaikka sisus on ehkä vähän koinsyömä mutta ei se mitään. :)
(I found this supercute vintage purse while I was thrifting with my friend and Joonas. It is so adorable!)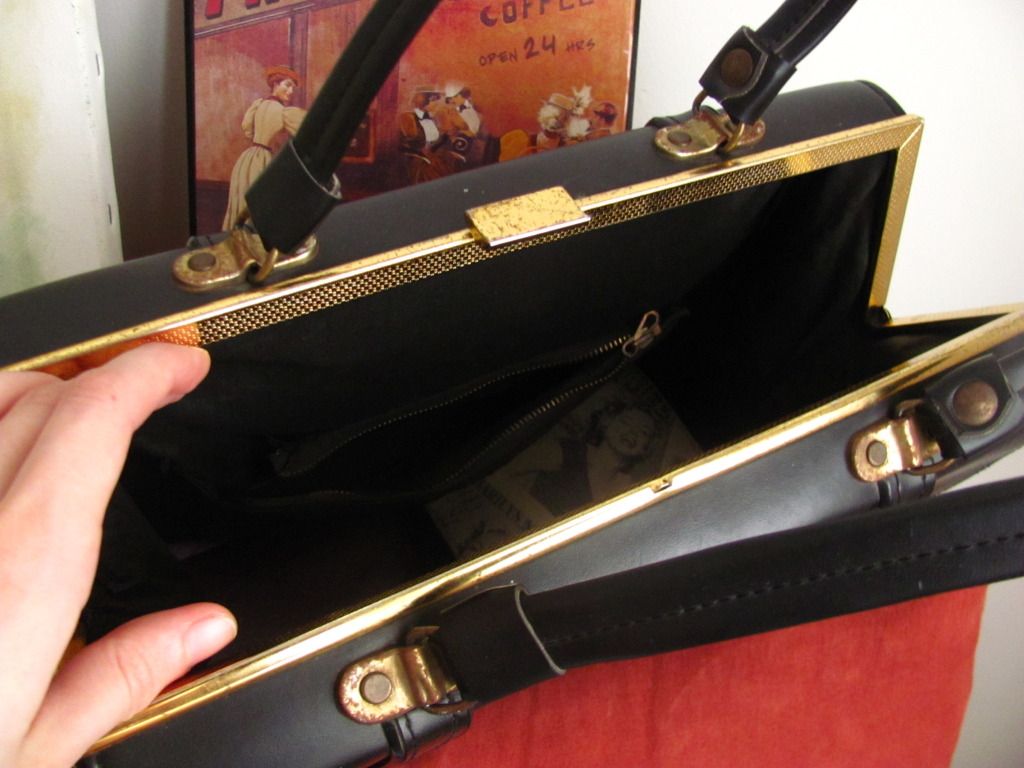 Ja tässä myös uusi Marilyn Monroe -lompakko, jonka Joonas halusi minulle välttämättä ostaa. Tykkään niin kovin! Kelpaa esitellä ;)
(And here's my new Marilyn Monroe -wallet, Joonas necessarily wanted to buy it for me. I love it so much!♥)
Take the most out of your life!♥
See you!