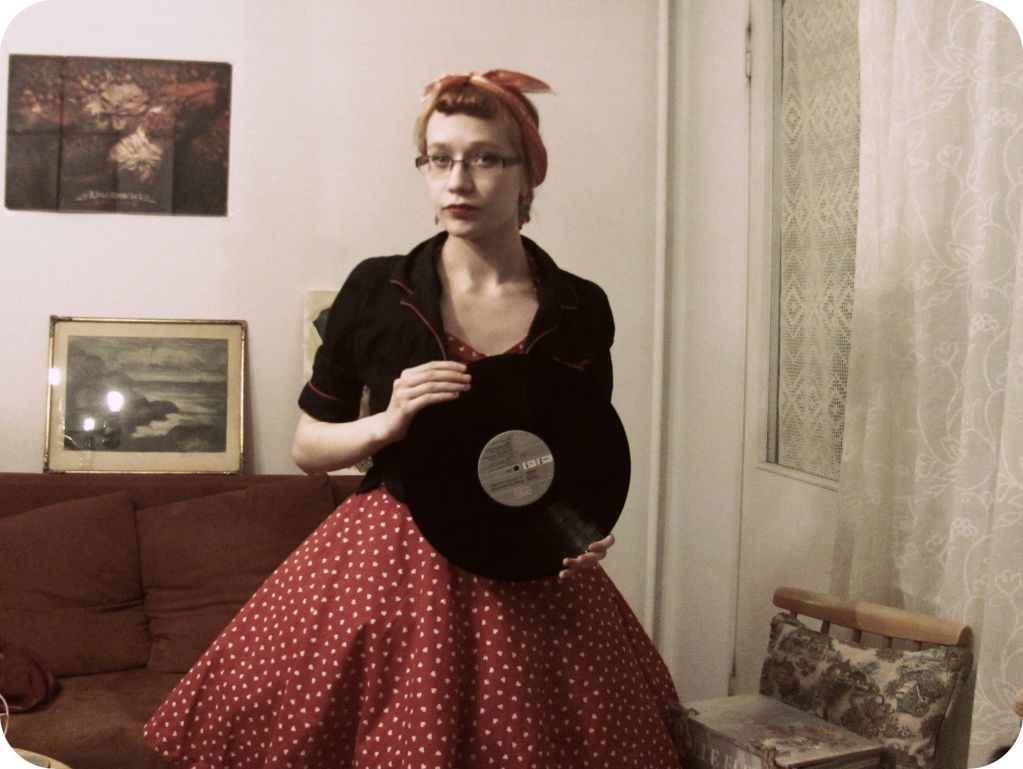 Uuden vuoden aattoni oli todella hauska, eikä ollut aamulla edes krapulaa!
Nyt olen palannut takaisin koulunpenkille, kuunnellut uudella levysoittimellani ja ihastellut
Joonaksen uutta hiustyyliä! Hän on niin komea siilitukassa, en ole ennen nähnytkään
Joonasta ilman sitä muhkeaa hiuspehkoa..
Minulla oli joulun yli hoidossa kaverilta upea orkidea, ja nyt minua hävettää..
Se nimittäin taisi paleltua ja kuolla.. Minusta ei taida viherpeukaloa tulla. En tiennyt että
tuota ei kannata ikkunalle laittaa, ja meillä kun vetää niin se on nyt pudotellut miltei kaikki
kukkansa.. Tuntui tosin että minua asia kauhistutti enemmän kuin Kataa.. :D
(Translation: My new year's eve was so much fun, I didn't even had a hangover in the morning!
Now, I am back at school, I've been listening music with my new record player and
admiring Joonas' new haircut! He's so handsome with short hair, I haven't even seen him
without his thick fluffy hair before..
My friend gave me an orchid to take care through the christmas holidays, and now I am
so ashamed.. I think it's freezed, and dead. I am definitely not a "green thumb".
Well I didn't know you shouldn't put your orchid next to window, especially when the cold
wind blows inside.. It has only one flower left! What a sad view!
I think I was a lot more upset than my friend Kata.. :D)
Wearing: Red circle dress with hearts - sewed by me, Black Cherrybelle blouse - thrifted
Dotty scarf - thrifted
Rockabillyinnostukseni on tosiaan kasvanut tämän Joensuussa asumisen aikana.
Keikat ja kaikki uudet musiikkilöydöt, ja mahdollinen Helsinkiin lähtö toukokuussa
katsomaan The Blue Catseja ja Matchboxia!! Voinko innokkaampi enää ollakaan?
Toivottavasti minä pääsen sinne!
(My enthusiasm for rockabilly has been growing a lot since I moved to Joensuu.
All the rockin' gigs and musical finds, and an opportunity to see The Blue Cats and Matchbox
in Helsinki, on May!! Can a girl be any more excited?
I hope I will have enough money to go to see those awesome bands, and
daaance till I faint.)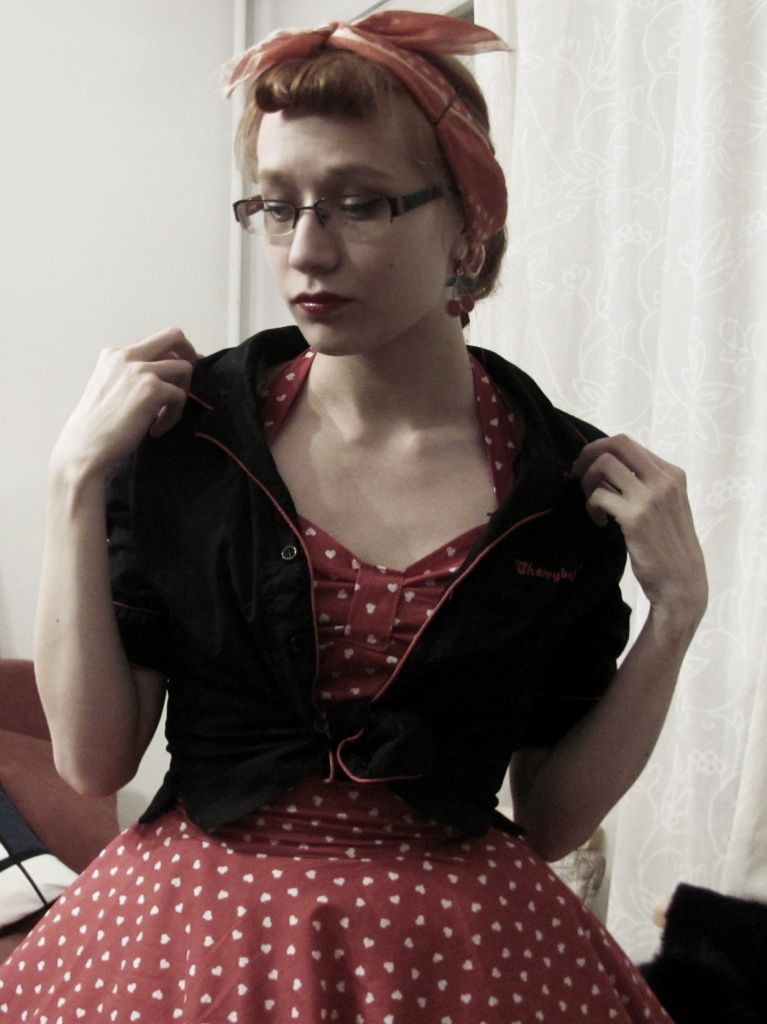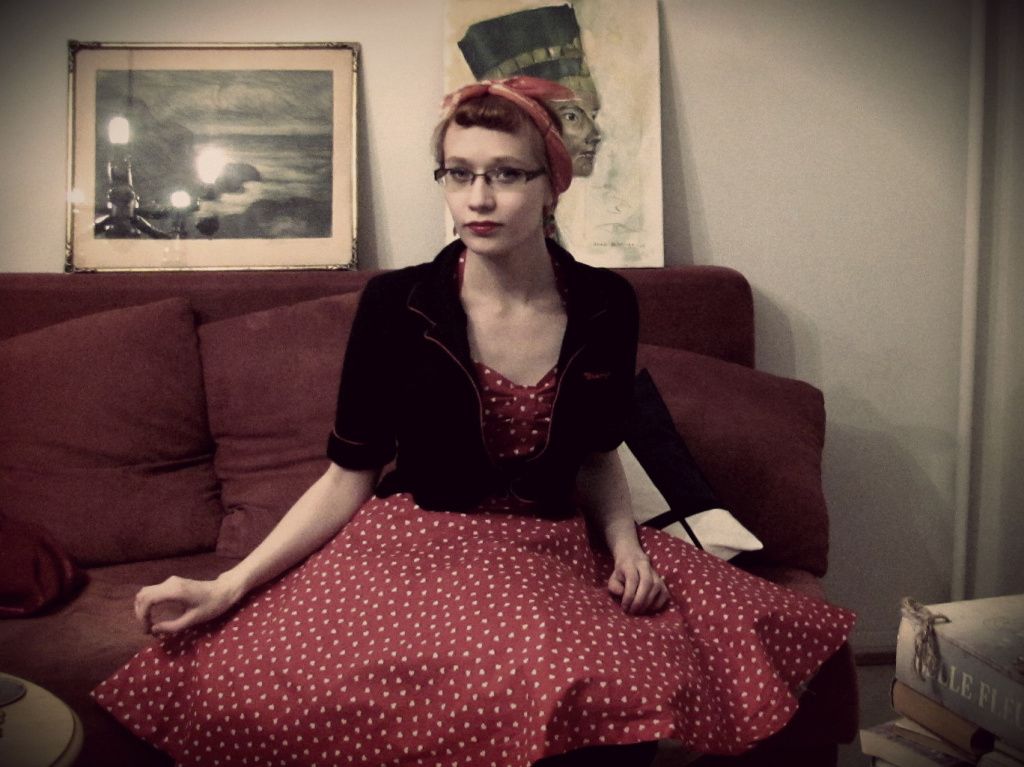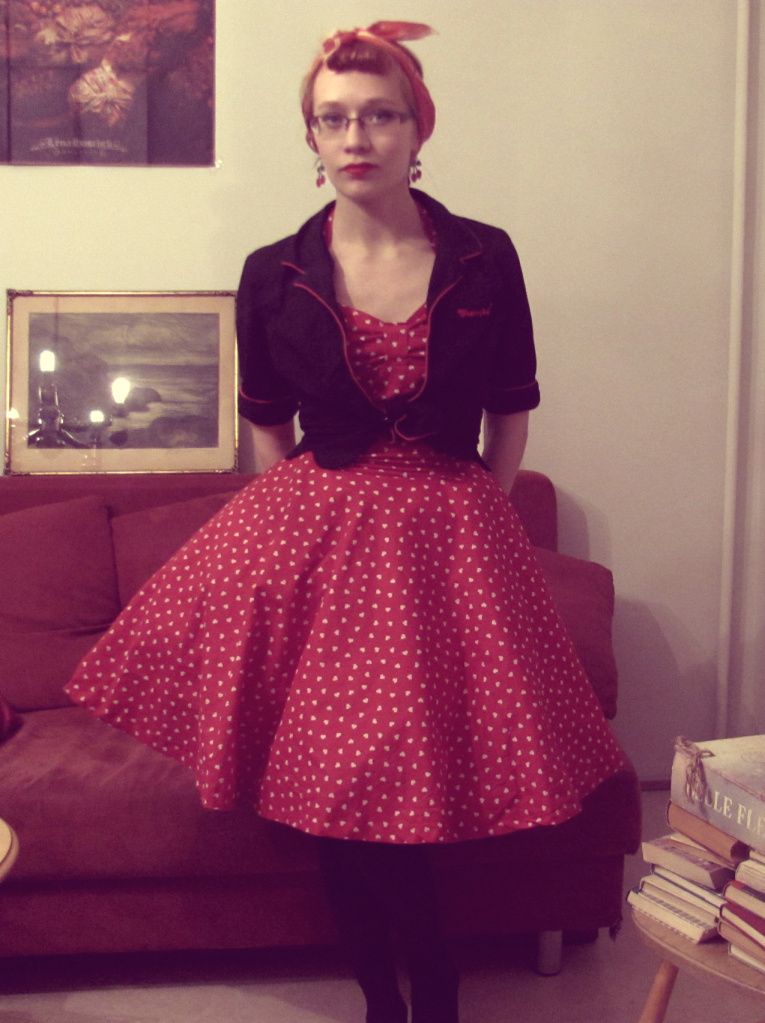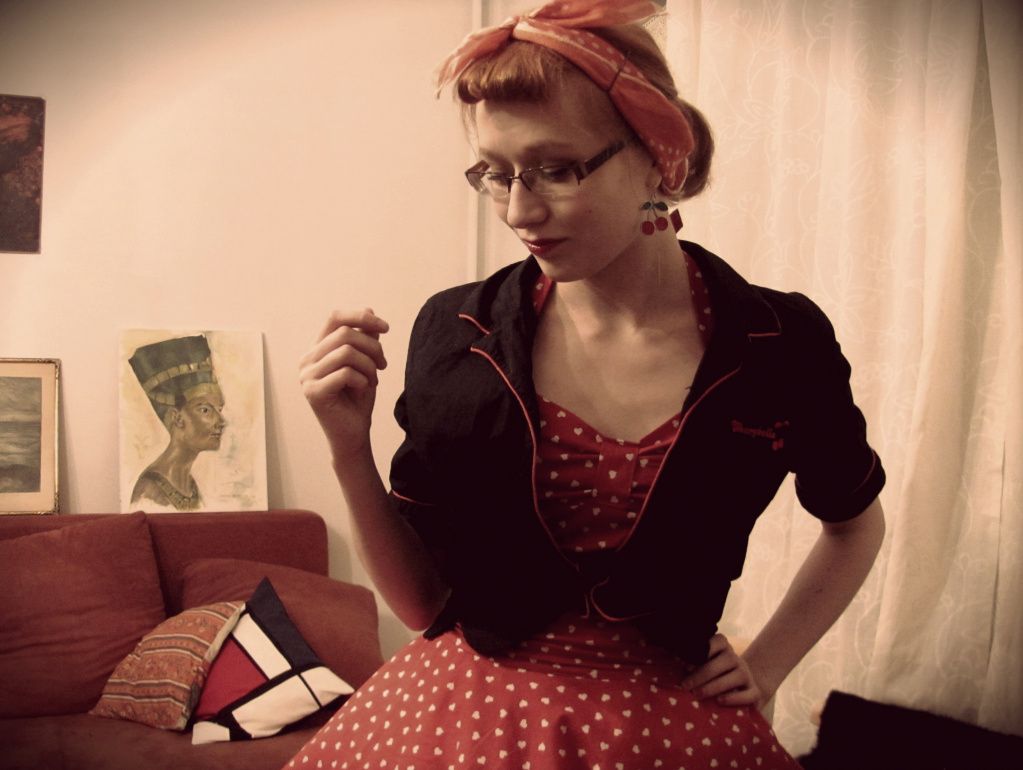 My favourite song from The Blue Cats! Enjoy!