Koulu stressaa jälleen, päivät ovat pitkiä ja olen hyvin uupunut aina kun pääsen kotiin.
Valopilkkuna toimii maanantai-iltaisin irlantilaisen muusikon Danny O'Mahonyn oma
show "A trip to the cottage" irlantilaisella radiokanavalla nimeltä Radio Kerry! Sisältää paljon
irlantilaisia perinteisiä veisuja ja Dannyn aksentti on tietenkin hunajaa korvilleni. Itseasiassa olen
hänet tavannutkin
, Joensuussa, kun hän musisoi täällä viime irkkufesteillä. Todella ystävällinen
herra oli hän! Laitteli jopa terkut minulle radion kautta!
(translation: School is stressful, days are long and I am so tired everytime I return home.
One thing that cheers me up is a radio show "A trip to the cottage", every monday presented by Irish
musician Danny O'Mahony, in Radio Kerry. It includes lots of Irish tunes and Danny's accent
is of course honey to my ears. In fact I have met him once in Joensuu, when he was performing
here last autumn. He was such a friendly fellow! I even got greetings from him, through the radio!)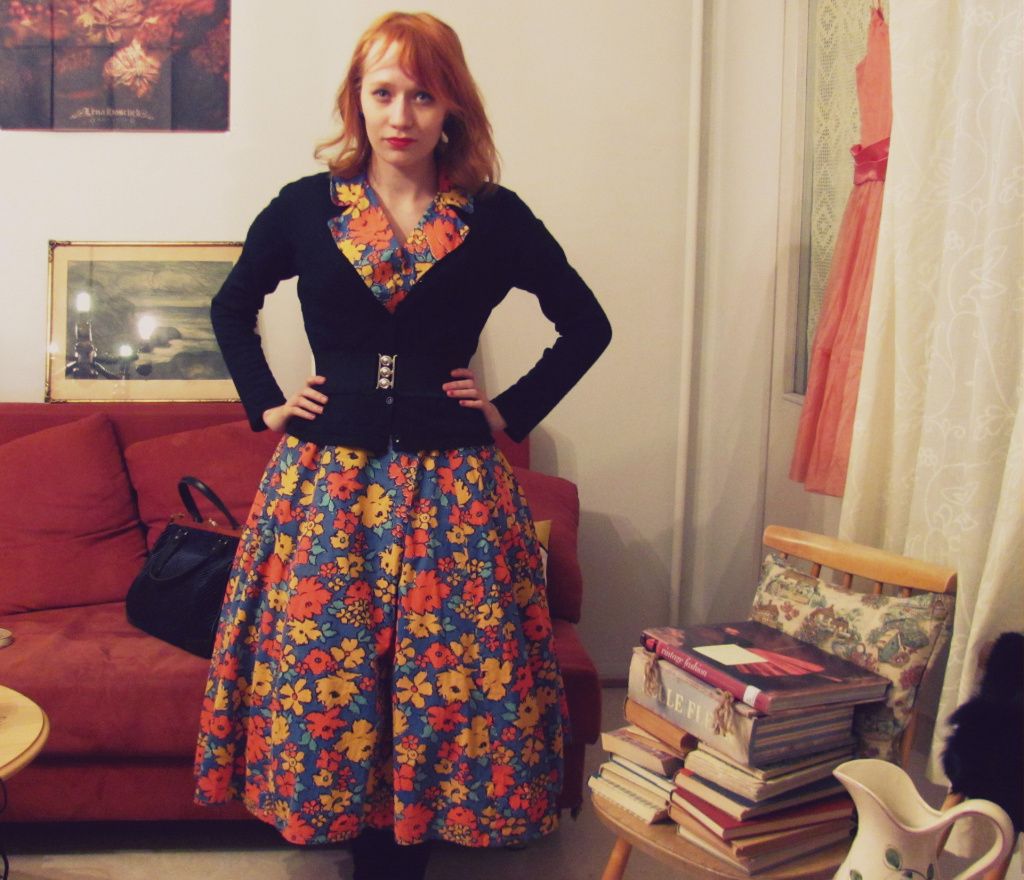 Jotkut saattavat tietää, että minä rakastan kaikkea mikä liittyy irlantilaiseen kulttuuriin!
...Ja kappas, tätä tekstiä kirjoittaessa kummasti mielialani yhtäkkiä aleni suunnattomasti.
Kuulin juuri äsken, että kantapaikkani Old Dog Irish Pubin tiloihin on nyt tosiaan tulossa joku
karaokebaari! En voi tämän surullisempi olla...! Olen odottanut kuin kuuta nousevaa, että ihme
tapahtuisi ja Old Dog avaisisi taas ovensa, mutta EI.
Tosiaanko, Rest in Peace, Old Dog Irish pub?
Sieltä on niin ihania muistoja ja minun elämäni kannalta merkittäviä asioita on tapahtunut juuri
kyseisessä pubissa (kuten esimerkiksi ihanin ensisuudelmani, Joonaksen kanssa:D), saattaa
kuulostaa ehkä hämmentävältä, mutta totta se on. Se paikka oli minulle todella tärkeä.
Mistä minä nyt saan annokseni irlantilaista musiikki- ja pubikulttuuria?
Ja missä vietän Pyhän Patrikin päivän??!
Tulen ikävöimään eniten irkkujameja ja upeita keikkoja, parasta Irish coffeeta, Kilkennya
pähkinöillä, Carolansin siemailua hienosta lasista, pasianssin pelaamista nurkkapöydän
omassa rauhassa ja syvällisiä keskusteluja tuntemattomien kanssa!
(Some of you know that I am madly in love with Irish culture!
.. And well well well, while writing this post my mood suddenly went terribly down.
I heard just a minute ago, that my regular hangout pub, dearest local Old Dog Irish pub
has really closed its doors, and they are going to turn the place into a stupid karaoke bar! I can't
be anymore mad about these news..! I have waited for quite a time that a miracle would
happen and Old Dog would still be open someday, but NO.
This is it, then? Rest in Peace, Old Dog Irish Pub?
I have so many memories from there, and lots of things have happened in that pub,
(for example the most memorable first kiss with Joonas:D) and it might sound weird but
I am telling you the truth. That place was really important to me.
Where am I supposed to get my dose of Irish music and pubculture now?
And where am I going to celebrate when it's St. Patrick's day??!
I am going to miss the irish jams and great gigs, the best Irish coffee, Kilkenny with nuts,
sipping glass of Carolans, playing solitaire all by myself and talking deep with some strangers!
This place had its own atmosphere, and it is not the same to enjoy drinks at home
or some other bar than in Old Dog.)
Tässä nyt kuitenkin vielä eilisen asukuvia. Minulla oli ylläni vintage kotimekko 50-luvulta, jonka
tilasin viime vuonna Etsystä. Tässä mekossa onkin siivottu jos jonkin verran! Mutta kouluasunakin
se menee mukavan neuleen kera.
(Here's some outfit shots from yesterday. I am wearing a vintage chore dress from the 50s,
I purchased it from Etsy last year. I have cleaned the house a lot while wearing this dress, but I can
use it in school, if I am wearing some pretty cardigan and petticoats.)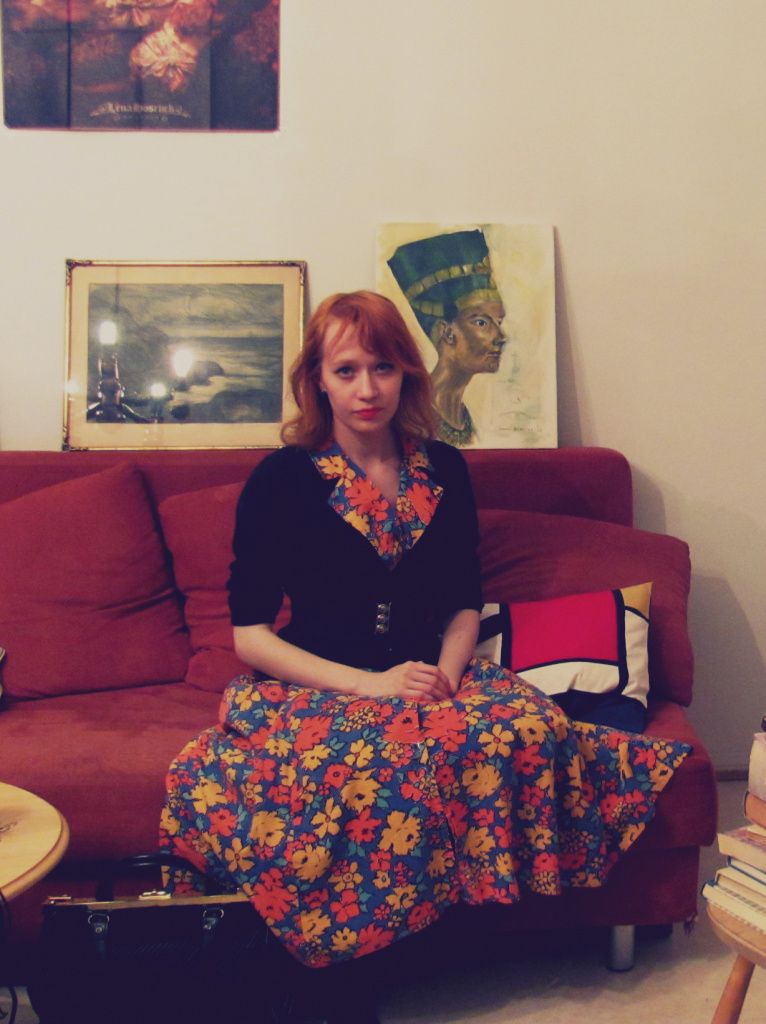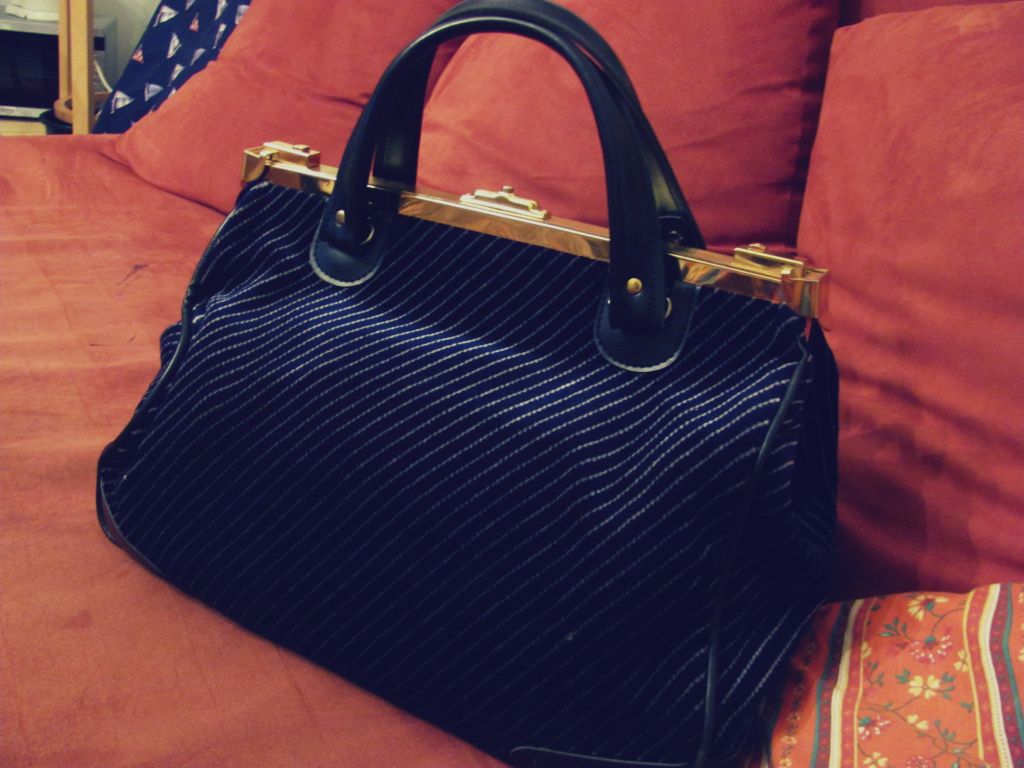 Minulla on myös uusi kapsäkki, jota käytän koululaukkuna. Nurmeksen kirpparilta ostettu
lääkärinlaukku, voiko suloisempaa ollakaan. Sinne myös mahtuu mukavasti tavaraa!
(I have a new bag, which I use as a school bag. I bought this "doctor's bag" as thrifted from Nurmes,
could it be any more cuter? Now I can carry so many things with me!)