Anteeksi hiljaisuuteni !!
Olen ollut kipeänä, ja motivaationi asuja kohtaan on ollut hukassa. Minun olisi pitänyt tällä viikolla tehdä vaikka mitä! Siivota ja tehdä asiakastöitä, mutta en vain ole kyennyt. Sen sijaan, intouduin äsken piirtämään!
Suunnittelen mekkoa ystävälleni asiakastyönä. 50-luvun tyyliin, halterneckia, polka dotseja, täyskellohelmaa..
Reija
ihastui minun Vivien of Holloway mekkooni nimittäin täysin, joten ompelen hänelle samantyylisen. En usko, että siitä tulee helppoa, sillä minun täytyy kuositella kaavat alusta alkaen ja miettiä tarkoin mitä teen. En ole koskaan ommellut halterneck-mekkoa
kaavoilla
. Onneksi saan apua opettajalta, luonnollisesti. Ja tämän takiahan minä tuohon kouluun meninkin. Haluan suuntautua juuri 50-luvun tyylisten vaatteiden suunnitteluun, ompeluun yms yms yms. Ja tämä asiakastyö tulee helpottamaan suunnittelua ja kuosittelua aika paljon tulevaisuudessa.
(Translation: Sorry for being absent!
I have been sick and my motivation towards outfits have been low. I should have done so many things! Cleaning, customer works, but I couldn't do them.. Instead, I draw quite a lot.
I am designing a dress for my friend as a school's customer work. 50s style, halterneck, polka dots, full skirt.. My friend Reija fell in love with my Vivien of Holloway dress, so I will sew something similar to her. I don't think it will be an easy task, 'cause I have to modify it out of a basic pattern myself and think carefully what I am doing. I have never sewn a halterneck dress with patterns. Luckily I get help from our teacher, naturally.. And this is why I went to this school in the first place. I want to orient myself towards designing and sewing 50s inspired clothings etc. And this customer work will help me a lot in the future.)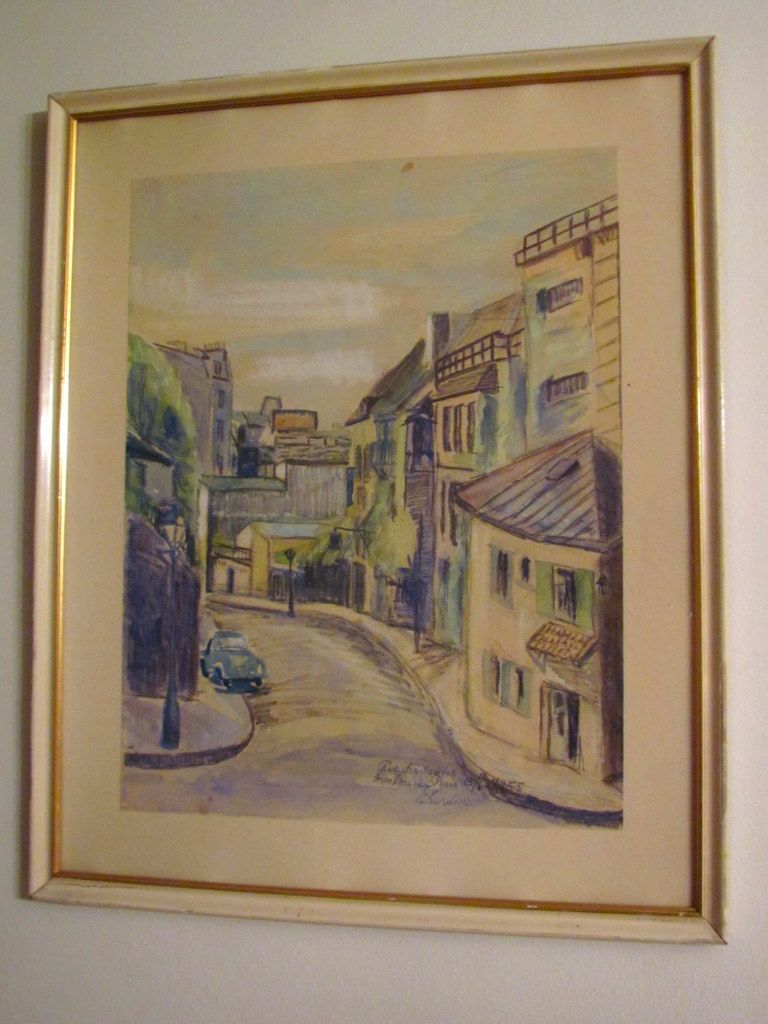 Mutta, vaatesuunnittelu ja ompelu eivät ole tällä hetkellä ainoita intohimojani. Nimittäin haluan todella kartuttaa taitojani taiteen, piirtämisen saralla. En tiedä, mistä tämä yhtäkkinen innostus. Olen kyllä piirtänyt aina, se on ollut yksi lempiharrastuksistani lapsuudessa heti tarinoinnin jälkeen, mutta aika ei vaan tuntunut riittävän ja innostukseni on ollut kausittaista. Olen piirtänyt viime aikoina jonkin verran juuri koulujuttuja varten ja nauttinut siitä suunnattomasti, löytänyt sen uudelleen.
Tein itseasiassa myös ensimmäisen "taulusijoitukseni". Onhan minulla toki tauluja ennestään, saanut äidiltä pari, mutta en ole koskaan itse ostanut. Löysin Uusiotorilta taulun vuodelta 1955, joka esittää pariisilaista katunäkymää. Siinä on niin ihanat värit, tykästyin siihen heti kun näin sen. En usko, että innostukseni piirtämiseen olisi yhtä vahva, mikäli suvussa ei ennestään olisi jo taiteellisia ihmisiä. Esimerkiksi asukuvieni taustalla näkyvä muotokuva Nefertitistä on äitini maalaama.
(But, designing and sewing are not my only passions at the moment. I also want to impove my drawing skills. I used to draw a lot when I was a kid, it was my favourite hobby, right after writing. But I had a lack of time, and my enthusiasm was seasonal. Well, I have been drawing a lot lately, at school, and it has been enjoyable.
I actually made my very first "investment" in art. I do have few paintings at home, which I got from my mom, but I have never bought one myself. I found this painting while thrifting, it is from 1955. It represents a Parisian street view. I really love the colours, I loved it immediately.
I don't think

that

my enthusiasm

for art

would be

just as strong

, if

my kindred would not have so many artistic persons before me. For example, the portrait of Nefertiti (which you can see in my outfit shots, behind) was painted by my talented mother.)
"Rue des Saules, Montmartre, Paris 15/6-1955
Christine"