Huomenna meillä on luokan kesken iltapäivällä pikkujoulut.
Ompelin tänään sinne punaisen kellohameen, näytän sen teille huomenna. Siitä tuli niin
söpö! Ainoa ongelma on, että rakas alushameeni alkaa menettää muotoaan. Yritin saada puffia
takaisin sokerivesiliosta ns. tärkkiä suihkuttamalla ja antamalla sen kuivua juuri kuten ohjeet
netissä käskivät tehdä, mutta se vaan huononsi tilannetta. Siispä kysynkin teiltä,
kuinka te saatte alushameen säilyttämään "puffiutensa"? Alan olla epätoivoinen, vaikka eihän
tuo sinänsä kallis hankinta ollutkaan.. Pitäisikö tuon tärkkisuihkeen toimia? Missä alushameita
säilytetään? Onko se vain niin, että tyllinen alushame on mahdotonta saada pysymään
kuosissaan?
(Translation: We are having a christmas party tomorrow with my classmates at school. I sewed
a red circle skirt today, I will show it you tomorrow or late. It is so cute! The only problem is that
my petticoat is losing its puffyness. I tried to make it last with sugar/water mix, so called
starch, I think I followed the instructions I found but it didn't work out at all.
So I ask you, how do you keep your petticoats in their full form? I am desperate, even though
my favourite petticoat wasn't that expencive.. Should the starch really work, how? Where
should I keep my petticoats? Is it impossible to keep them in their original puffy shape?)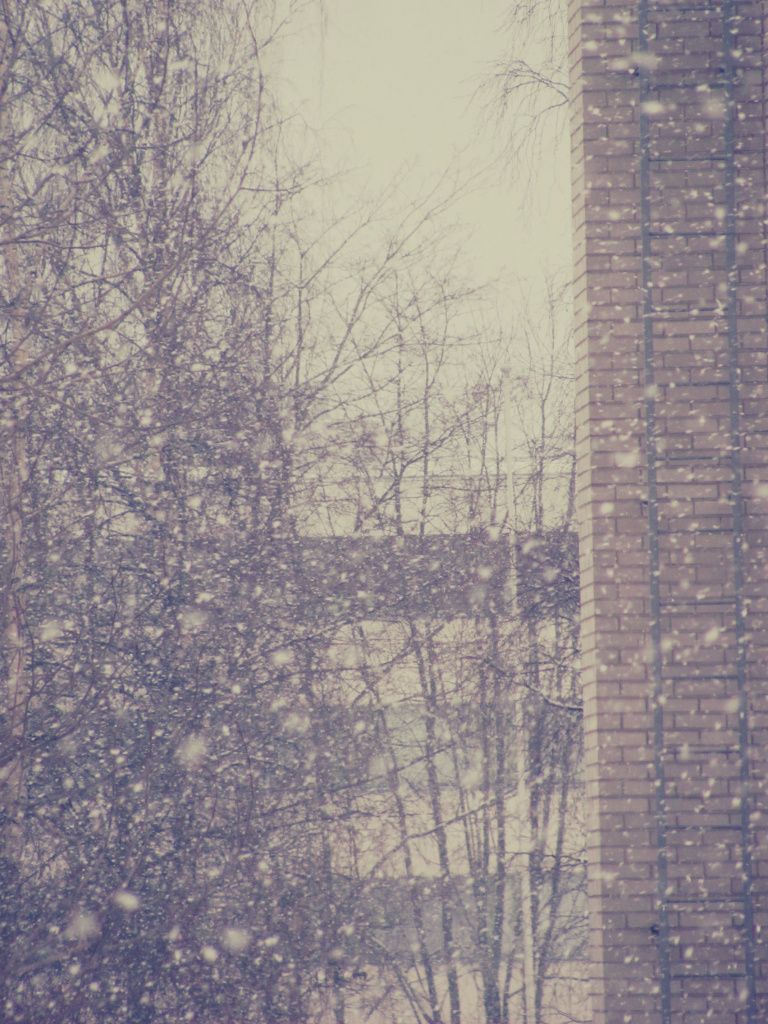 Lunta on satanut viime aikoina rankasti. Jospa tämä lumi pysyisi joulun yli.
(It has been snowing a lot. I hope this snow will stay over christmas.)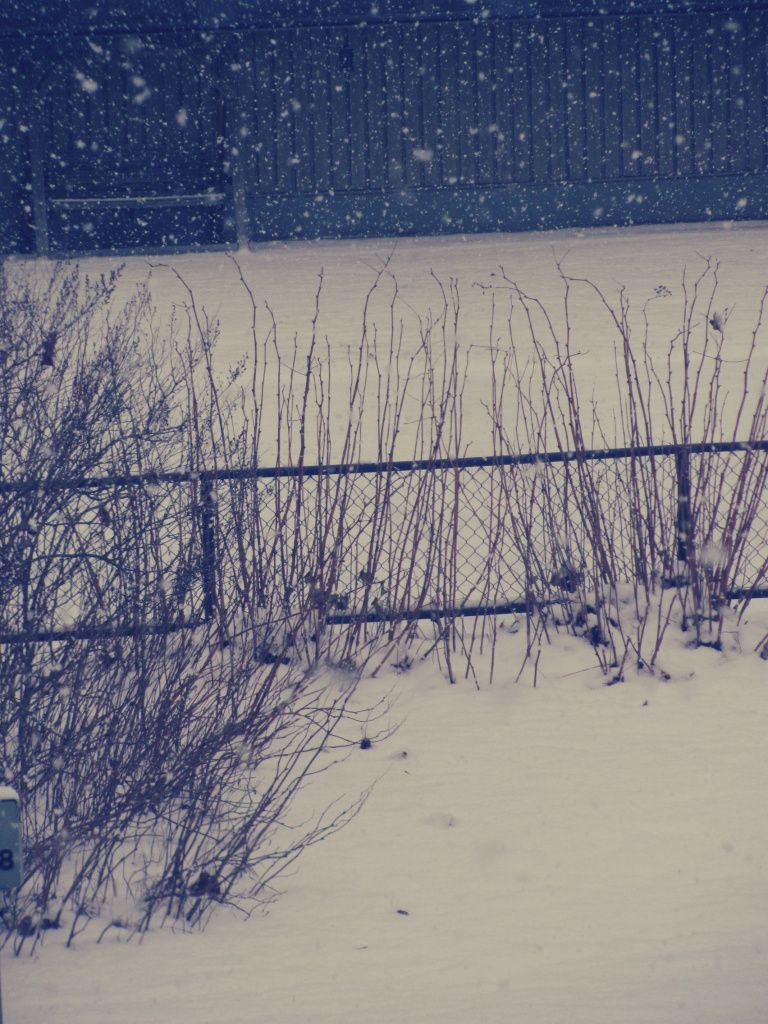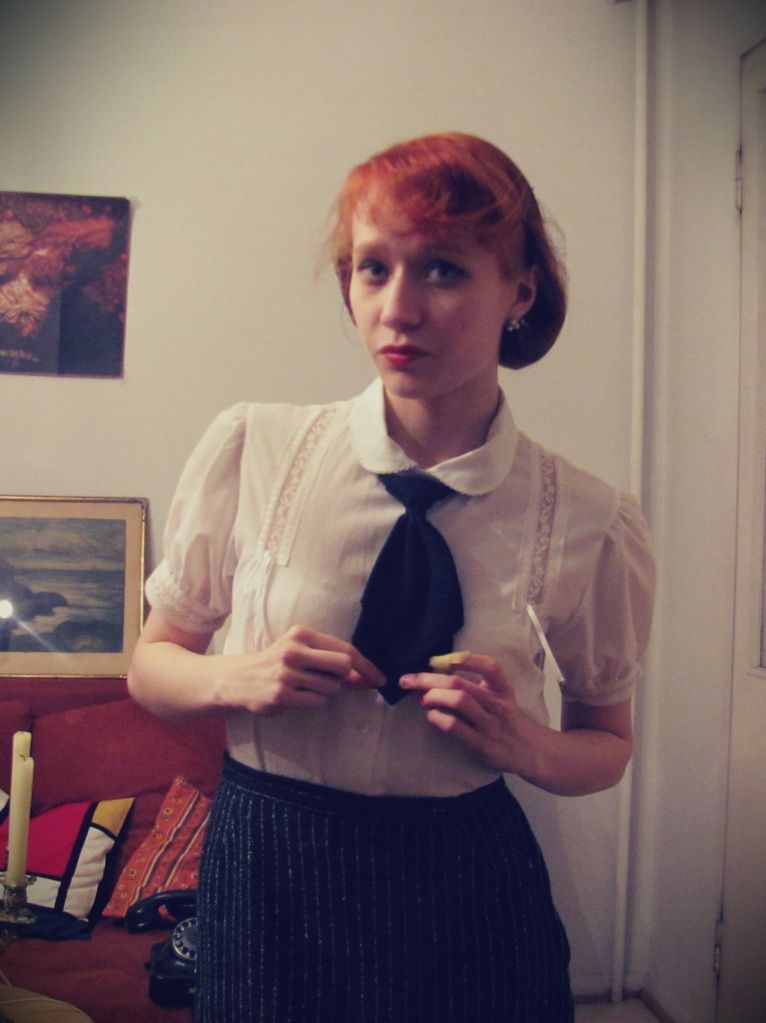 En tiedä huomasiko kukaan, mutta värjäsin myös hiukseni punaisemmaksi taas.
Väri haalistui niin paljon, ja viime kerrasta onkin jo melkein puoli vuotta aikaa. Tykkään!
(I don't know if anyone noticed, but I dyed my hair a more red again. I love it!)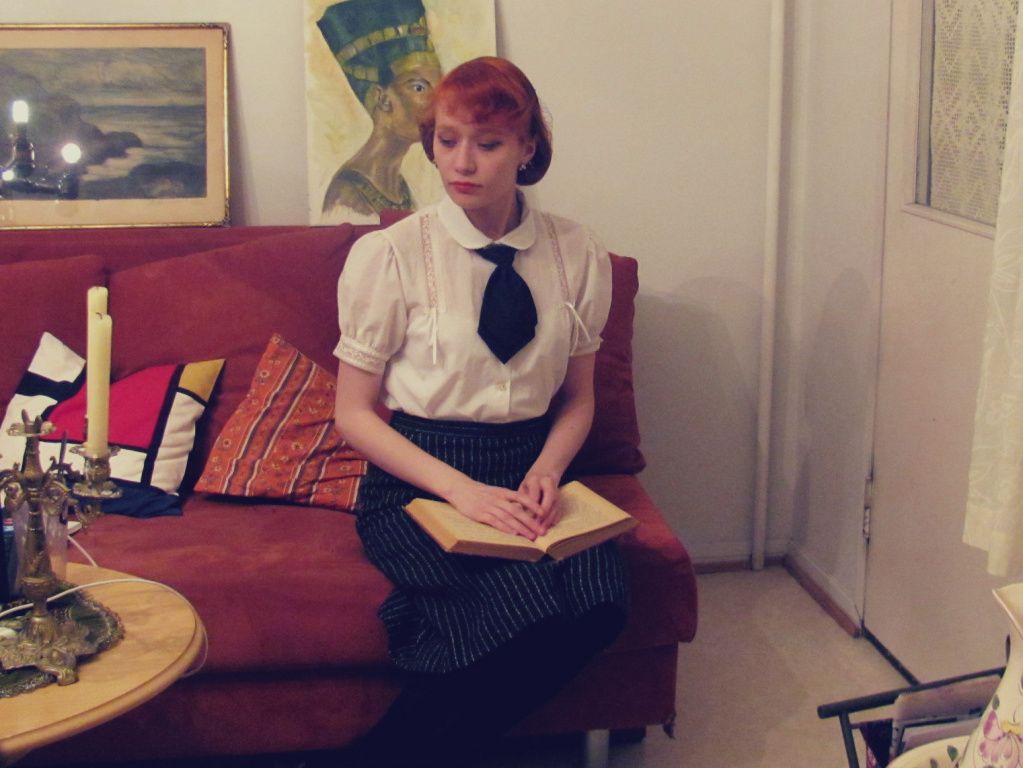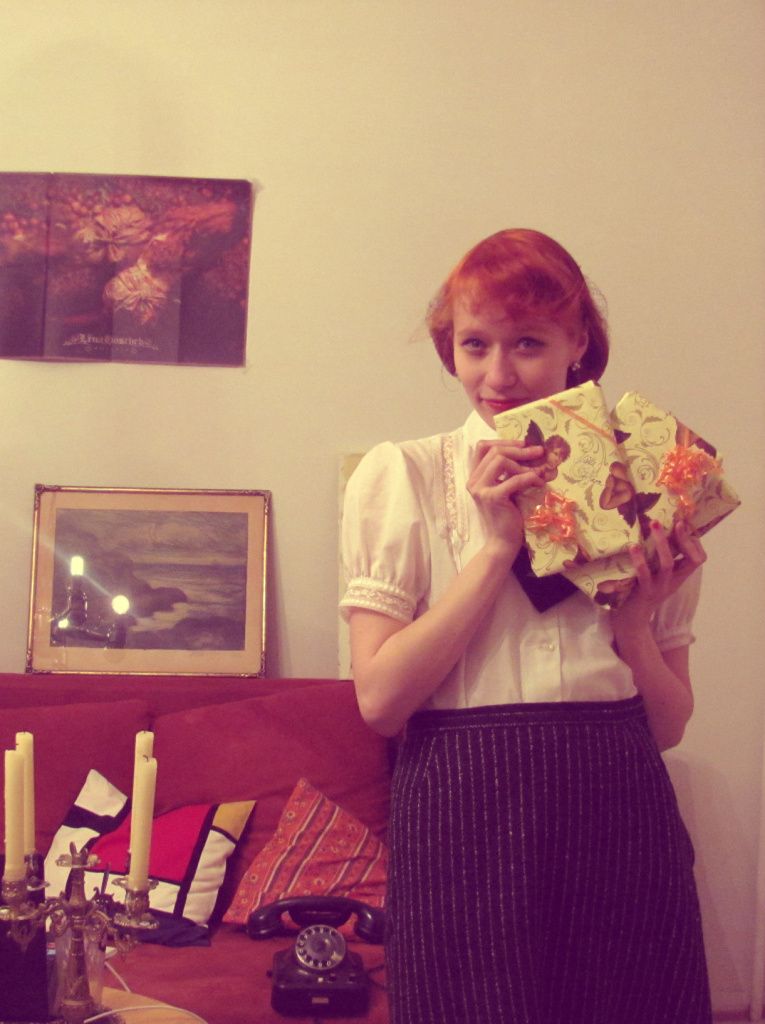 Olen myös paketoinut jo muutaman lahjan! En ole koskaan osannut
paketoida niitä nätisti ja huolellisesti, mutta nyt tuntuu, että huolellisuutta olen
saanut tuossa koulussa haalittua vähän lisää. Jes!
(I've packed few presents already! I've never been good at packing, but I think
that this christmas my skills have improved enormously..)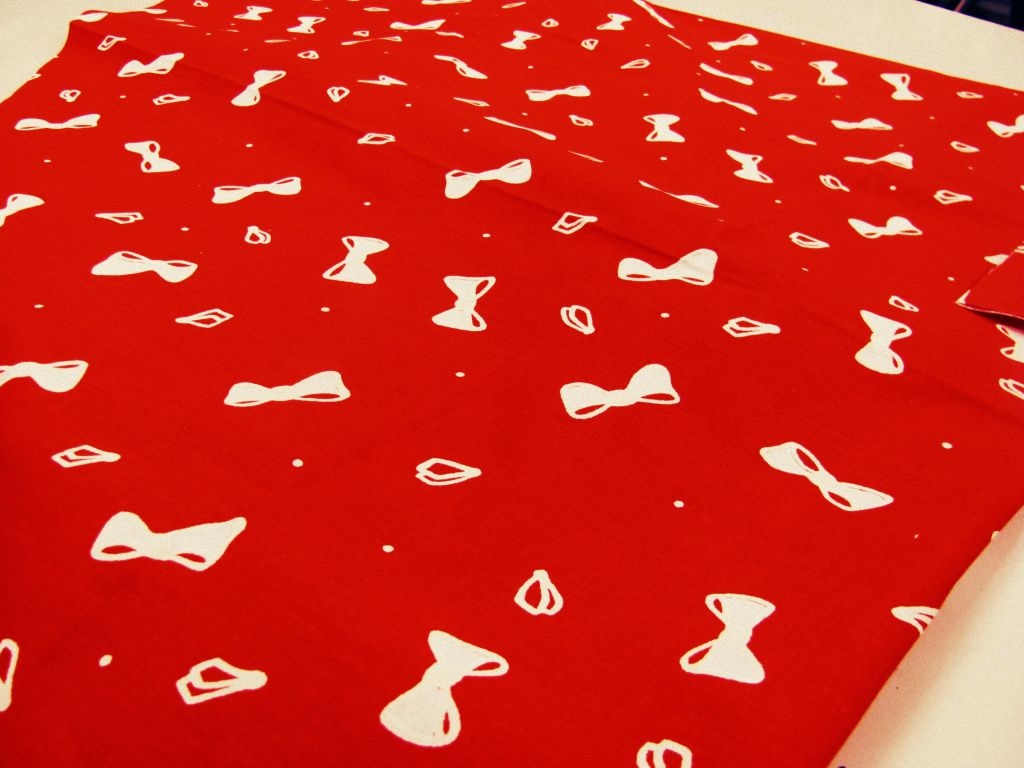 Yllä muuten kangas, josta kellohameen huomisiin pikkujouluihin ompelin.
Eikö olekin soma? Löysin Fidasta neljällä ja puolella eurolla. Ainoa huono juttu on, että
kauempaa katsottuna nuo rusetit muistuttavat erehdyttävästi luita..
(Here's the fabric I used for my circle skirt btw. Isn't it cute? The only bad thing is, that
those bows look a little bit like bones when looking at it further.)
Ps: Everything I wore was thrifted, the skirt is from the 60s and I do have a jacket to it too.
I always feel so "Mad Men" when I am wearing it!