Tänään oli muutenkin mukava päivä, vaikka päänsärky meinasikin estää kouluun lähdön
kokonaan. Minulla sattui eilenkin päähän todella pahasti, piti jo yhdeksältä ruveta nukkumaan
sen takia. Joonas oli sillä aikaa hoitanut pois alta julmetun suuren tiskivuoren, joka minun oli
tarkoitus tehdä.
Ihana rakkaani
Teimme tänään koulussa esitelmiä ja opettelimme Pro Sketchin käyttöä. Minun esitelmieni
aiheina ovat Ivana Helsinki sekä 50-luvun muoti.
Enkä millään malta odottaa jouluaattoa. Olen paketoinut lahjoja, ja itselleni hankin joululahjaksi
upean pin up -kynämekon. Rakkautta ensisilmäyksellä. Se saapuu minulle jotakuinkin 2 viikon
kuluttua.
Today I had a nice time, though I had a bad headache in the morning. I had it yesterday too, I felt
so bad that I had to go to sleep already at 9pm! While I was sleeping, Joonas washed all of the
dishes on behalf of me, though it was meant to be my turn to deal with them.
Oh what a sweetheart
We have to do two presentations at school and we continued working with them today, and then
we learned how to use Pro Sketch. My two presentation topics are Ivana Helsinki, and 50's fashion.
And I can't wait for christmas eve. I have been packing presents, and for myself I ordered a beautiful
pin up pencil dress. Love at first sight. It will arrive to mama in 2 weeks. I hope.)
Wearing: 50s vintage floral blouse from Etsy, others are thrifted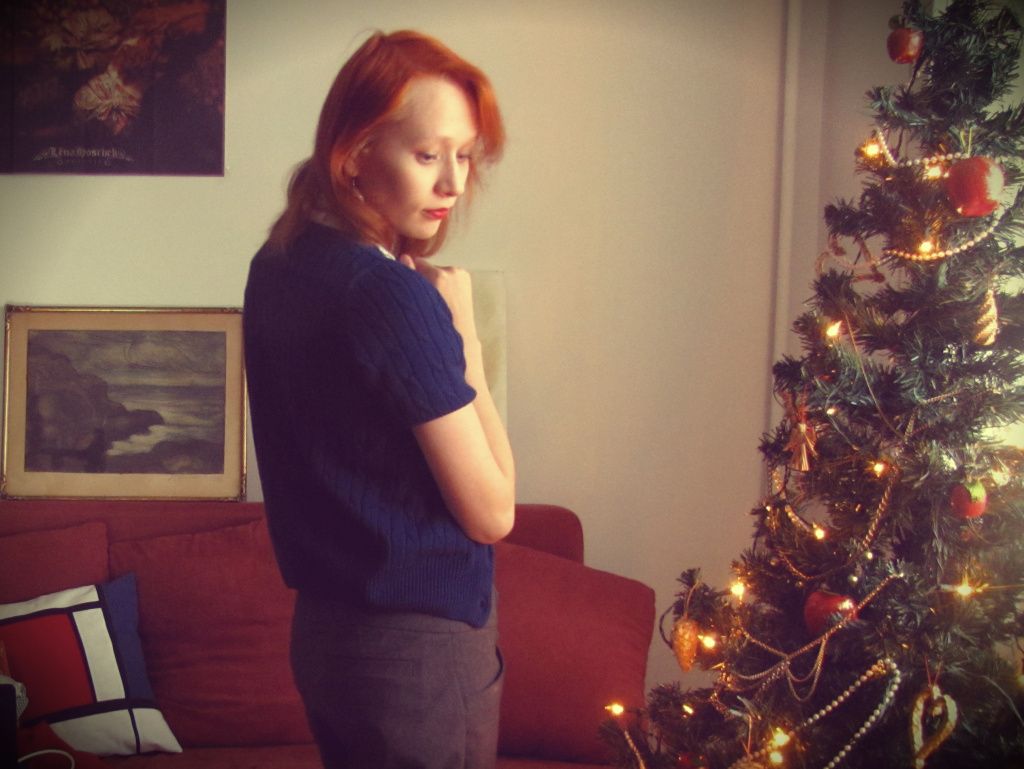 En tiedä muistaako kukaan, mutta kävin yli vuosi sitten Oulussa kuuntelemassa
suursuosikkini Dervishin konsertin Oulun irkkufestien aikaan. Ja nyt minulla on tullut
hirveä ikävä, haluan ehdottomasti uudestaan heidän keikalleen! Nyt kun irkkupub Old Dog on
ilmeisestikin sulkenut ovensa, milloin ties sitten avaa ne uudelleen (toivottavasti pian!), en saa
tarvittavaa irkku-annostani mistään..! Harmittaa todella paljon, mutta minkäs teet.
Kävin jopa ostamassa viskipullon, josko joskus tekisi vaikka irish coffeet. Pikarit ja
alkuperäinen ohje minulta nimittäin löytyy.
Kuuntelen tällä hetkellä upean Cathy Jordanin sooloalbumia. Rakastan hänen ääntään, ja koko
persoonaa. Tapasin hänet tosiaan tuolla keikalla, ja pääsin jopa laulamaan hänen (ja Alan Burken)
kanssa! Vaikka nyt jälkeenpäin ajatellen, seurani konsertissa oli todella huonoa, mikä on jäänyt
pilaamaan muistoani muuten upeasta konsertista..!
(I don't know if anyone remembers, but I went to watch my favourite band Dervish over a year ago,
in the Irish Festival of Oulu. And now I MISS them, I want to go to their gig again! Our local
Irish pub Old Dog has closed its doors, and I am so irritated because I don't know when they will be
open again (I hope soon!), now I can't enjoy the Irish atmosphere anywhere! I am so sad, but
what can I do.. I even went to buy Irish whiskey, maybe I'll make few irish coffees..? I do have
the goblets and the original recipe.
I am listening Cathy Jordan's solo album right now. I love her voice and her personality. I met her
during the gig, and I even had a chance to sing with her (and Alan Burke)! Though, now when I
think of it, the company I had in the concert was really bad, and it spoils my memory of the great
Irish gig...!)