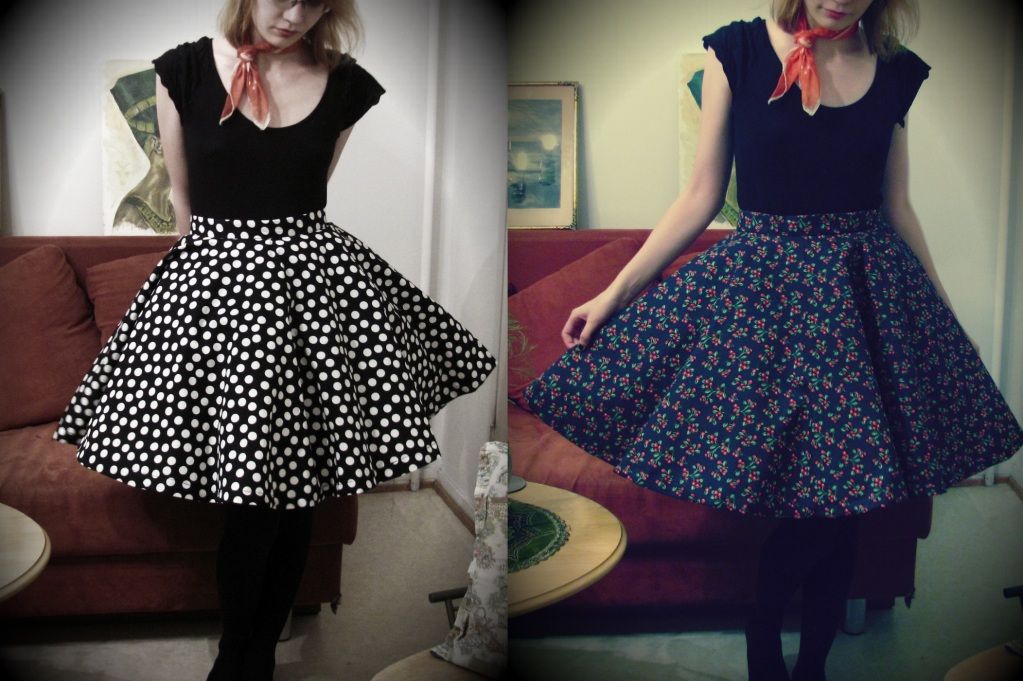 Hei!
Kävin eilen ostamassa parit hamekankaat, pallokuvioista ja puolukkakuviota jouluksi.
Alle kahden viikon kuluttua olisi taas jälleen tiedossa nimittäin paikallisen rockabilly-yhtyeen
hamosen sinne pistän. Pallokuvio olisi ainakin stereotyyppinen meidän 50-luku-teemaiselle illalle,
mutta toisaalta.. tykkään tuosta puolukastakin. Kummasta te tykkäätte enemmän?
(Translation: Hello!
Yesterday I bought two fabrics for circle skirts. Polka dots and lingonberries, for christmas.
In two weeks I will go to see (once again) our local rockabilly band King Rebel & Ramblers
would be quite stereotypical, for our 50s themed evening, but in the other hand.. I like those
lingonberries too. Which one you like best?)
Tein tuon pallokuvioisen kellohameen vähän yli neljässä tunnissa.. Tein ensimmäistä
kertaa itseasiassa hameen kunnon vyötärönauhalla ja vetoketjulla! Muistanette
ekan
mutta olen todella tyytyväinen siihen silti. Puolukkahame onnistui miltei täydellisesti - minun
mittapuullani! Todellakin huomasin heti eron taidoissani näiden kahden hameen välillä. Ja ei
mennyt tällä kertaa tuota puolukkahametta tehdessä kuin tunti! Niin sitä vaan oppii.. :)
(It took over 4 hours to sew that polka dot skirt.. It was my first time I ever tried to make that kind
of waist part and a zipper on a skirt. You might remember the first time I sewed a circle skirt?
Okey, this polka dot skirt could be better, but I am satisfied with it. Lingonberry skirt was a
success! I really see the change in my skills when I am comparing these two skirts.
And it took just an hour sewing that lingonberry skirt!)

Have a great day!