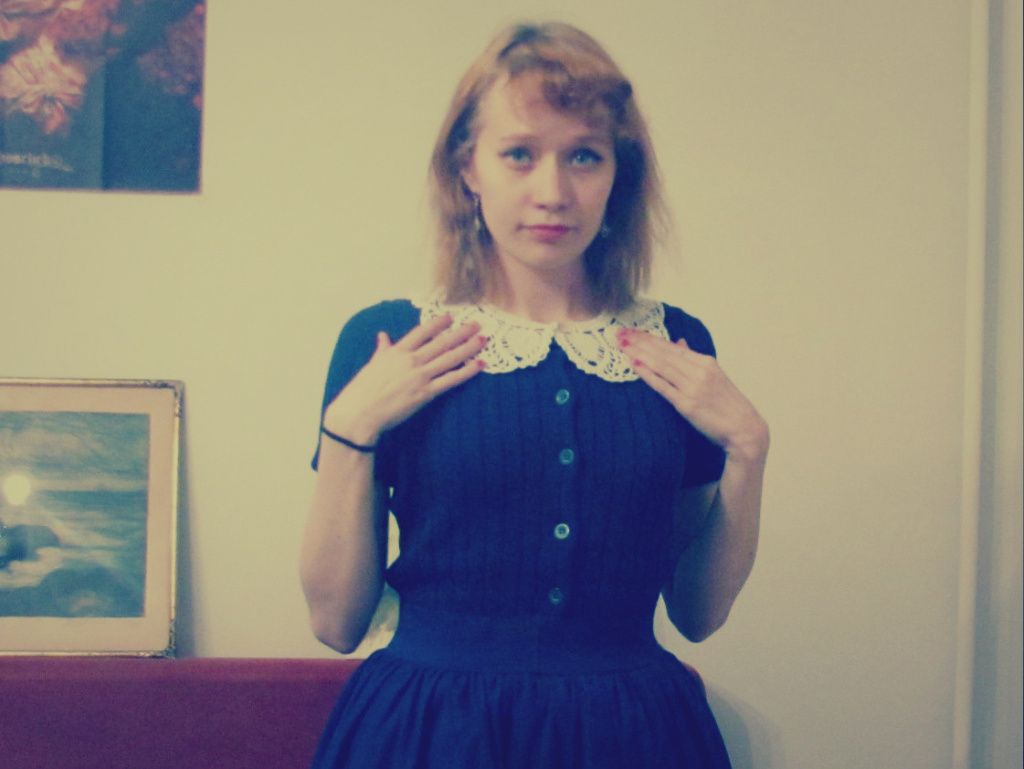 Tuunasin eräästä mekostani hameen. En totta puhuen osaa käyttää olkaimettomia
mekkoja, joten tämä tuntui parhaalta ratkaisulta. Mekko oli alunperin hyvin merimiesvaikutteinen
(alakuvassa), mutta ei kuitenkaan tyyliäni. Olen todella iloinen, että menin leikkelemään
yläosan pois, sillä hameena tuo on vallan ihana!
Löysin toissapäivänä vielä sinisen neuleen, joka sopi uutukaiseen hameeseeni sievästi.
Jopa niin sievästi, että muutama luuli tuota mekoksi! Eikä asuni ollut mitään ilman pitsistä
irtokaulusta.
(Translation: I turned one of my dresses into a skirt (pic below). I am not very keen to strapless
dresses, so this was the best decision I've ever made (well.. almost). First I was going to sell the
dress, but I am glad I didn't. That dress wasn't my style.
I found a blue cardigan two days ago from the flea market, and it looks fabulous with the
skirt. Few even thought that I am wearing a dress!)
Joulukynttelikkö ikkunalla.. :)
(Christmas candelabra in the window.. :)
Päätin lopettaa halpavaateketjuista vaatteiden ostelun, joku kuukausi sitten.
Aikomukseni ostaa pelkästään kierrätyskeskukselta vaatteet/ommella itse on toteutunut
todella hyvin. Ainoastaan alusvaatteet (kengät ajoittain) tulevat uutena. Viime
aikoina asuni ovat myös olleet lähestulkoon aina kirpputorilöydöistä koottuja, jolloin en jaksa
luetella enää, että mistä olen minkäkin vaatekappaleen löytänyt. Jokaiseen kohtaan kun tulisi vain
"thrifted". Yritän myös jatkossa hyödyntää Etsyn ja Ebayn tarjontaa enemmän.
Olin syvästi järkyttynyt Bangladeshissa sattuneesta vaatetehtaan tulipalosta, jossa menehtyi
yli 100 työntekijää. En voi väittää, etteikö tämä onnettomuus olisi vahvistanut päätöstäni.
(I' made a decision about a month ago to stop shopping at cheap clothing stores, such as H&M, Vero
Moda etc.. I try to buy all my clothes from the thrift stores or make them myself. I will buy only
undergarments (and sometimes shoes) as new. My outfits have been always mostly thrifted, so it is
quite boring to write down all the items I am wearing and writing "thrifted" next to them all. I will
also purchace items (thrifted/vintage) more from Ebay or Etsy.
I was so horrified when I heard the news that the clothing factory burned down in Bangladesh
and over 100 workers died. I can say that this had its own influence to my decision, which
wasn't hard at all.)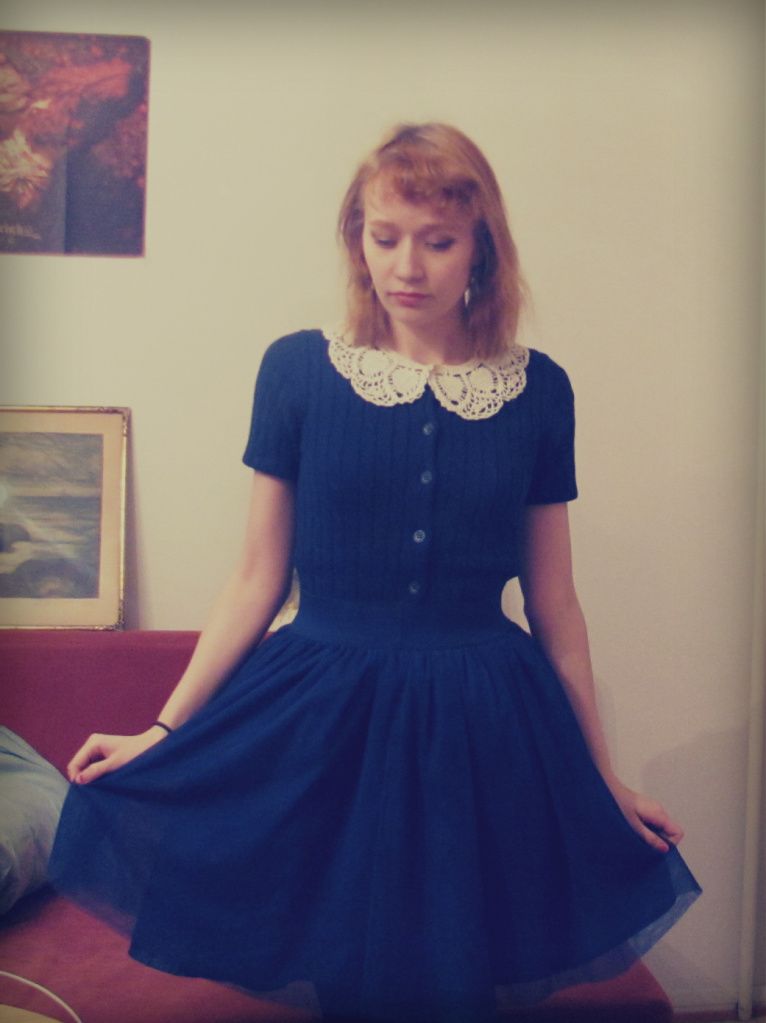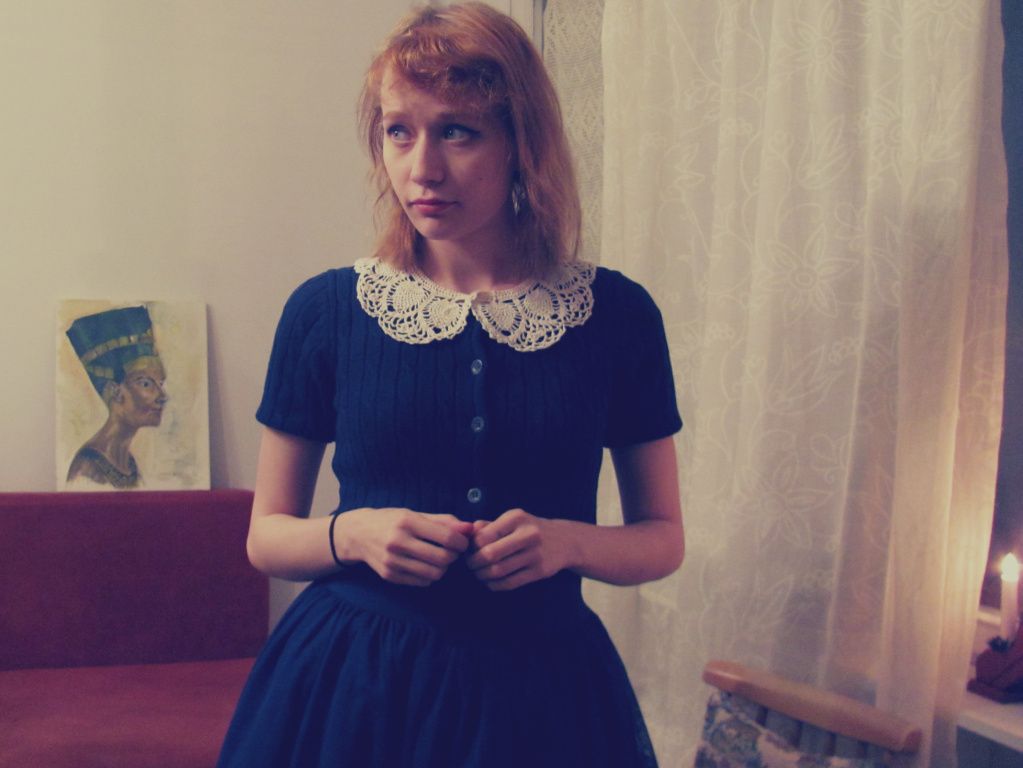 Asuni on itseasiassa eiliseltä, mutta en ehtinyt kirjoittaa tätä postausta tuolloin. Otin
tänäänkin asukuvat ennen kaupungille lähtöä, mutta ne varmaan esittelen huomenna. :)
(I wore this outfit yesterday, actually, but I didn't have time to write this post that time.
I took photos of today's look before heading to town, but I shall show them to you
tomorrow. :)