Aloitamme ensi jaksossa valmistamaan ensimmäistä asiakastyötä koulussa (!!).
Kaikki vaatteet, mitkä teemme koulutöinä, tulevat jatkossakin olemaan asiakastöitä.
Kakkosjakso onkin jo kohta ohi, joten pitäisi alkaa jo suunnittelemaan sitä. Minun ensimmäinen
asiakkaani tulee näillä näkymin olemaan oma siskoni. Ja olen varma, että hän haluaa minun tekevän
juuri sellaisen hameen, jonka itsekin haluaisin.. :D Siinä sitten itku kurkussa sitä ompelen
harmitellen, kun en sitä itselleni saa. Voin niin kuvitella..
Valmistamme kaikki asiakkaan toiveiden mukaisen (yksinkertaisen) hameen ja siitä sitten tehdään
porfoliot ynnä muut. Jännittää kyllä, vaikka asiakas on tuttu. Minun täytyy ruveta harjoittelemaan
huolellisuutta, joten ajattelin jostain hankkia kankaat ja kokeilla halterneck-mekon tekemistä.
Kaavathan ne pitää itse jotenkin yrittää sitten tehdä. :)
(Translation: Next month we will start doing our first custom-made work at school (!!).
As all of the clothes (schoolworks) we sew at school will be for customers.
I should start making plans for it already. My first customer will propably be my own sister. And I am
sure that she wants me to make the kind of skirt I want for myself.. :D I can imagine how I am
sewing it, tears in my eyes and knowing that I can never wear it myself. I am certain of it :D
All of us are going to make (simple) skirts for our customers and then we'll make porfolios etc
about the project. I am quite nervous, even though I know my customer. I have to practice to
be more careful when sewing, so I thought I will buy some cute fabric and try to sew a halterneck
circle dress - and I will try to make the patterns on my own.)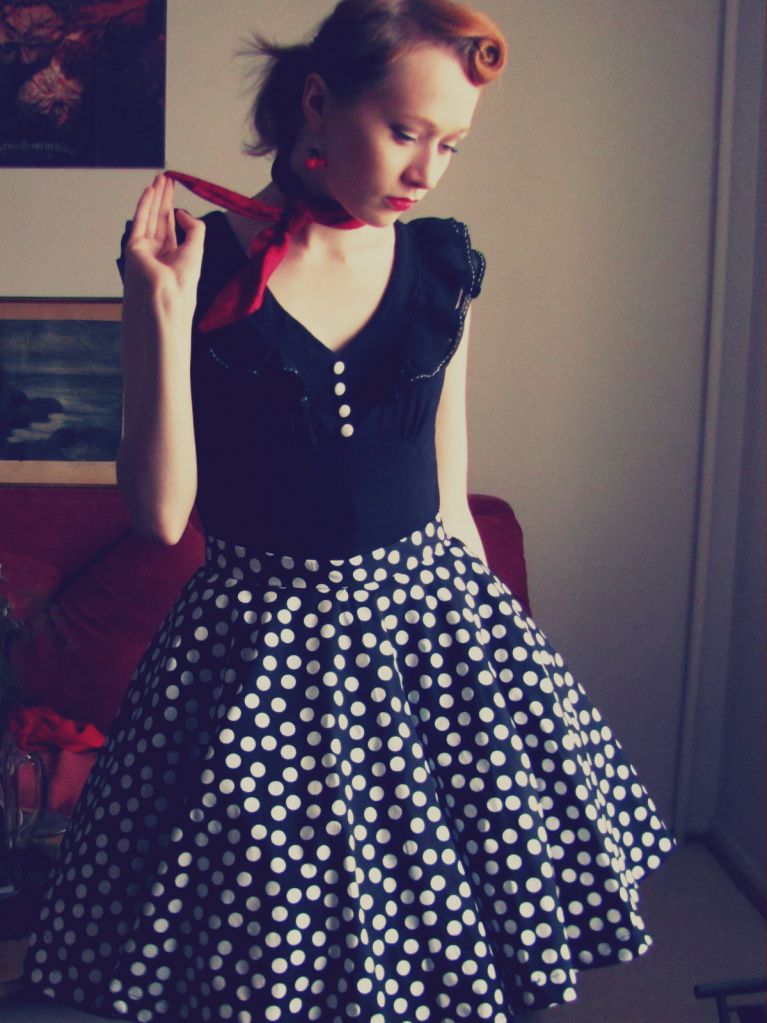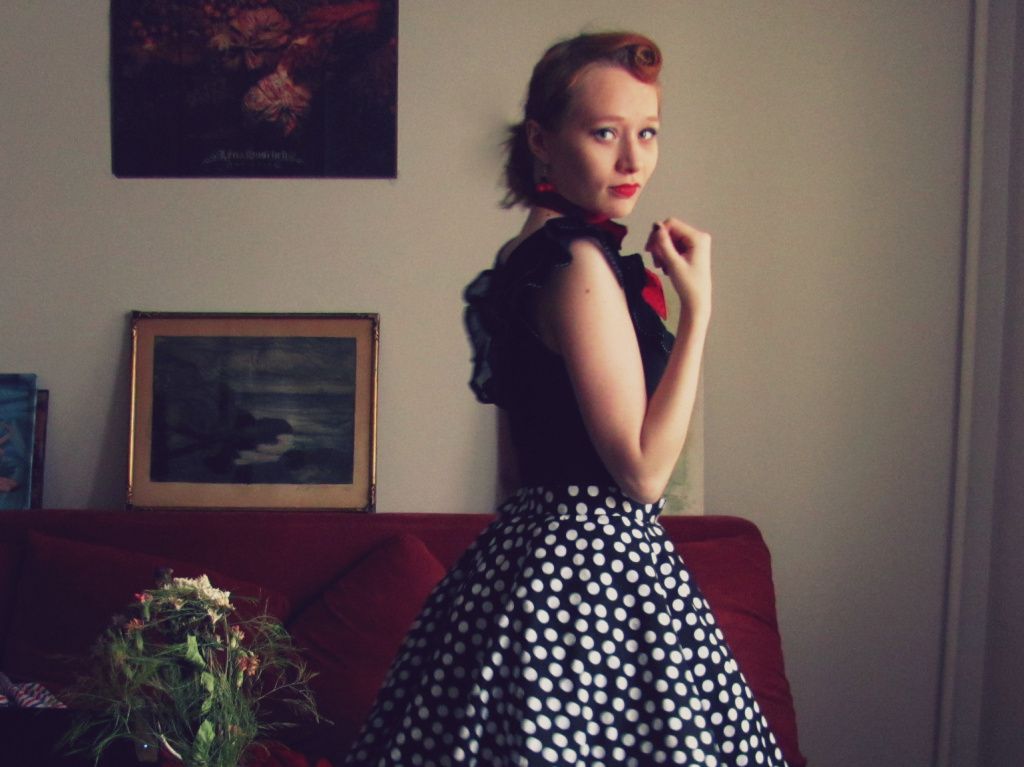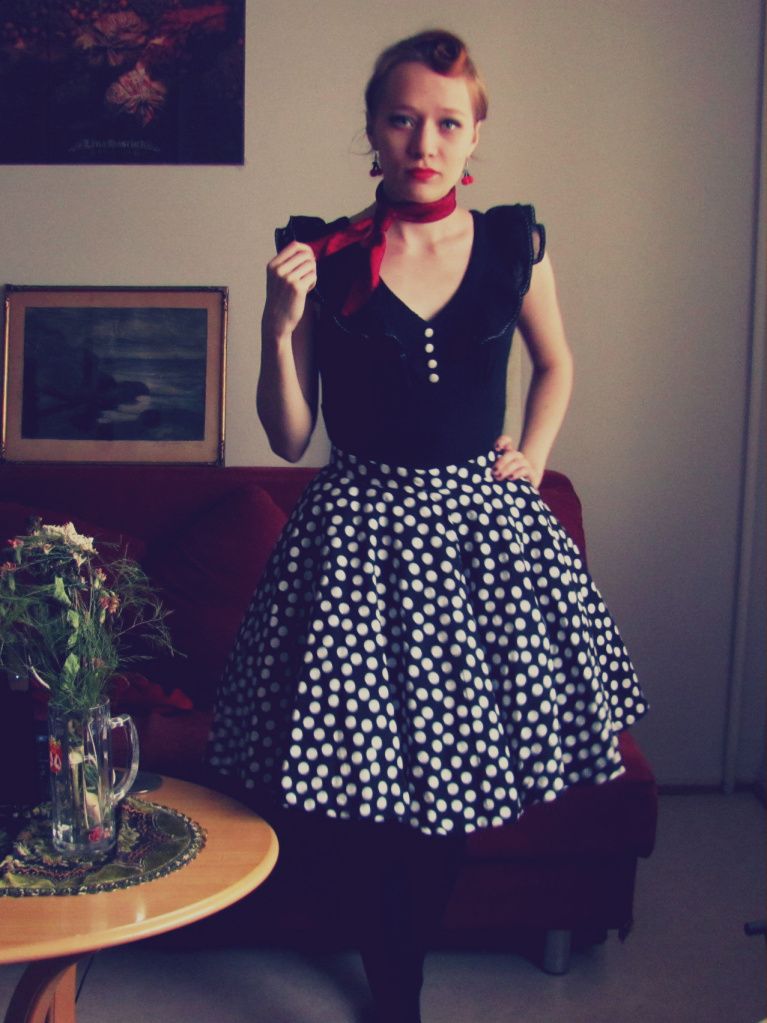 Wearing
: Dotty circle skirt

-

made by me, Black t-shirt with ruffles - thrifted,
Red headscarf - thrifted, Cherry earrings - Tallinn (I don't remember the shop)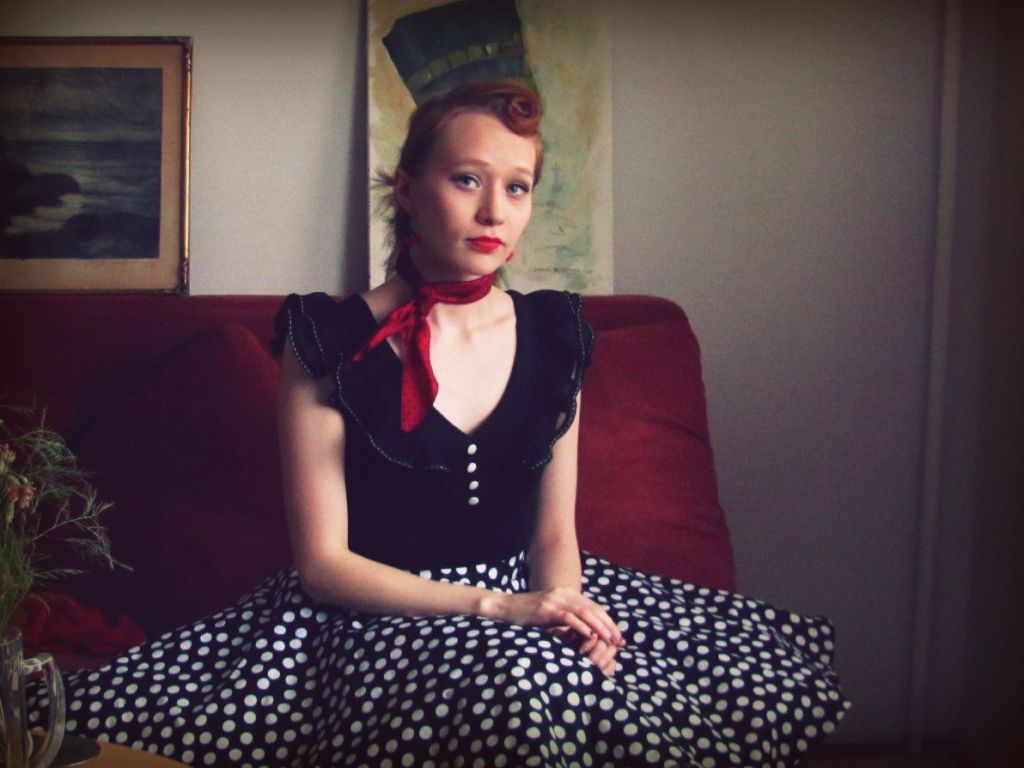 Haaveilen todella paljon creepers-kengistä. Olen suorastaan pakkomielteinen.
Eivät ne erityisen kauniita ole, mutta ruman somat kengät ovat minulle todellakin "joku juttu".
Tässä muutamia esimerkkejä, jotka mielelläni hankkisin kenkälaatikkooni:
^Kaboodle.com