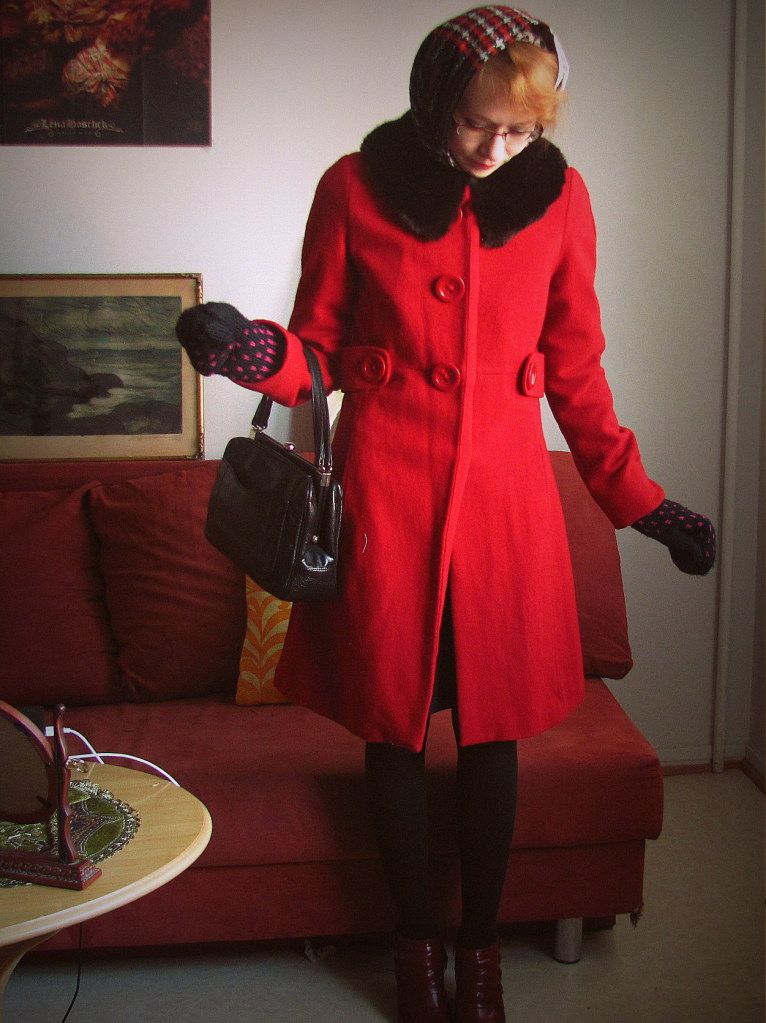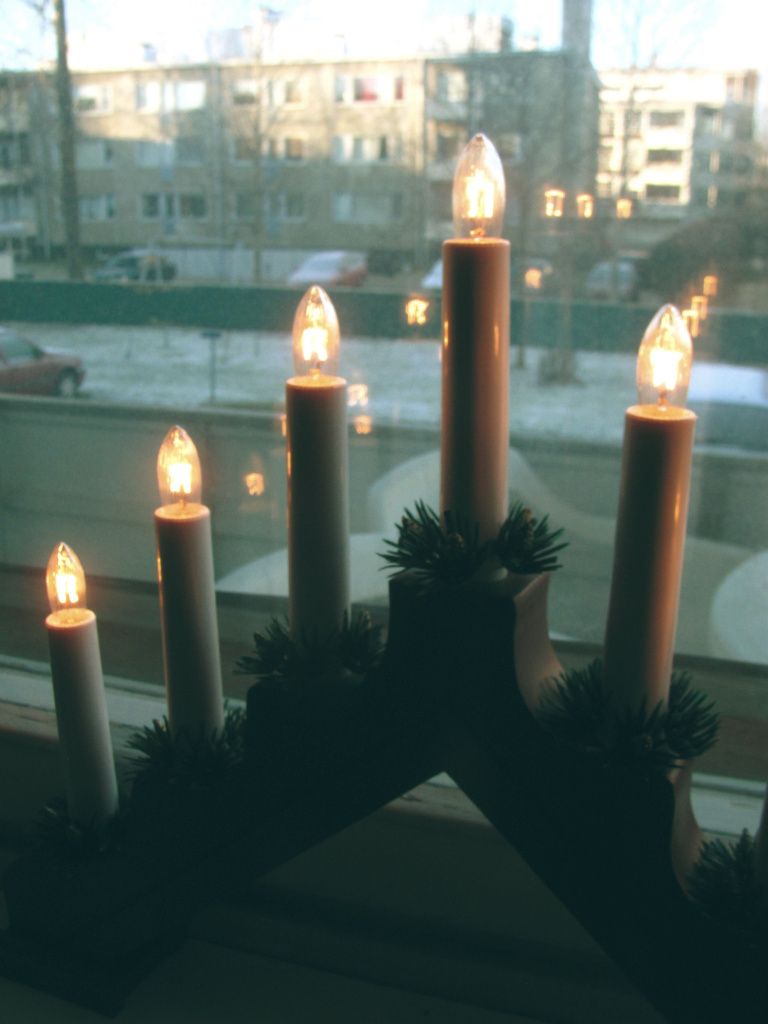 Mittari näyttää pakkasta olevan -16 astetta. En yksinkertaisesti kestä tuota säätä.
Tuulee todella navakasti, ilma on jäätävää ja todella kuivaa. Minua ihan pelottaa (kuten aina), miten
kestän, kun lämpötila laskee -30 asteeseen. Silloin tosin tämä saattaisi tuntua rantakeliltä.
Kinoksia ei ole maassa, mutta tuollaista kylmää tihkulunta on satanut.
Äitini osti minulle tuon punaisen takin kirpputorilta, lisäsin siihen itse tuon karvakauluksen.
Lämmin se kyllä todellakin on! Lämpimämpi kuin muut villakangastakkini. Luulen, että sillä
ja turkiksilla pärjään tulevan talven pakkaset - en nimittäin todellakaan pidä toppavaatteita
missään olosuhteissa.
(Translation: It's -16 degrees outside. I can't stand this weather. The wind blows hard and the air is
so freezing and dry. I am quite afraid (as always) how I will survive when it's -30 degrees. I bet that
then this -16 degrees weather would feel like a perfect day to go to the beach and have fun.. We don't
even have much snow yet.
My mother bought me that red wool coat from the thrift store, I added a brown faux fur collar to it.
It is so warm! Warmer than my other coats. I think I will manage with this and my fur pieces when
the winter really hits us.)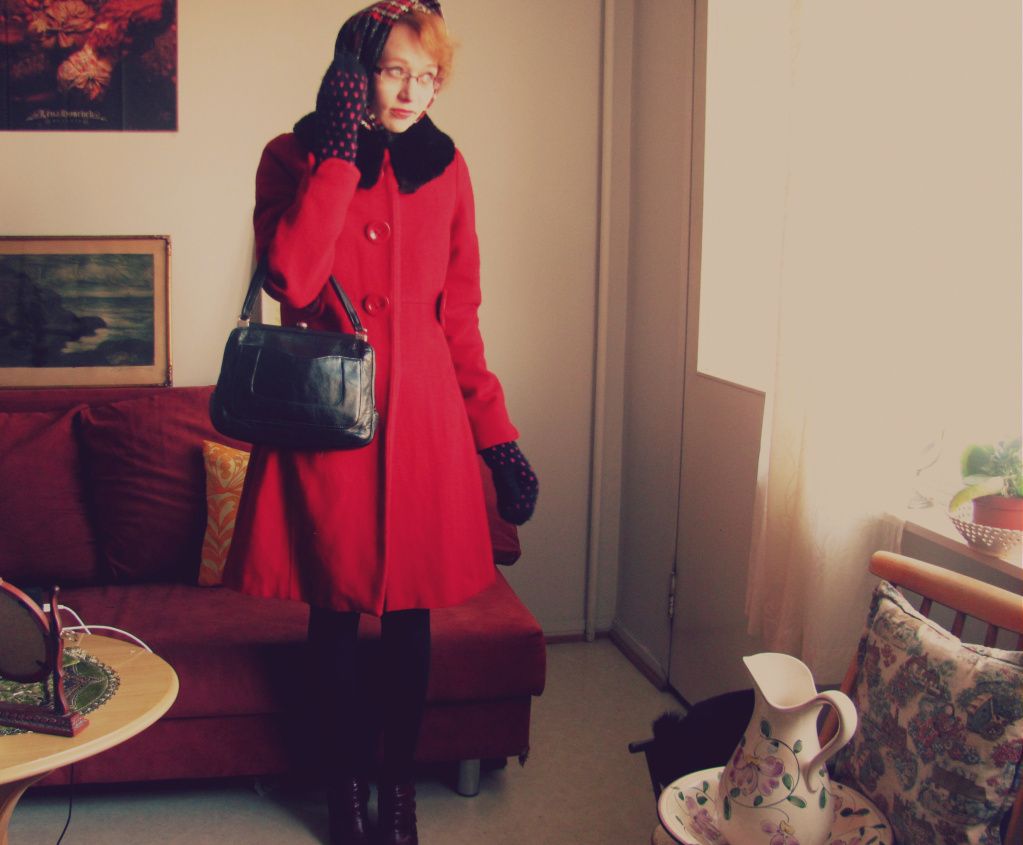 Minulla oli eilen vapaapäivä koulusta, joten lähdin käväisemään aamukahvit juomassa
keskustan kahvilassa. 5 minuutin ajomatka pyörällä sinne on, mutta matka tuntui kestävän
sään takia ikuisesti.
(I had a day off from school yesterday, so I decided to go drink my morning coffee at the best café
in Joensuu. It takes 5 minutes to ride by bike there, but it felt like an everlasting journey
because of the cold.)
Otin tavallisen kahvin ja syntisen herkullisen tryffelikonjakki-kakkupalan, jota syödessä
meinasin kyllä loppua kohden yökätä. Hivenen liian herkullinen ja suklainen yksin syötäväksi oli
tämä pala. :D
(I took a regular cup of coffee and sinfully delicious piece of truffle-cognac cake, and
I almost threw up because it was way too big and chocolicious piece to be eaten alone.. :D)