Tämä viikko on ollut hyvä! Olen saanut aikaiseksi vaikka mitä, ja eilen oli
todella mukavaa. Käytiin SPR:n lajittelukeskuksella, ja löysin sieltä vaikka mitä mukavaa mukaan,
koulutyöt onnistuivat ja kotimatkalla löysin vielä 5€ setelin maasta! Päätin kokeilla onneani
myös Old Dogin pelikoneella ennen irkkujamien alkamista, ja kyllä minä jonkun verran sieltä
jäin voitolle, 5 euroa siitäkin. Olipa hyvä mieli! Löysin myös kirpparilta 50-luvun villakangasmekon,
mutta sen esittelen ehkä lähempänä joulua. On nimittäin hyvin jouluisat värit siinä:)
Olen tällä hetkellä väkertämässä itselleni kettupuuhkaa. Sain koulun varastosta jotain
turkispuuhkien jämäpaloja, mukana oli myös ketunpään osia. Katsellaan, mitä tästä syntyy :)
(This week has been so great! I've been doing the things I had to, and yesterday
was my lucky day. I found lots of great fabrics and fur collar from the thrift store,
I did all my school works and when I was walking back home, I found 5 euros on the ground!
I decided to try my luck while playing those slot machines at the Old Dog - before the irish jams
started, and I won over 5 euros! It's not much, but at least I got a free drink with it :D
I am having such a great mood! I also found 50s wool dress from the thrift store, but
it gives me christmas feelings, so I will show it to you on december.
I am creating myself a fox stole. I got some pieces of fur and fox's headparts from school, we'll see
what I decide to do with them :)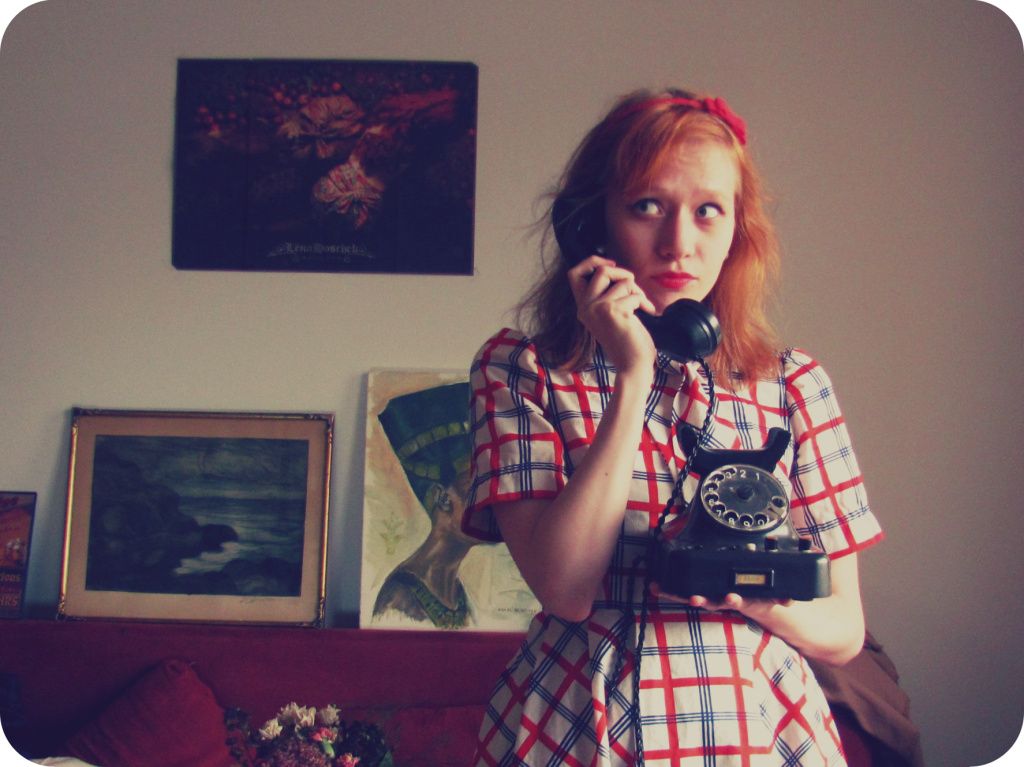 Olen outo.. Tiedän.
Löysin tuon vanhan (ja ehkä hivenen liian pienen!!) ruudullisen "pöytäliinamekon"
kirpputorilta pari kuukautta sitten, en ole sitä pitänyt kovinkaan usein. Vaikka se on
kyllä niiin suloinen! Tulee mieleen ne stereotyyppiset piknik-liinat.. Siinä tuli mukana myös
matchaava nauha, jonka solmin kaulukselle.
(I am weird.. I know.
I found that old, cute (and so small!!) plaid "table cloth dress" from the
flea market couple of months ago. I haven't been wearing it much, even though
it is sooo adorable! Reminds me of a pique-nique.. It has a matching ribbon too! I wear
it on the collar)
Menin muuten taas katsomaan Old Dogiin viime lauantaina bändiä nimeltä
Punainen Kiuas. Näin heidät viimeksi vuosi sitten marraskuussa - luoja miten pitkä
aika siitä onkaan! He olivat yhtä loistavia kuin silloinkin. Olisi tehnyt mieleni tanssia! En
kuitenkaan uskaltautunut, mutta loistavasta musiikista nauttiminen riitti oikein hyvin :)
(I went to Old Dog Irish pub last saturday to see this amazing band called "Punainen kiuas". Last
time I saw them one year ago, on november - god how fast time flies! They were as magnificent as
they were on november when I saw them first time. I wanted to dance, but I was too shy. At least I
had a chance to enjoy greaaaat music once again :)
Siinä kaikki tällä kertaa. Minulla olisi varmasti paljon enemmän näytettävää
ja kerrottavaa, mutta täytyy joutua nukkumaan. Nähdään, ihanaiset!
(That's all for now. I think I would have lots of things to show and tell, but I have to
go to sleep now. See you lovelies!)