8. päivä lokakuuta 2012 blogini täytti 3 vuotta, enkä minä muistanut sitä. Sen siitä saa, kun ei muista
tsekkailla seinäkalenteria tarpeeksi usein.
(Translation: My blog turned 3 years 8th october 2012, and I didn't remember it. Well, my mistake, I don't
check out my calendar very often.)
~~~
3 vuotta sitten.. Minä olin silloin 17-vuotias tytön tyllerö, joka ei ollut kokenut vielä mitään. Olin todella lapsellinen, vasta löytänyt vintagen kauneuden jazzista innostumisen jälkeen, ja en vielä uskaltautunut olla täysin oma itseni. Pukeutumiselta ehkä, mutta kuljin silti muiden perässä ja pidin lukiokavereitani parempina kuin minä. Blogiini, jonka nimesin "Autumn, Coffee and Inspirationiksi", kirjoittelin aluksi ajatuksiani luonnon ihmeellisyydestä, koulusta ja vanhoista elokuvista. Pikkuhiljaa aloin esitellä myös joitain asujani, mutta todella harvoin. Kuvarikas blogini ei ollut. Ensimmäisin kuva, minkä lisäsin itsestäni, esitteli uutta liivimekkoani.->
(3 years ago.. I was this 17-year-old girl, who didn't have many experiences in life. I was so childish, newbie in vintage after finding jazz, and my self-confidence was low. I did have courage to dress up, but I still thought that my classmates were better than me. I wrote to my blog, which was called "Autumn, Coffee and Inspiration", my thoughts about nature, school and old movies. After couple of months I started to show my outfits. Well, not many of them, maybe two times in a month, as I concentrated more on writing. My first pic about me, was introducing my new brown dress.)
Oikeastaanhan minä aloitin blogini pitämisen jo syyskuussa, mutta poistelin joitain tekstejäni
jossain vaiheessa (syytä en tiedä enkä muista), joten pidän tuota 8. lokakuuta blogieni
synttäripäivänä.
Kaiken sen kirjoittelun jälkeen aloin spämmätä enemmän kuvia, ja jossain vaiheessa blogistani vain
alkoi kehittyä nykyisenlainen. Tyyli-blogi, jollaisia olin jo kauemmin aikaa ihaillut. Blogi on
muuttunut minun kanssani todella paljon. Kun silloinen suhteeni päättyi, päätin myöhemmin jättää kaikki siihen aikaan liittyvät ihmiset taakseni. Muutin samantein myös blogiani. Vaihdoin sen nimen, ja se keskittyy entistä enemmän vintage-tyyliini ja inspiraation lähteisiini. Blogini on myös ehkä entistä henkilökohtaisempi, mikä johtuu siitä, että pidän tätä myös päiväkirjana. Blogini avulla olen saanut muistutettua mieliini monia tapahtumia, illanistujaisia, inspiraatioita ja murheita - joita ehkä ei välttämättä haluaisi muistella aina. Uusi nimi "Ladylike Delicacy" astui voimaan 8. heinäkuuta 2012, ja se kuvaa tätä blogia paljon enemmän. Se juhlisti myös uutta, parempaa elämääni.
(Actually I started to write my blog on september, but I have deleted some of my texts (I don't
remember why), so I keep 8th october as my blogiversary day.

I started to spam pictures more often, and at some point my blog evolved a lot, as it is now. A style blog! My blog has changed along with me. When my first long-term boyfriend broke up with me, I decided to leave behind all the people who reminded me of my that time bad situation. So, I also changed my blog name. It tells more about my vintage style and sources of inspiration. I think it is even more personal. And the reason why is because I keep my blog as a diary. It brings back good memories, also the bad ones - which I don't want to remember at the moment. But maybe some day I am happy that I wrote about those things too. I gave my blog a new name "Ladylike Delicacy" on 8th july 2012, it describes my blog so much more. It also celebrated my new better life.)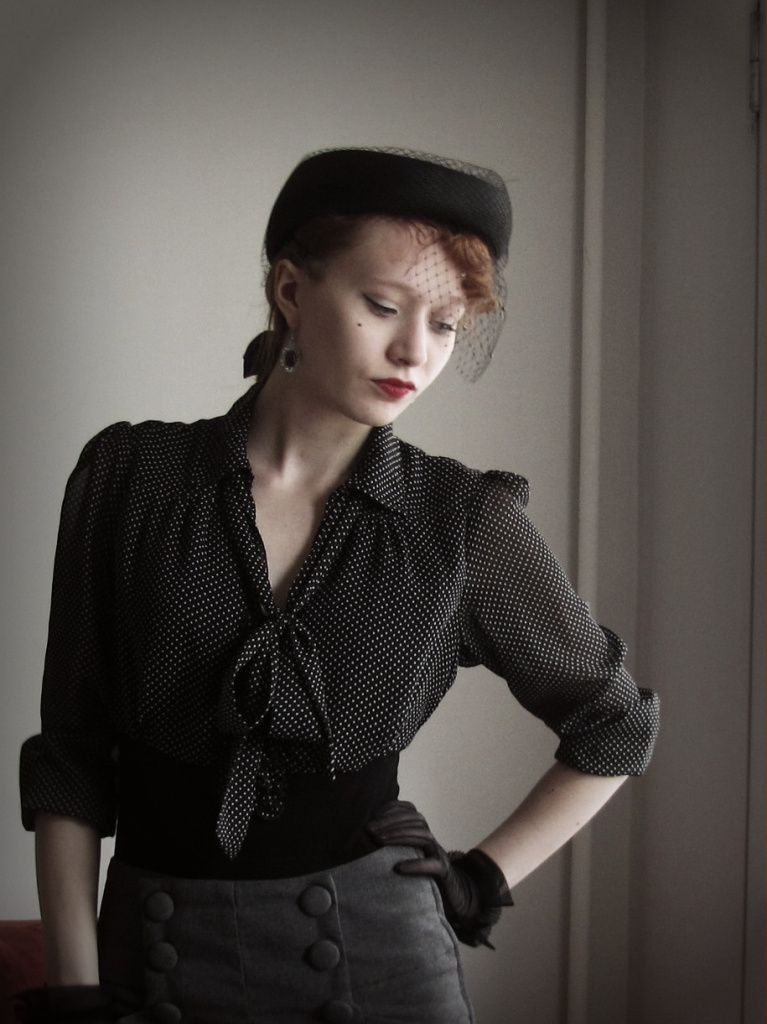 My blog 2009-2012 ... Still continues!
Nyt kun olen kolmessa vuodessa saanut ihanan lukijakunnan, teitä kun on jo vähän
yli 200, päätin perustaa vihdoinkin blogilleni facebooksivun! En ole vielä päässyt siinä vauhtiin,
mutta ilmoitan siellä mm. uusimmista postauksista ja linkkailen muiden blogaajien mielenkiintoisia
postauksia tai kivoja saitteja:)
(Now that I've gained 200 beautiful and lovely followers, I decided to make
a facebook page to my blog! I haven't been doing much there yet, but I will inform you guys there
about my newest posts and link some interesting posts from other bloggers or some
sites I like :)
(Click the picture to go to my fb-page!:)