Jos kuulitte tänään aiemmin epätoivoisen naisen kiroilua ja itkua, se olin
muuten minä. Päätin ommella kellohameen tänään loppuun, vyötärön omalle paikalleen.
Ulkoa se näyttää kyllä ihan mukiinmenevältä, mutta jos katsoo yhtään sisäsaumoja ja kaikenmoisia
virityksiäni ja käsiompeleitani hameen nurjalta puolelta ... Voih, mikä taistelutanner! Yritin siis
korjata virheitäni ompelemalla niitä käsin kokoon, ja se näyttää entistä kurjemmalta. Mutta eihän se
haittaa, eihän? Eihän hameissa sisäsaumoja tehdä ihailtaviksi.
Ainakin se on käyttökelpoinen!
(Translation: If you heard earlier today some desperate woman swearing and crying out loud, that
was me. I decided to finish my very first circle skirt today, sewed the waist part.
My skirt looks quite okay when I'm wearing it, but if you take a look inside to its seams...
Oh dear, what a battlefield! It looks horrible! I tried to correct my bad mistakes by sewing them
by hand, and it looks even worse.. But it's okay, isn't it? I mean, seams on the wrong side
are not meant to be seen and admired..
At least it is wearable!)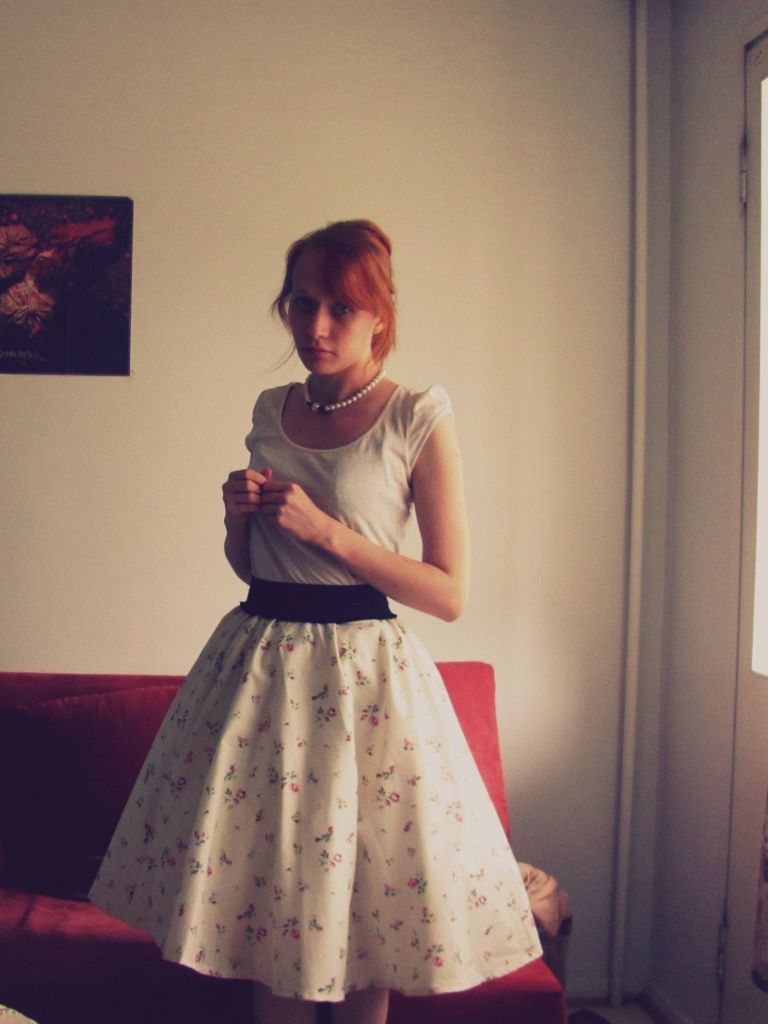 ... Ja minustako joskus tulisi ompelijatar.. Voin sanoa, että sain totaalisen hermoromahduksen
tuota vyötäröä ommellessa. Helpoltahan se minusta kuulosti, mutta sitä se ei ollut. Ratkoja ei
olisi ollut pahitteeksi, sillä pariin otteeseen jouduin purkamaan koko ompeleen. Kylläpä
suututti! Kärsivällisyyttä minulla ei muutenkaan ole kovinkaan paljoa. Sitä varmaan
olisi parempi lisätä, jos ompelijattareksi tohdin. Kirjaimellisesti itkin, pistelin koko ajan
itseäni vahingossa nuppineuloilla.. :')
(..And I dream of becoming a seamstress.. I had a nervous breakdown when I tried to sew
the waist part. It sounded so easy to my ears, but it wasn't! I had to unpick the seams over and
over again. I was so pissed off! I need to grow more patience if I want to become a
seamstress.. I was literally crying, I stinged myself all the time with the pins :'))
Sigh.