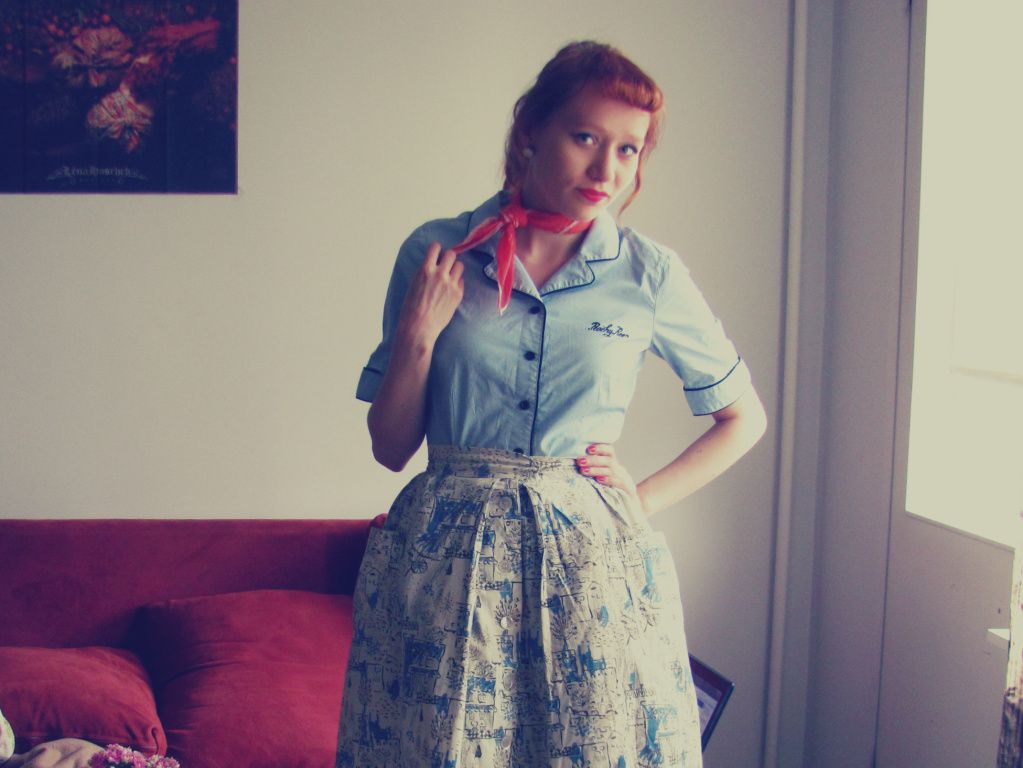 Puin tänään ylleni jälleen kerran jotain 50-lukuvaikutteista. Se aikakausi taitaa
tällä hetkellä hallita minun tyyliäni, mutta voi olla, että talven tullen innostun taas 30-40 -luvuista.
Löysin tämän sinertävän 50-luvun kellohameen antiikkiliikkeestä Uudessakaupungissa käydessäni
kesällä. En ole sitä sittemmin pitänyt, mutta ompelutunneille se sopii erinomaisesti isojen
taskujensa ansiosta, jonne mahtuvat niin sakset kuin räätälinliidutkin.
(Translation: I wore today once again something 50s. I am very fond to that era at the moment,
but it may be possible that 30-40's style inspires me much more when it's winter. I found
this blue-ish 50's vintage skirt from an antique store while I was visiting Uusikaupunki
in summer. I haven't wore it since, but I noticed that it is perfect for my sewing classes
because of its big pockets where I can put my scissors or tailor's chalk.)
Wearing:
50s vintage circle skirt from an antique store
Blue shoes thrifted
Tuo printti hameessa on niin ihana!
(I love that print!)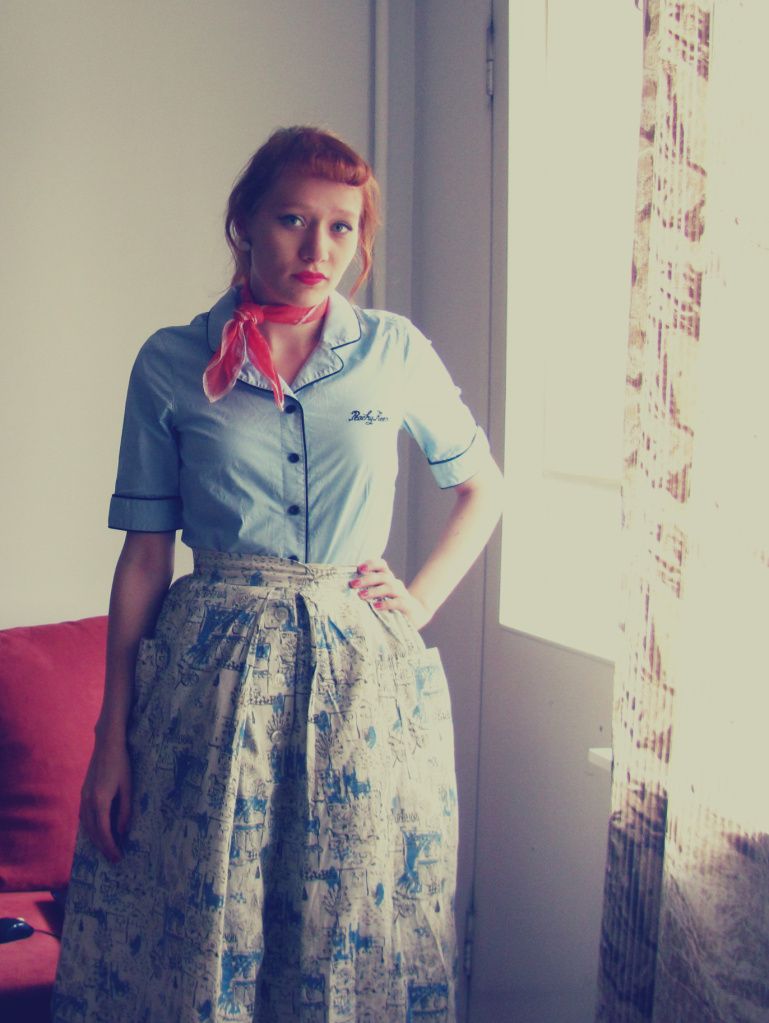 Sade on piiskannut koko päivän ja kaduille on ilmestynyt pudonneita lehtiä.
Syksy on täällä jälleen, ja inspiroidun kovasti aina syksyn aikaan kaikkeen luovaan.
Ehkä innostun tänä syksynä jälleen kirjoittamaan novelleja, lukemaan enemmän tai vaikka
suunnittelemaan vaatteita. Syksy on ehdottomasti luovuuden aikaa ja pidän myös siitä,
että pukeutumisessa on mukavasti valinnanvaraa. Ostinkin tänään kierrätyskeskuksesta harmaan
50-60 -luvun tyylisen villakangastakin, ja se tulee olemaan varmaan aika paljon turkiskaulusten
kanssa käytössä, kun säät kylmenevät entisestään.
(It's been raining all day and trees have started to drop their leaves.
Autumn is here once again, and I am very inspired to do something creative.
Maybe this autumn I write lots of novels like always, read much more or desing clothes. Autumn is
the time for creativity and I like a lot that I have much more variety when it comes to clothes.
I bought today 50-60's style wool coat from the thrift store, and I bet I will wear it a lot
with fur collars when the weather turns even chillier.)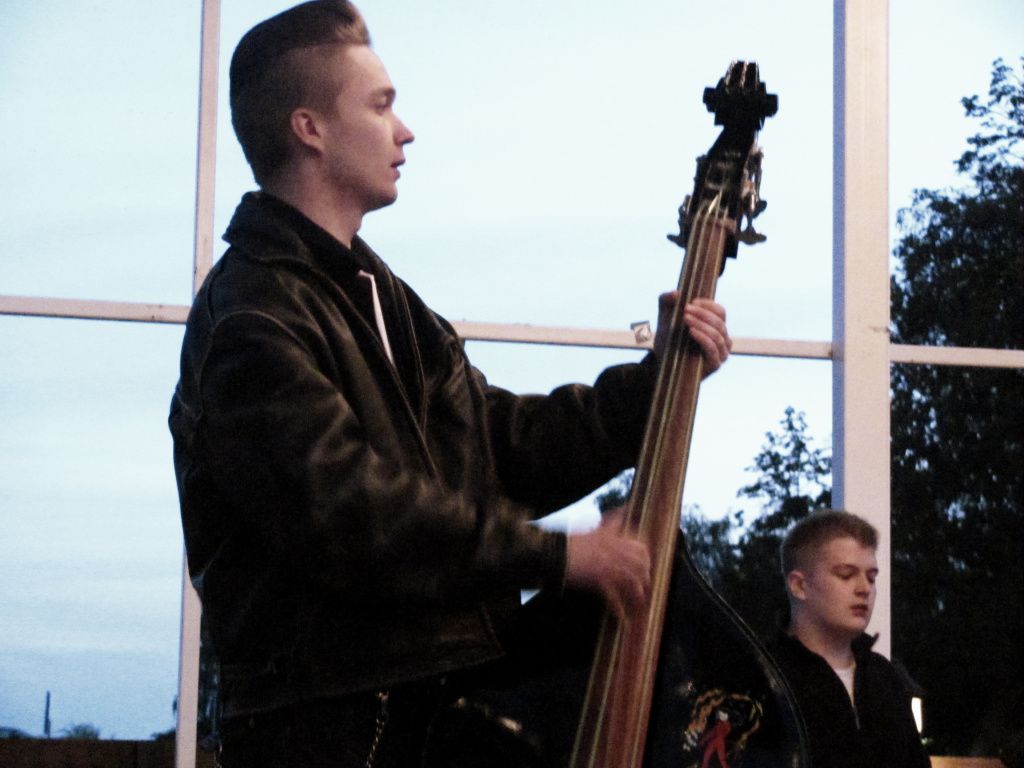 Viime perjantai oli todella huikea! Kävin Kuunari Elinassa siis katsomassa
paikallista rockabilly -yhtyettä, King Rebel & The Ramblersia. Menin sinne yksin, ylläni
luonnollisesti 50-lukuvaikutteista. Yksin ei tosin ollut niin hauskaa kuin olisi ollut jonkun
seuralaisen kanssa, vaikka Joonas kävi siinä minun luonani ehkä viidentoista minuutin ajan
töidensä jälkeen ja tanssittiin parit tanssit. Olisi ollut hauskempaa tanssia ja twistata koko sen
keikan ajan. Yhtye oli kuitenkin tosi loistava ja keikka mahtavaa settiä, menen 5.10 uudestaan
katsastamaan heidän keikkaansa Jetsettiin! Maltan tuskin odottaa. Jos silloin vaikka saisi
jonkun seuralaisenkin mukaansa.
(Last friday was fabulous! I went to Schooner Elina to listen a local rockabilly band
King Rebel & The Ramblers. I went there alone, wearing of course something 50s.
It wasn't as much fun alone to be there than with someone, though Joonas did come to see me
after his work before he went home, and we danced couple dances. It would have been much
cooler if I could have dance and twist all night long. But the band was excellent, and the gig
one of the best I've ever seen. I will definitely go to see them again on 5th october. Maybe
then I will have some companion.)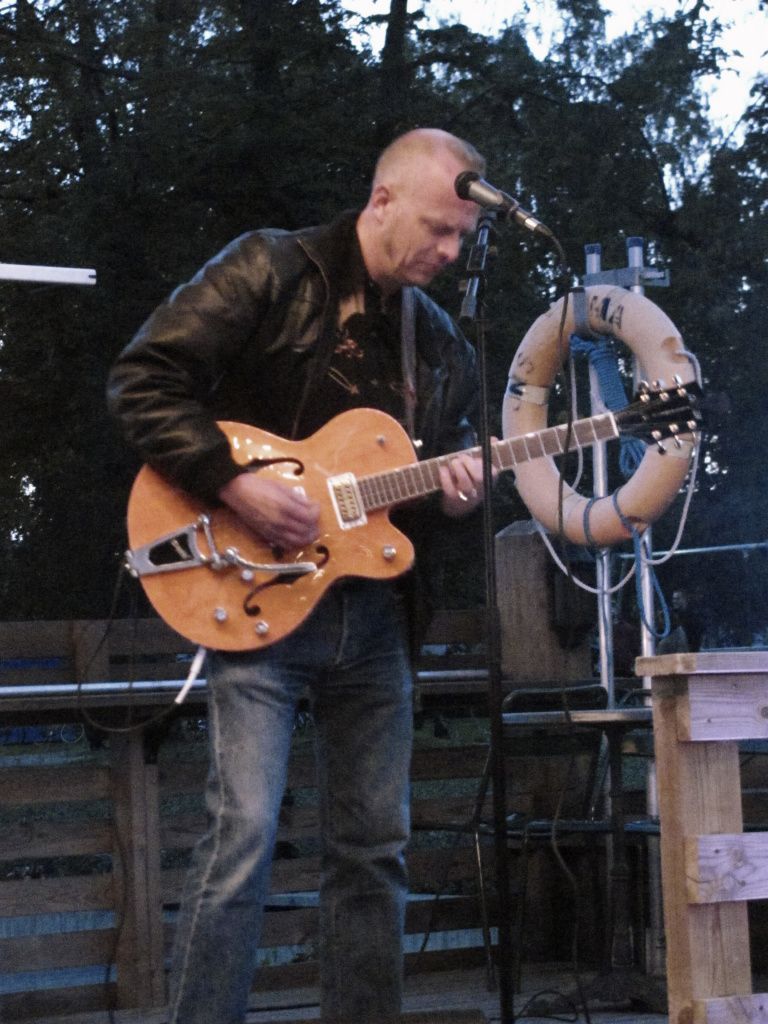 Have a great monday, lovelies!