Joonas ja minä ollaan tunnettu toisemme nyt puoli vuotta. Seurustelua
takana 4 kuukautta, enkä kadu yhteenmuuttoa. Päätettiin viettää piskuisen suuremmin tätä päivää.
Käytiin Veronassa syömässä herkullista pizzaa (mitä aion kohta syödä lisää, kun lopun otin mukaan),
ja sain ihanan punaisen ruusun! Katsottiin vanha sotilasfarssi "Vääpelin kauhu" tuossa aiemmin ja
illemmalla olisi luvassa animaatiota ja ihan vain yhdessäoloa.
(Translation: Joonas and I have known each other for 6 months. We've been together for
4 months and I don't regret moving in with him. We decided to spend this day only together, we went
to eat pizza, and he gave me a beautiful red rose! We also watched one old Finnish movie and later
this evening we'll watch an animation, and enjoy our time.)
Täytyy vaan hoitaa noita "juoksevia asioitakin" välillä.. Pistin facebookin kirpputorille myyntiin
joitain vaatteita eilen, ja hyvin menivät kaupaksi. Tänään tulee pari hakijaa vaatteille ja aiemmin
kävin yhden hameen viemässä torille. Tosi helppo tsydeemi tuo fb-kirppari!
(I just need to take care of running business today too.. I am selling some of my clothes
in facebook's "flea market group", I put them there yesterday and people really wanted
to buy them! Two buyers are coming over today to get their purchases and earlier
today I already let one of my skirts go. It's so easy, to sell stuff on fb's flea market
groups!)
Halusin kokeilla tänään jotain erilaista. Tällainen mustanpuhuva tyyli ei ehkä ole
omiani, mutta mielestäni siinä kuitenkin on ripaus minua. Ehkäpä tuo kellomekko alushameineen.
Tulee mieleen ehkä joku 50-luvun vampyyri.. tai sirkustirehtööri tuon jakun takia!
Alushame, joka edellisessäkin asussa oli ylläni, on todella mahtava
kellohameiden alle! En ole juuri muita pitänyt viime päivien aikana. Tuo lyhyt jakku
on kirpputorilta. Ei niinkään tuo printti pistänyt silmääni, enimmäkseen
tuon jakun muoto. Se oli niin erikoinen, oli ihan must ostaa se. :)
Leikkautin myös vähän tukkaani taas. Näyttää jälleen vähän tuuheammalta mitä aiemmin :)
(I wanted to try something different today. This kind of black-ish look is not really something
you see on me very often, but the style in general is so me. Maybe it's that circle dress
with the petticoat.. I really feel like 50s vampiregal.. Or circus director! The petticoat I'm wearing is
so fabulous underneath the circle skirts! I haven't really been wearing anything else lately.
That short jacket is from the flea market. I didn't buy it really because of that print, I bought it
because I really liked its figure. It was so funny looking, "a must" purchase
I also cut my hair a bit shorter:) Looks thicker than before!)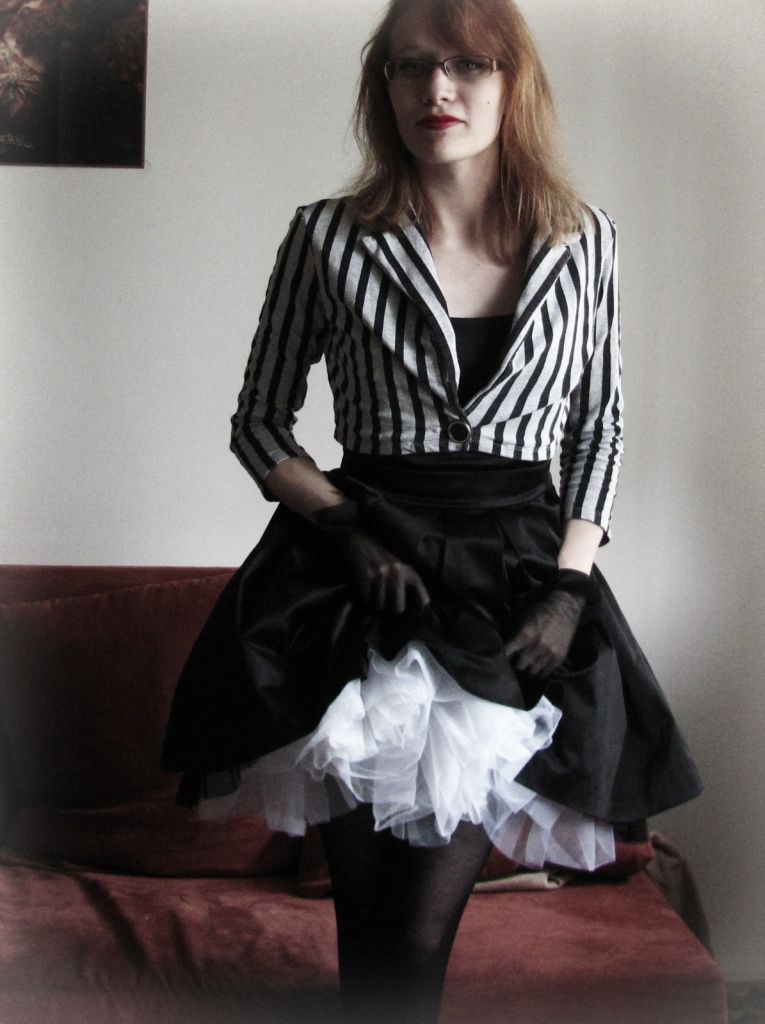 Wearing:
Black circle dress H&M
Black gloves thrifted
Black/grey striped short jacket thrifted
Burgundy shoes also thrifted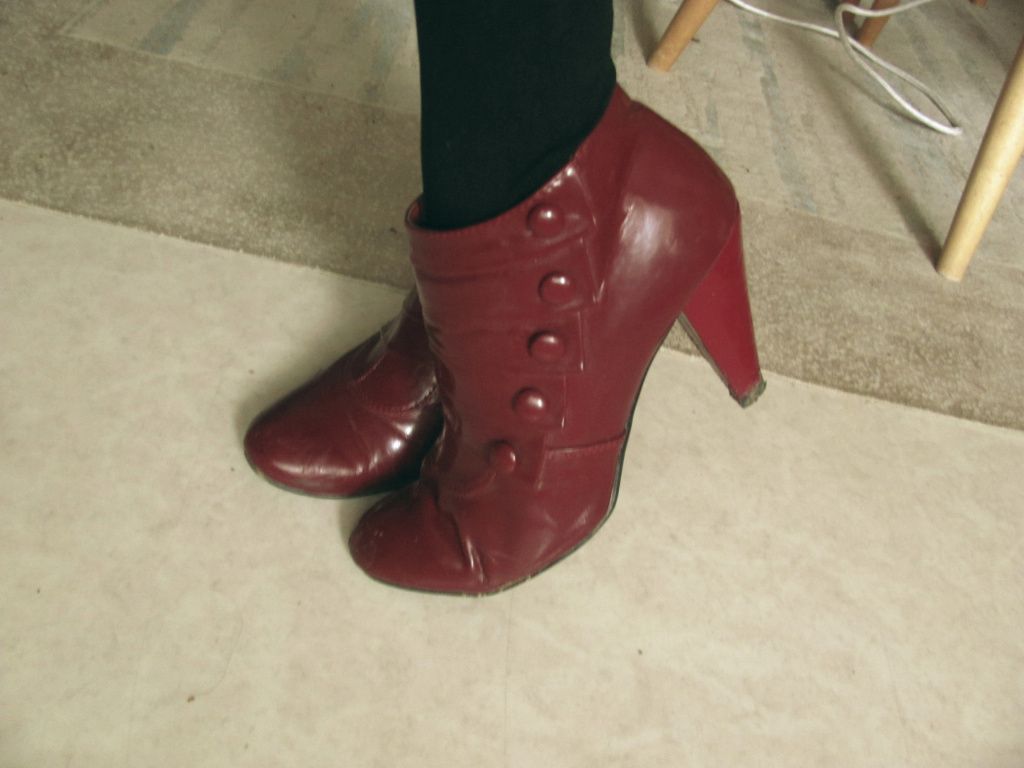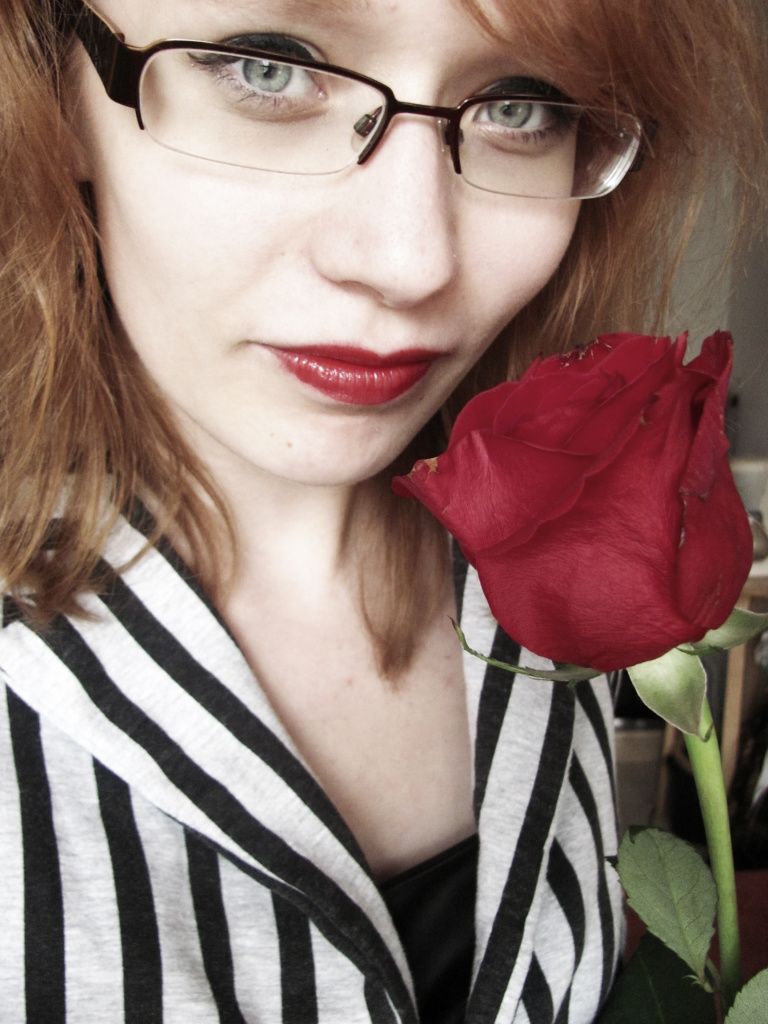 Love you all!