Heräsin tänä aamuna jo puoli kahdeksalta keittämään Joonakselle kahvit.
Minulla ei tänään ollut koulua, joten olin ajatellut nukkua pitkään. No, se ei nyt tullut kuuloonkaan
kun ei uni enää tullut. Vietin aamun kahvikupposen äärellä kuunnellen jälleen Al Bowllya, sekä
tein meille hedelmäsalaattia. (helppo resepti: kaada kulhoon lempihedelmiäsi suoraan tölkeistä
ja sekoita, nam!)
(Translation: I woke up today very early, 7.30am, to make some coffee for Joonas and I.
I didn't have school today, so I thought I would sleep until it is 11am. But no, ofc I didn't
get any sleep anymore even if I tried.
Oh well, I spent my morning enjoying my cup of coffee and listening Al Bowlly, as every single
morning, and I also made us some fruit salad (easy recipe: just pour your favourite fruits to the bowl
from the tin cans and mix, yum!)
Jokapäiväinen hiustenlaittoni ja meikkaukseni yhdessä GIFissä.

(My everyday's make-up and hair in one GIF)
Illalla olisi luvassa Kuunari Elinalla King Rebel & The Ramblers, eli Elvistä
ja rock n' rollia koko ilta! Kellohame onkin jo päällä, sitä odotellessa!
(Today I am going to see King Rebel & The Ramblers - plenty of Elvis' songs
and rock n' roll, all night long! I am already wearing my circle skirt, so happily
waiting for that!)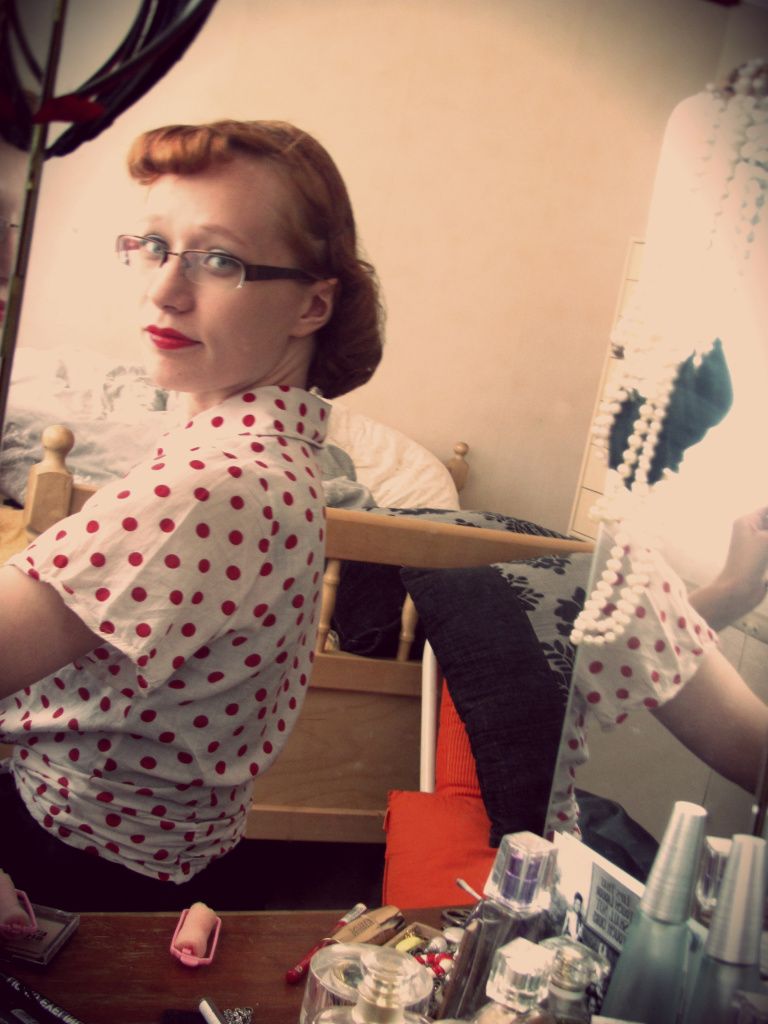 PS:
Kisses everyone!