Pari viikkoa koulua takana, ja olen viihtynyt. Vaatetusala on ehdottomasti minun
alani. Harmittaa todella paljon, kun en tänään kouluun voinut jäädä. Minulla oli todella
huono olo, se tosin parani vähän kun söin jotain. En ole kovin hyvin syönyt viime
aikoina, mutta täytynee tehdä ruokaa jonkun kanssa yhdessä, niin ruokahalu saattaisi
kasvaakin.
(Translation: I've studied clothing business for two weeks now and I know that
this is the right one for me. Such a shame I couldn't be at school today for long, I
felt sick, but I felt better after I ate something at home. I haven't been eating very well lately,
but I think I should make food and eat with someone, so my appetite will grow.)
Olin tänään vain kotona ja olen siivonnut - tosin piti käydä ostamassa pari pitsistä
pöytäliinaa ja viinipullo huomista varten. Ystävättäreni tulee meille pariksi yöksi,
joten pitää jotain hauskaa keksiä. Ainakin suuntana olisi jossain vaiheessa Old Dog
Irish Pub. :)
(I have spent my day at home and clean the house - and I also went to buy two
lace table cloths and a bottle of red vine. My dear friend is coming tomorrow for couple
of nights, so I need to think something great to do. At last we will go together
to my favourite (and the only) irish pub in town, Old Dog!:)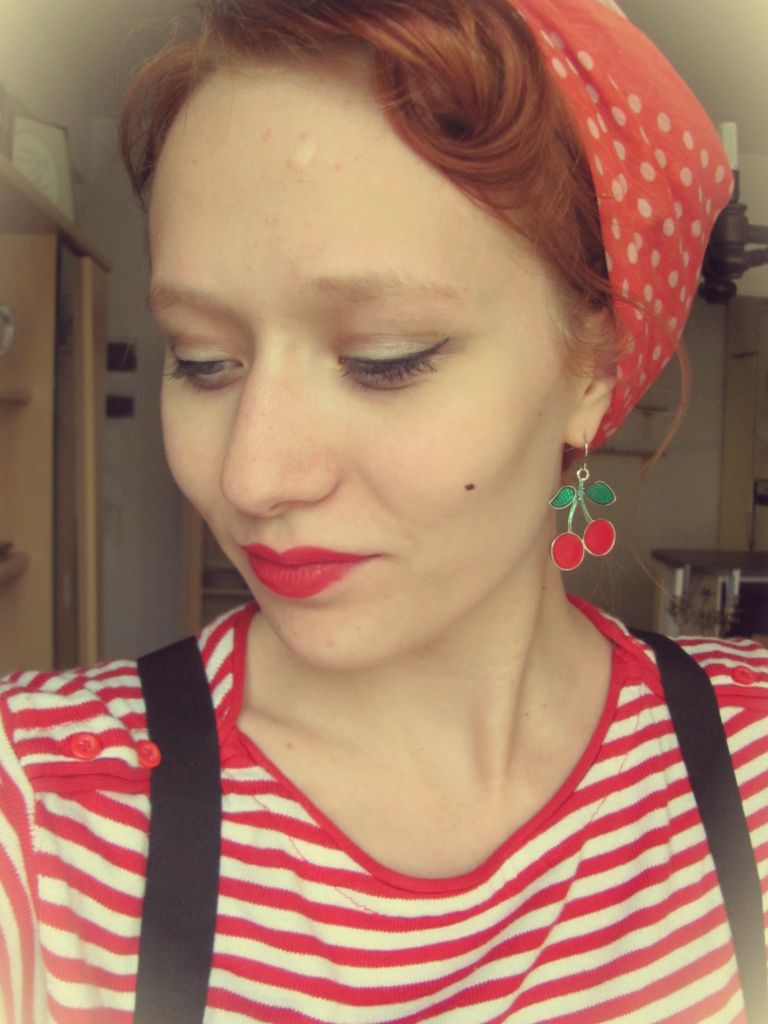 Wearing:
Dotty headscarf a gift from my mom
Thrifted black suspenders
Thrifted striped nautical sweater
Jeans from JC
Cherry earrings a gift from my sister (Cybershop)
En ole ollut viime aikoina kovin inspiroitunut, anteeksi pienestä hiljaisuudesta.
Piti ottaa pientä taukoa, kun on ollut kaikkea muuta tässä välissä.
(I haven't been very inspired lately, sorry for that little break.
I wanted to take just a little break because I have had lots of things to do.)