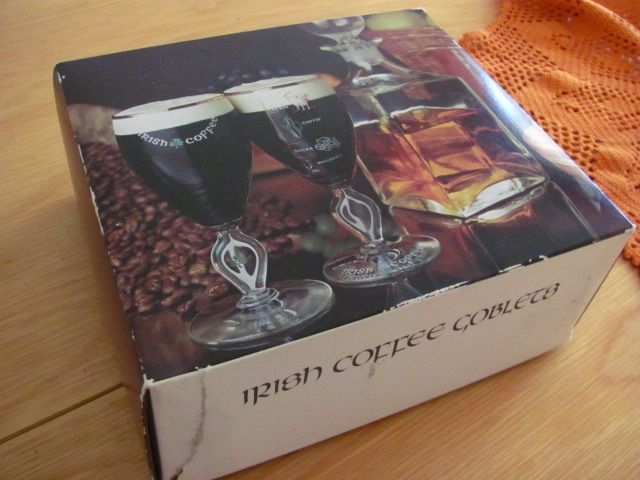 Löysin kirpputorilta aivan ihanan setin kolmella eurolla,
kaksi aitoa Irlantilaista Irish coffee pikaria alkuperäisessä pakkauksessaan - reseptin kera. Ehdoton
suosikkilöytöni vaatteiden ohella (tai Joonashan tämän kyllä maksoi, mutta otan kunnian
löytämisestä:D)! Kuten ehkä huomattu on, olen suuri irlantilaisen kulttuurin
ihannoija, ja Irish coffeeta tulee tilattua Old Dog Irish Pubista rahatilanteen salliessa.
Se maku on jotain niin taivaallista! Nyt puuttuisi vain Jameson -viskiä, ja pääsisi
nauttimaan Irish coffeesta kotona.
(Translation: I found this amazing set from the thrift store, two Irish coffee goblets
in their original package - with a recipe. My favourite find along with the clothings
(though Joonas paid for it, but I take the honour of finding it :D) As you may have noticed,
I admire Irish culture, and I order Irish coffee once in a while when I visit Old Dog Irish pub.
That taste is so heavenly! Now I only need Jameson whiskey, and I can enjoy
Irish coffee at home.)
Ainesosan määrä on kirjattu lasiin niin, että jopa minä huomaan nyt, kuinka
paljon mitäkin tulee todella laittaa lasiin. Loistavaa!
(I can see from the goblet how much whiskey and coffee I need to
add to the Irish coffee, fantastic!)
And a question for you in legal age to drink alcohol:
Do you like Irish coffee, have you ever tasted it?